Sunset Boulevard 2015 - Alex M.O.R.P.H. feat. Ana Criado
Fifteen years of releases is no mean feat. In fact, in 2007, German heavy metal label Nuclear Blast celebrated their 20th anniversary in fine style with a DVD package, which housed music videos, documentaries and other stuff, and a 4-CD compendium ... [Read More]


More Reviews:
So Damn Beautiful 2015
Paradox
Ursprung
[quote : unquote]

..I start there at 8pm, then I've got Essence in Ipswich, Heat at Camden Palace, and, errrrm, I can't remember the rest. Most of the other gigs are in London so there's not much travelling involved overall,
Nukleuz star BK will be flown by helicopter to his upcoming NYE gig at Fantasy Island (Skegness) as part of a marthon 8 gigs over NYE/NYD
LINK TO US
If you would like to link to us from your website you can find suitable icons here
PLEASE SUPPORT OUR SPONSORS
PARTY ALL NIGHT LONG?
If you like to party all night long, have a look at the herbal highs at Zamnesia. The best smartshop online, guaranteed quality and of course safe and discreet shipping!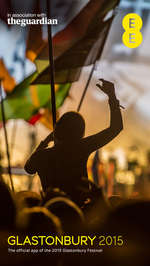 Written by Craig Gunn (23rd June, 2015)

Come rain or shine, Glastonbury is still regarded, with a slight nod to my own personal love affair of the past 15 years, as the 'mother of all festivals'. It has been rocking and rolling since the day after Jimi Hendrix died in 1970. Back then you could purchase a ticket for £1 to see the Kinks – the following year it was free for Bowie!

Over the years the line-ups have been at times epic; other times there has been a backlash unjustly lathered on the Eavis clan for their inclusion of Kanye West this year for example. There have always been controversial bookings and many naysayers of Glastonbury line-ups. Last year it was for Metallica, who, by all accounts, were fantastic and then Jay-Z the year previously. Even Dolly Parton last year on Sunday afternoon had 100,000 people eating out of the palm of her hand whilst playing the Benny Hill theme tune backwards on saxophone, a surprising goose bump moment for me - who years previously had cried when Radiohead played Fake Plastic Trees – oh how times have changed. [FULL STORY]
Other Recent Features: [More Features]
Nikki S looks at making Babies, ahead of London Landscapes 2 at Ministry of Sound
I survived Glastonbury 2015
Harnessing the rational to illuminate the transcendental with Hedflux
Free-Spirit's Moka Mafia takes us on a pychedelic adventure to Tribal Village
HarderFaster Awards 2014 - The results are in!




Reported by starkprofiles (16th September, 2015)

You spoke. They listened!

In a break with their established annual-release tradition, October 2015 see Ministry of Sound heed the call of the scene with - for the first time in a decade – a second Trance Nation outing for the year. A testament certainly to its position as the most clamoured-for trance series of all time, this release is every bit as much about the man now stood at its wheelhouse. Secured at long last, to skipper a 'Trance Nation' is the Coldharbour master himself, Markus Schulz.

A Gallery resident of long and every bit as illustrious standing, his MoS mix journeys have taken clubbers down trance paths as range-wide as they are long and thrill-packed. Almost as quickly associated with the Ministry's The Gallery night as the word 'trance' itself, he enjoys a reverence reserved for the very few.

Now, at long, long last the stars have aligned, the right cards have fallen and Markus - perhaps the most requested prospective Trance Nation [FULL STORY]
All Change!! Richard Durand Announces The Reloaded Revolution
THIS IS LIVE - London's Newest Dance Event & It's Free
Orkidea & Lowland - Glowing Skies - Out Now Through Black Hole Recordings
F15teen Years Of Goodgreef Mixed By Giuseppe Ottaviani, Marco V & Liam Wilson
Alex M.O.R.P.H. & Heatbeat - Amistad
Yeah Baby Productions Vs The Gallery :: Astrix & Liquid Soul at Ministry of Sound / Friday September 18th.
Solarstone Bids Farewell Solaris International, Welcome Pure Trance Radio!
Presenting The New Artist Album Project From Bolier: WSTLNDR - 'Atmostopia'
Audio Noir Releases Second Album - Artificial Star Out August 31st
New On VANDIT: Ali Wilson & Chris North - Pluck You
Solarstone & IKO – Once (ALEX M.O.R.P.H. & IKO Remixes)
Paul van Dyk and Sue McLaren - Lights
15 Years Of VANDIT Presents... Second Sun - Empire - Alan Banks Remix

[More News] - [Submit Your News]

CHAT FORUMS
Most recent topics - to see all the forums click here - to see today's active threads click here