Breath, Reimagined Vol.3 - Desert Dwellers
The Breath story comes to an epic conclusion with the third volume of Breath Reimagined, three remix albums dedicated to the original album released on their own Desert Trax imprint. This episode of the Reimagined saga takes in remixes from Speakin... [Read More]


More Reviews:
RMX
Orcas
Universal Energy
[quote : unquote]

..You starve one part of yourself then you inflate some other part to appeal to someone's fantasy of what a female's supposed to be. The correct image for women today is that they have a butt like a 12 year old boy and cartoon breasts,
Karen Lehner
LINK TO US
If you would like to link to us from your website you can find suitable icons here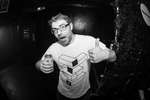 Written by Jessica Alici (18th May, 2020)

Latex Zebra has been a lively legend of the London Underground Dance Music scene for as long as we can remember! Most of us know him in some if not all his various guises, be that as a DJ, a Club Promoter, , linchpin of the HF Xmas Party, Label A&R, dare we say oldskool HF troublemaker, a friend, or as an accomplished producer in his own right. Recently Dan seems to have upped his production output and we're seeing fresh releases left, right and centre! We decided now was the perfect time to catch up with him and see what's what, ahead of his intoxicating mammoth release on Onhcet Republik on the 8th June 2020! [FULL STORY]
Other Recent Features: [More Features]
One Function talks to us about his biggest loves and his new album release 'Harmony'
Lyktum talks Consciousness, Call of Duty & Covid-19 and introduces us to his new album Mission 5D
Luke Thomas talks us through the twists and twines of his longstanding career in the music industry!
Talking Hardcore, Depeche Mode & Jimmy Sommerville (amongst other things) with Techno producer Chris Coles!
Phutek talks the Rave Scene, Carl Cox, Marriage Proposals and the reincarnation of 'Reincarnations'!




Reported by starkprofiles (27th May, 2019)

After his 'Buenos Aires' inaugural popped Afterdark's mixcomp cherry last August, the spring of 2019 sees label honcho Sneijder ready for a second drop. Doubling down, the album expands to two discs and finds Afterdark bringing the sound of the underground to Los Angeles. Capturing every fader-flip, drum-kick, synth-soar and reciprocal crowd cheer, in the liveliest of live forms Sneijder's 'Afterdark 002' defines the trance divinity of the City of Angels.

Packed with exclusive music from the likes of Giuseppe Ottaviani, Key4050, Stoneface & Terminal, Simon Patterson and others, with finger-on-pulse intuition '002' shifts between the melodic, the uplifting, the tech and the out-&-out tough. Boasting a track list rammed with upfront, cutting edge club music from the Afterdark roaster and seasoned artists across the trance and tech spectrum.

Sneijder's 'Afterdark 002 – Los Angeles' brings LA to you this May 24th.

Comprising of 16 [FULL STORY]
Stuck for things to do during lockdown?
Merry Christmas!
FINAL CHANCE TO VOTE IN TOP 100 DJS 2019
JES - No One Else (Disco Fries Remix)
Roger Shah - Magic Island Vol. 9
Daxson Delivers His 'Culture Shock'
Mark Sherry Talks 'Confirm Humanity'!
DT8 Project (Darren Tate) drops the third part of his EP series Leave It All Behind
Markus Schulz Brings 'In Bloom 2019' To Spotify
Mark Sherry - Confirm Humanity - The Album
Giuseppe Ottaviani - 8K
Mark Sherry & Christina Novelli - Lighting Fires
Paul van Dyk & Alex M.O.R.P.H - SHINE Ibiza Anthem 2019

[More News] - [Submit Your News]

CHAT FORUMS
Most recent topics - to see all the forums click here - to see today's active threads click here