Eternity - Orion
Its time for a recap of one of Mondo's seminal tunes. Eternity by Orion gets a new rebuild for 2018, along with a remix from Daniel Kandi. This tune was big for me back in the day and its nice to see it given a fresh lick of paint.

Rebuil... [Read More]


More Reviews:
Prometheus
One More Thing
Youu
[quote : unquote]

..Virtues are acquired through endeavor, which rests wholly upon yourself. ,
Sidney Lanier
LINK TO US
If you would like to link to us from your website you can find suitable icons here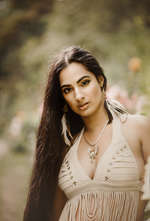 Written by Tara (19th September, 2018)

Quite possibly the biggest synchronised dance event in history (or at least that's how I described it when I interviewed Mark Sinclair for Earthdance 2007!), Earthdance has been held in over 1000 locations in 80 countries around the world since its inception. This weekend sees this very special event return to London's Steelyard, with an epic Goa trance line-up that includes Total Eclipse, Blue Planet Corporation, Shakti, NEO and Lauren Lyon in the main room and an awesome alternative psy chill room featuring the likes of Robin Triskele, Indigo Herder, Nimi, Bubblewrap, Anu and yours truly, FlibbertiGibbet.

As well as being a celebration of life, Earthdance doubles as a sacred ceremony and for this edition, the original voice of the prayer for peace, Eeshi-Ra Hart, will lead the live spoken prayer, which will be streamed on YouTube alongside the other Earthdance events worldwide.

With the countdown to Earthdance 2018 on Saturday 22nd September well and truly underway, we spoke with organiser, DJ and shamanic energy worker Amoriah Ka aka Shakti about this incredibly unique anniversary party, where all profits go to the London homeless charity Thames Reach and grassroots refugee organisation Calais Action…
[FULL STORY]
Other Recent Features: [More Features]
Exploring the extra-terrestrial waves in the super sonic mind of Mindwave!
A Mindbending Conversation with Mindbenderz from Iono Music!
A friendly catch up with Sensient - artist and label owner at Zenon Records!
Confessions of a SuperModule with DJ Lucas!
What puts a spring into DJ Pogo?!




Reported by starkprofiles (8th November, 2018)

Autumn… and as Pure Trance's datebook runs, the end of its seventh year as a scene force. This, like the six before it, comes marked in the time-honoured way through 'Solarstone Presents Pure Trance'.

"From within" is where the architect-absolute of the movement, Rich Solarstone believes every Pure Trance-worthy track begins. "When you're compiling these albums, you know within the first 90 listening-seconds, he says, whether it's a producer pushing the physical or metaphoric buttons. Or, if it's a musician truly making music that comes from within". It's the acid test each of 50 tracks on 'Pure Trance VII' have taken and passed.

Divine intervention perhaps, but latterly, with every 365 that goes by another two new Pure Trance proponents rise to co-mixing prominence, reckoning #7 being no exception. That said, the argument could be made that Kristina Sky's been in contention far longer. Well-established darling of the US West Coast's [FULL STORY]
Peach is back in 2019 for the 6th reunion. £10 early bird tickets go on sale at 1pm on Sunday 11th November
Louder Than Words Festival Panel: Do Ravers Dream of Electric Beats?
'We Are The Light' Now On Full Release; Markus Schulz Talks About The Inspirations Behind His New Album
Richard Durand - The New Album - 'The Air We Breathe'
John O'Callaghan featuring Josie - Out Of Nowhere (Giuseppe Ottaviani Remix)
YOUTH & GAUDI - 'Astronaut Alchemists' album launch event : 07.12.2018 : London
Lange & Jennifer Karr - Songless (Signum + Astuni & Manuel Le Saux Remixes)
RAM & Susana - Northern Star
PureNRG - Chrysalis
Markus Schulz - We Are The Light
Lowland & MARiANNA - Infinite Loudness
Craig Connelly - The Creator
BRIGHTON MUSIC CONFERENCE 2019 (BMC19) ANNOUNCES DATES, VENUE CHANGE TO i360 AND GOLDEN TICKET

[More News] - [Submit Your News]

CHAT FORUMS
Most recent topics - to see all the forums click here - to see today's active threads click here