Ignore Me - Wavetraxx
Wavetraxx is synonymous with trance. I'm glad I got synonymous right that time cos I spelt it wrong on the other review. Anyway...this is "Ignore Me" on Hyper Reality. The release comes with a 303 Mix for your acid heads out there.

The [Read More]


More Reviews:
Slenderman
Collide (Intra & Spherix Remix)
My Love
[quote : unquote]

..Oakenfold's not the most innovative music maker in the world . . . but he is arguably is the best businessman dance music has ever seen,
LA Times on news that Paul Oakenfold earned £4.5m last year
LINK TO US
If you would like to link to us from your website you can find suitable icons here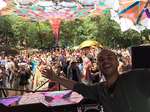 Written by Nikki S (23rd April, 2017)

With an artistic drive to create music encoded into his DNA, the half-Brazilian, half-Portuguese Fernando Seca exploded onto the psy trance scene in 2008 as Waio with over 200,000 plays on MySpace and reaching No. 5 in the Beatport charts. Following a succession of massive tracks over the past 10 years, Waio has since firmly established himself as one of the world's leading psychedelic trance acts.

In between all of the jet-setting, tearing up dance floors at the biggest festivals on the planet, and just ahead of becoming a father for the second time, we caught up with Fernando ahead of his forthcoming performance at one of London's most iconic venues, Troxy, with Infected Mushroom on Friday 28th of April.
[FULL STORY]
Other Recent Features: [More Features]
Nick the Kid looks forward to three great promotions - Escape From Samsara, I Love Hard Beats, and Hard Trance Europe - and their collaboration on one great event - Elevated State!
Do you want to Knowwhere it all began?
Shattered Barriers presents... the one and only Rinkadink
Spun Out on Bahar's Magic Soup
HarderFaster Awards 2016 - The results are in!




Reported by starkprofiles (25th April, 2017)

Clues, cues, codes and a breadcrumb trail of dots and dashes - they all lead to the intriguing, fascinating opacity of Solarstone's new artist album '. - - - -', which arrives today. No finer time to take a closer look at what he's been up to all these studio months then!

'. - - - -' begins in a manifestly cinematic style, with 'Leap Of Faith's cursively sweeping synths and analogue/sci-fi-esque FX. Complete with its narrative-style vocal, over seven minutes 'Leap' develops into a pulsating, absorbing slice of deep space prog-trance. Right behind it comes the shimmering intro pianos of 'Eclipse'. With a neat sleight of studio hand however, they preface a moodier, more brooding sonic underbelly. Its prowling tempo & tone, low-end bass resonance and sleekly minimalistic physique cast the album's shadows' long.

Through 'Untitled Love', vocals make their first appearance on '. - - - -' … and in some extraordinary fashion. The [FULL STORY]
Cosmic Gate - Materia Chapter.One (The Extended Mixes)
Dave Neven feat. Nuttalya - Breathing Again
PAUL OAKENFOLD - DREAMSTATE VOLUME ONE
Brighton Music Conference reveals full programme schedule
Paul Oakenfold & Jordan Suckley - Amnesia
Paul van Dyk - Touched By Heaven
Cosmic Gate & Tim White - The Deep End
Solarstone - A State of Mind
Markus Schulz presents Dakota & Koen Groeneveld - Mota-Mota
Mark Sherry presents Outburst 500
LO'99 & Marshall F return with new track Fallen
The Journey - JOOF Editions 3, Mixed By John 00 Fleming
Markus Schulz featuring Brooke Tomlinson - In The Night Out Now + Official Video!

[More News] - [Submit Your News]

CHAT FORUMS
Most recent topics - to see all the forums click here - to see today's active threads click here