Interview with Laurent Garnier

Reported by Manu Ekanayake / Submitted 06-08-03 08:41

Readingís Checkpoint Charlie has been spewing forth quality house at a rate of knots for the past ten years. The brainchild of people who both dared to dream, and lived to dance, this night is one of the many quality events that show London how itís done. A sweatbox of a (generally) Rock venue, and great DJs whoíve known the promoters for a decade, combine to form an intimate but welcoming gathering of 250-300 people on the first Thursday of every month.

To celebrate the madness, an old friend to the club was invited back, as he often is for birthday celebrations. A certain Gallic gentleman, who first DJíed in the UK when he played at the Hacienda in í88, and has the rare accolade of having once been Head Chef at Dry Bar! His Acid House credentials aside, his music takes in High NRG bass and combines it effortlessly with lush synth lines, making pit-stops at every other musical genre along the way. His brand of House transcends the labelling of todayís fractured scene, his elemental sound far beyond the words ĎHardí or ĎTechí. Whatever you want to call it, heís one of the few names that will bring a smile to anyone in clubland. Interested?

Post Checkpoint Charlieís 10th Anniversary party, 8/9 May, 2.30 am. In the tattered shell of Readingís After Dark Club, Laurent Garnier speaks... (Bold indicates LGís words)



So, ten yrs of Checkpoint, how do you feel about it?

I canít remember when is the first time I came..?

The rumour is tonight that you were the first person to play..?

No, I donít think so...
Youíve got to ask Dave...Dave, when did I first play Checkpoint?
About 8 yrs ago? (Dave agrees, and remembers that Cal Cox carried Laurentís records that time, and later asked if he could play the club himself. Dave reluctantly agreed!)
He went to the other club, Checkpoint moved to the other, bigger club...

Alleycats?

Yeah, I did a birthday, one birthday where he had the Go-go dancers dressed as policeman...

Iíve heard of that....

He had this guy, actually one of the photographers from Muzik magazine, he came on dressed as a policeman, there was three or four of them, and I played ĎI Feel Loveí by Donna Summer, and everyone was really freaking out, they were just chucking drugs everywhere, like ...fucking hell, this is mad!



I mean, you want to play a long set, donít you?

Yeah, I always do, I donít know what you mean by Ďlongí?

Well, most people will play an hour at Checkpoint...

Three or four hours is my thing, yes. I mean I can do much longer, but usually, when I come to England I like to do four hours

Iíve read about you saying that you were especially upset you didnít get a chance to play the States recently (loss of Visa etc) because you like to provide a long Ďexperienceí for people.

Well, I donít travel often, and I think sometimes people wait quite a while to come back and see you, and I think you do have to respect these people, I mean yeah, you get paid, but Iím there to have a good time, and to try to give as much as I can. I want to take people on a longer journey, and show them as much as you can. I mean, to play 3 or 4 records, whatís the fucking point? I might as well stay home, and do it via Internet. No, itís true you know, I mean when I come here, I started mellow, then I bought it up, then I bought it down, then I played Edwin Starr (War!) and I finished with Prodigy [Out Of Space]. At the end of the day, if I had an hour it would be very incoherent.

Iíd like to say that WAR went down so well....

Yeah, it did, I donít usually play it in the middle, I did because I saw all these balaclavas, and I thought fuck it, might as well make my point now. I usually like playing at the end. Itís some kind of a journey, I know itís a little corny to say that, but Iím trying to be as open as I can, to be as honest as I can.

In London at the moment weíre seeing a resurgence of call-this no-for-info parties..

Good, good

And youíve never been a DJ that says, ...I play techno, I play House.

I play everything, I think itís boring to go to a club, and just listen to techno, listen to breakbeat all night. I hate that, as I love techno, I love breakbeat, I love House, I think itís about fucking time, after 15 yrs of this music, weíre starting to mix music again, to mix music, to mix beats on the same night. You can have all different types of moods, of beats because otherwise weíre narrowing it down, and just killing it! For a long time Iíve mixed a lot of things together, itís about bloody time things are coming back together.

Do you like playing small clubs?

I love it. Itís funny, cos I was thinking about it when playing, cos last night I was playing for 7000 people

Was that in Paris?

Yes.

Was that with Jeff Mills?

Yes, and a guy called Vitalic.

The guy who did La Rock 01?

Thatís the one, and there was a guy called Manu le Malin, a very hardcore DJ...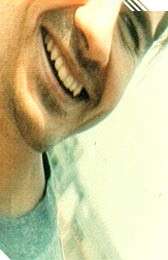 Havenít you dedicated a track to him [Geometric Worlds on Shot in the Dark]

Yes, Manu is a very good friend of mine. There was the Hacker, whoís a good friend of mine. Yesterday it was all the friends, the Hacker, Vitalic I know him very well, Manu I know very well, and Jeff. It was like the big posse, like the old days. The Ďold school posseí, it was good fun. Itís bizarre, to switch from 7000, where youíre in a huge environment, I did 3 hours, which is very good for a rave, usually you have shorter sets. Youíve got to bang it out; I could never have played WAR! But the funny thing is, I was getting my records ready for Monday-Iím doing a salsa and Latino set for Giles Patterson in London. And the contrast of playing hip hop, soul, Latino, and Brazilian, last night playing all this hard stuff, and tonight playing to 200 people and being able to play Prodigy and shit like this, I love that. Thatís the great thing about switching from a big place to a small place. What I like about small places is, as a DJ, youíre with the crowd, youíre next to them, thereís no Ďthe DJís up there and the crowds down thereí, weíre all together, and weíre sharing it together. I like that, thatís why I like smaller clubs. Itís a big sharing thing. You have to be with the people, really be together. You get all these kids coming up to you, shaking your hand, saying thank you, and you can see their faces, you feel the vibe right away.

What do you think of the work that SLAM is doing? Theyíve been real originators in Scotland.

Itís funny, weíve been friends for a long time, you know Iíve got a label called F communication, and before that I was on a label called FNAC. At the beginning of F com, we were working with some people called Play It Again Sam, PIAS, were distributing our records, and we actually bought Soma to PIAS in France to distribute their stuff, we bought Warp and we bought Soma. So these are labels weíve been working with for a long time, and after that my wife started working with PIAS, and she was distributing Soma, so weíve got a strong link, all I can say is their great, you only work with people you feel good with, so I can only say good things about them; Iíve always been a big fan.

Slight segue, but on Slamís recent Fabric CD, the last track is an Underground Resistance, Mad Mike Banks track, some of the more jazzy stuff. Youíve talked about his as being the one person youíd pick out (as a main Ďplayerí, in the Jockey Slut 10 yr anniversary supplement). Will this bring his music to more people, Iím very new to it myself, and most of what I know is his own Ďlegendí.

Bring his music to new people is not an easy thing, as Mike doesnít like to travel very much, he likes to keep it underground, whenever he comes to Europe heís usually hiding, itís not like you could go to Detroit and meet him... Youíve probably never seen a picture of him. Mike is an old friend of mine, because Iíve been to Detroit many times, Iím organising a UR night.

Of course, you had your own Thurs night didnít you Laurent, at the Rex club in Paris.

The thing is at the Rex weíre doing the 15th birthday, so Iíve organised 10 parties, for 15 days. So there are a lot of things going on at the moment. But, what I like about Mike is the way he...takes people out of their lives. The whole thing about Detroit, if you go there, youíll see how much struggle there is there. And for some the only way out of guns, drugs, shit like this, well, one of the only ways out is making music. So he goes to prisons, says ...next time, come to us, make some music, travel, weíll look after you. Instead of you being in the street with a gun, come and see us, and youíll be able to something for yourself. What I like about this guy is heís injecting money in a city thatís SO fucked up, he believes in it very strongly, he hasnít been in Europe, selling all his music very cheaply, putting all the UR stuff everywhere. He always kept it to what he believed in, very much like Motown used to be in the beginning. Motown was like a small industry, distributing a few records, doing it all from one building, this is what Mike does. Iíve had loads of his tracks on compilations, and every time you have to give money back to some charity, he has got a real heart.




A few last words on the English scene? On Fabric, The End, Billy Nastyís new venue The Egg?

Well, Iíve played at Fabric and had a good time, Iíve always done a lot of the End, I have a good relationship with them, I only work with people where thereís a relationship, then you feel like youíre home. I havenít been to Billyís club; I mean Iíve known Billy for years now... The thing is I havenít been to England that much recently, because Iíve cut down a little on Djíing, Iíve been doing some other things. Iím actually writing a book at the moment, Iíve got a compilation coming out, my DVD came out, Iíve just done the music for a film about the homeless, Iím making music with Scan X for a cartoon. Iíve cut down a bit on Djíing, but Iím getting back to it now. The stopping doing it live, then starting again when the albumís out next year, it kind of, I must say, I stopped for a while. I stopped reading the Press, I must say, not just the English one, the entire musical press, I needed a while to clear my head and listen to other things, and I really focused on other things. And apart form music I hear from England, I donít know whatís going on, I donít know whatís happening. I hear all these things like ...The kids donít want to listen to this music anymore, which is the same in France, when your 14 years old, you have nothing to dt the new things come in. The future is about sharing beats, it has to be. If we carry on playing one single kind of music in clubs weíre going to kill everything.[/b]

Last words about people taking music off the Internet?

Well, what can I say? Germany has lost 50% of the music market, France is loosing 40% this yr, so, itís very intelligent of people to do it, but basically if they carry on, half the record companies, majors and minor labels alike, the ones trying to do something different, to Ďfeedí your head with good music, well...Iím actually getting quite sad about it. Because, unfortunately, if that carries on, maybe my record company may not carry on. Not to say weíre in a bad way or anything like that, but weíre not doing as well as we were. Electronic music, and Rock as well now, I think, because the kids grow up listening to rock, and they grow up around computers as well, so much more than we did. Youíre 14, youíve had a computer since the age of 10, or whatever, so itís completely normal to be getting free music off the Net. If the UK gets hit like Germany did, I mean Germanyís fucked, France is not very health, a few others are going, if it carries on there will be no more music...well no more interesting music. All thereíll be will be big powerful motherfuckers, formatting everything youíll listen to, and the music will get absolutely shite!! So before downloading for free, and thinking everything should be free, just think a little bit further. Weíve got to keep the small artist alive, we really have. Otherwise, these people will go and work somewhere else!

Absolutely my last question, any highlights of the set for you?

It was fun playing the all the electro tracks, especially that Detroit track with the guy talking over it, which was unusual! It was really funky, these like MCs talking over the record, and I thought ... thisíll never go down, but everybody was smiling, everyone was cool. It was good fun, I enjoyed it (grins).

Later Laurent tells a story: ...Last night a girl came up to me, she was crying her eyes out, this is the first time something like this happened to me, so I asked her what was up with her, and she said ...Oh, youíre music is so beautiful and, well, she must have been off her head (laughs), but I thought, if I touched her that much, well, itís scary! I mean, she was really crying, she wasnít happy to meet me, she was really hurt. She kept saying the music was amazing, and that she was happy, but well... I suppose there have been a couple [of experiences] like that. Last night though, everyone was having a good time, and not just a ... oh, thatís cool ... time, but genuinely enjoying themselves.... thatís the good thing about places like this...which there are few of.



---
Share this ::

:

:

:


Follow HarderFaster ::

---
---
The views and opinions expressed in this review are strictly those of the author only for which HarderFaster will not be held responsible or liable.
---