One Giant Consciousness - Desert Dwellers feat. Paul Stamets
The Desert Dwellers emerge now with their new single, a collaboration with mycologist Paul Stamets. Mycology, if you didn't know, is the study of fungi and their role in medicine and food as well as their dangers. The track touches on the unique bi... [Read More]


More Reviews:
?tman
Fly Higher Dub
Order Odonata : Metamorphosis
[quote : unquote]

..Robbie Williams is Mr Karaoke. He's just a jumped up karaoke singer.,
Popstars: The Rivals judge Louis Walsh gives his opinion on Mr Williams' work.
LINK TO US
If you would like to link to us from your website you can find suitable icons here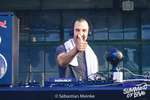 Written by Jessica Alici (24th March, 2021)

Johannes Horvath is an Austrian based Progressive Psy-Trance artist who created the project Gipsy Soul in 2014. The music which evolves from Gipsy Soul is mystical, magical and moving; incorporating invigorating lush lines, elevating melodies and heavenly vocals all perfectly placed on a bed of kinetic kicks, punchy percussion, and delectably driving basslines. The music has resonated with minds, bodies and souls all around the globe and the results have been outstanding, securing releases on legendary psy-trance labels like Iono-Music, Hommega Productions, Tesseract Studio, Digital OM Productions and Yellow Sunshine Records. Gipsy Soul's star is rising fast so we thought it was about time we caught up with him - ahead of his debut album release on Iono-Music! [FULL STORY]
Other Recent Features: [More Features]
Telling Cosmic Tales with DJ Strophoria
Tom Psylicious aka EarthAlien takes 50 Spins Around the Sun: Raising Awareness Through the Power of Music
The Breakthrough interview with DM-Theory
An interview with SOME1, a new alias of Psy-trance artist extraordinaire Mindwave
One Function talks to us about his biggest loves and his new album release 'Harmony'




Reported by starkprofiles (15th June, 2019)

JES is thrilled to announce the worldwide release of her new single 'No One Else' through eminent Dutch dance imprint Magik Muzik, with remix production from New York outfit Disco Fries. Chasing on the heels of her Beatport Trance chart #1 'Imagination', 'No One Else' is the first new material to be released from JES's upcoming future-spective concept album, 'Memento'.

Be of no two minds, JES' song 'No One Else,' is a heartfelt express coming straight at your emotional Achilles. Combining reflective, introspective, and real moments with the kind of explosive highs only the greatest of relationships deliver, 'No One's the type of song you've either have lived through… or one day will. ?

At once fresh and familiar, the opening minutes of JES' delivery is studio-backlit by smokily brooding piano lines & infective vocoder. As its verses climb with aching beauty towards the chorus, Disco Fries' inventive production matches its intensity [FULL STORY]
Raising Awareness through the Power of Music!
Stuck for things to do during lockdown?
Merry Christmas!
FINAL CHANCE TO VOTE IN TOP 100 DJS 2019
Roger Shah - Magic Island Vol. 9
Daxson Delivers His 'Culture Shock'
Mark Sherry Talks 'Confirm Humanity'!
DT8 Project (Darren Tate) drops the third part of his EP series Leave It All Behind
Sneijder - Afterdark 002: Los Angeles
Markus Schulz Brings 'In Bloom 2019' To Spotify
Mark Sherry - Confirm Humanity - The Album
Giuseppe Ottaviani - 8K
Mark Sherry & Christina Novelli - Lighting Fires

[More News] - [Submit Your News]

CHAT FORUMS
Most recent topics - to see all the forums click here - to see today's active threads click here