Rewritten Histories, Volume Four - Banco de Gaia
It is time for the re-emergence of Rewritten Histories, the compilation of remixes of Banco de Gaia tracks, on Disco Gecko! This fourth edition covers the years 2013 - 2017 and includes remixes from dr trippy, Andrew Heath, Silinder, Banco de Gaia, D... [Read More]


More Reviews:
Planet For $ale
Cafe del Mar (The Remixes)
Pray For Me (NERVO Remix)
[quote : unquote]

..If the only tool you have is a hammer, you tend to see every problem as a nail. ,
Abraham Maslow
LINK TO US
If you would like to link to us from your website you can find suitable icons here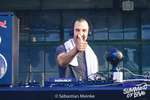 Written by Jessica Alici (24th March, 2021)

Johannes Horvath is an Austrian based Progressive Psy-Trance artist who created the project Gipsy Soul in 2014. The music which evolves from Gipsy Soul is mystical, magical and moving; incorporating invigorating lush lines, elevating melodies and heavenly vocals all perfectly placed on a bed of kinetic kicks, punchy percussion, and delectably driving basslines. The music has resonated with minds, bodies and souls all around the globe and the results have been outstanding, securing releases on legendary psy-trance labels like Iono-Music, Hommega Productions, Tesseract Studio, Digital OM Productions and Yellow Sunshine Records. Gipsy Soul's star is rising fast so we thought it was about time we caught up with him - ahead of his debut album release on Iono-Music! [FULL STORY]
Other Recent Features: [More Features]
DJ Wired talks to us about the Rise of the Hope and parties, ahead of his upcoming set at Tribal Village on 14th January 2022!
Fast rising star Domek talks about 'A Changing Disaster', his remix of NEM3SI$ 'The Fourth Kind' and his mega popular podcast 'The Playground'!
Psychedelic Pan talks Funny Moon Fest, Lost In Translation Chill Act and encourages us to be weird!
A quick chinwag with Belfast born Idiosyncrasy aka Alan Henry!
Psy-Sisters Present Set For Love 2021!



HarderFaster Photosets
Members Photosets
CHAT FORUMS
Most recent topics - to see all the forums click here - to see today's active threads click here