[quote : unquote]

..It was as though God was talking to me and he said, 'You are not going to do the normal teenage things like hanging out at the park, drinking beer, having sex, hanging out. You're gonna' figure out a way to take these tracks and make them into one song',
The man who invented the DJ mix, Flash, talking about his Eureka moment watching Kool Herc failing to beat match at a South Bronx block party in the late 70s.
LINK TO US
If you would like to link to us from your website you can find suitable icons here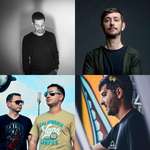 Written by Jessica Alici (6th December, 2023)

Iono-Music is one of the most well-renowned Psy-Trance labels in the scene. With a plethoric rolling release schedule featuring some of the most talented artists around we decided it was high time to check in with a few of their artists and have a chat about current material! [FULL STORY]
Other Recent Features: [More Features]
Luke&Flex talk influences, the Irish rave scene, why Flex wears a mask and Play Hard, their new EP out now on Onhcet Repbulik Xtreme!
Lyktum expands on his new album 'Home' – talking about his love of storytelling, creating new harmonies and the concept behind his musical works.
Pan talks getting caught short crossing the Sahara, acid eyeballs and tells us Trance is the Answer, plus shares his thoughts on his latest release 'Beyond the Horizon' - all from a beach in Spain!
Miss C chats about living with the KLF, DJing in a huge cat's mouth, training her brain and the upcoming super-duper Superfreq Grande party at LDN East this Saturday, 16th September!
NEM3SI$ - I Live for the Night – talks superficiality, psychopaths, and bittersweet success, ahead of a plethora of evocative, emotional, and passionate upcoming melodic techno releases!



HarderFaster Photosets
Members Photosets
CHAT FORUMS
Most recent topics - to see all the forums click here - to see today's active threads click here