[quote : unquote]

..Some people never go crazy. What truly horrible lives they must lead.,
Charles Bukowski (1920 - 1994), From "Betting on the Muse"
LINK TO US
If you would like to link to us from your website you can find suitable icons here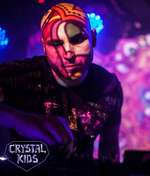 Written by Jessica Alici (30th November, 2021)

Mysticism, Ramizes, Freetech, DJ Wired – these are all aliases of Ozzy Cetin – the man behind the legendary Crystal Kids parties! On 14th January 2022 Ozzy graces the decks as DJ Wired at the equally awesome party – Tribal Village – A Psychedelic Adventure – Winter Edition in London! We decided now was the perfect time to delve a little deeper into the mind of this dedicated psy-trance veteran! [FULL STORY]
Other Recent Features: [More Features]
DJ talk with Psyrenzo ahead of his debut set at Tribal Village, the Steelyard this Friday 14th January 2022!
TENZO aka Overdrive talks freely about launching his new act which will be showcased at Tribal Village, Steelyard on 14 January 2022!
A long overdue catch up with JourneyOM ahead of his next Tribal Village party this Friday 14th January 2022 at the Steelyard, London!
Goa based party animal and artist extraordinaire Nirmal talks punk concerts, metal sculptures, flying and rippin' it up on a High Tide!
Fast rising star Domek talks about 'A Changing Disaster', his remix of NEM3SI$ 'The Fourth Kind' and his mega popular podcast 'The Playground'!




Reported by starkprofiles (15th June, 2019)

From his 'Skygarden' debut to this March's 'Bexley Square', Daxson's been making the loud & clear case for tenacious trance for several years now. The alias/brainchild and now primary studio outlet for Manchester-based producer Dan Dobson, his work on Coldharbour has delivered an impossible-to-miss broadside to tougher clubfloors.

Late May sees Daxson line up his second floor-flash of 2019 with the script-flipping, system-shaking, boat-rocking 'Culture Shock'.

Daxson's music has caught the ear of an impressive raft of A-listers, not least that of Markus Schulz. Schulz gave 'Culture Shock' its first airing at Ultra Miami in March, mashing it to wildfire effect with MK's '17'.

It'll come as a surprise to no one to learn that 'Culture Shock's circuitry is a lively one. Frontend, the drums throw down, its bass prowls and Dan lets the mod wheel fly. Drop-side, through melodic glimmers and cinematic pads, he allows just the [FULL STORY]
CLUB UK PRESS RELEASE :: THE ICONIC CLUB IS COMING BACK!
Raising Awareness through the Power of Music!
Stuck for things to do during lockdown?
Merry Christmas!
FINAL CHANCE TO VOTE IN TOP 100 DJS 2019
JES - No One Else (Disco Fries Remix)
Roger Shah - Magic Island Vol. 9
Mark Sherry Talks 'Confirm Humanity'!
DT8 Project (Darren Tate) drops the third part of his EP series Leave It All Behind
Sneijder - Afterdark 002: Los Angeles
Markus Schulz Brings 'In Bloom 2019' To Spotify
Mark Sherry - Confirm Humanity - The Album
Giuseppe Ottaviani - 8K

[More News] - [Submit Your News]

HarderFaster Photosets
Members Photosets
CHAT FORUMS
Most recent topics - to see all the forums click here - to see today's active threads click here