Song To The Siren - Barraka
In 1983, This Mortal Coil, an ever-changing collective of vocalists and producers, released a track called Song To The Siren. It was a cover of a Tim Buckley song. It was sung by Elizabeth Fraser of The Cocteau Twins. She guested on This Mortal Coil'... [Read More]


More Reviews:
Say You're Mine
Ashes (Zach Zlov Remix)
Exhibition V
[quote : unquote]

..Human beings, who are almost unique in having the ability to learn from the experience of others, are also remarkable for their apparent disinclination to do so.,
Douglas Adams.
LINK TO US
If you would like to link to us from your website you can find suitable icons here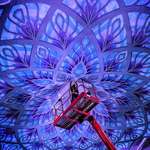 Written by Tara (14th December, 2022)

Magic is descending on London on the seemingly inauspicious date of Friday 13th January 2023 to transform The Steel Yard into an enchanted psychedelic wonderland. It's going to be an anniversary of epic proportions to celebrate Tribal Village's 10th Birthday, with London veteran party people World Lounge Project staging a rare reunion for WLP/Atom party crew main man Simon's 50th, plus it's also Bom Shanka Records rock star headliner Nuky's birthday.

Alongside these extraordinary milestones, an amazing international musical line-up has been curated over two rooms, with artists representing all five continents converging on London. But what's really going to make this super-special is the production, as local crews Dan LeCatt, Geomatrix Design, inOrbit and Urban Tribe are being joined by global décor goddess Ivy Orth, lead designer for LunoSol Design, who's flying in fresh from decorating Japan's New Year at Mt.Fuji (Powered By ADMC).

With the countdown to this spellbinding celebration well underway, we spoke with Ivy about the incredible journey that's taken her from London squat parties to kitting out some of the world's biggest music events…
[FULL STORY]
Other Recent Features: [More Features]
The Transmission Crew tell all and talk about their first London event on 24th February 2023!
NIXIRO talks body, mind and music production ahead of his release 'Planet Impulse' on Static Movement's label - Sol Music!
The Psy-Sisters chat about music, achievements, aspirations and the 10-Year Anniversary Party - 18/12/22!
A decade of dance music with Daniel Lesden
Earth Needs a Rebirth! Discussions with Psy-Trance Artist Numayma




Reported by News Editor (5th July, 2021)

London club Peach which relaunched with outstanding success in 2014 has bought the branding rights to the iconic London and Midlands club - Club UK!

Club UK will be relaunching a series of events in 2022 that recapture the hedonistic and epic days of Friday and Saturday nights in Wandsworth. It will be like stepping back into the past with much of the paraphernalia associated with the Pop Art Room. Of course, at Club UK it was all about the clubbers, the atmosphere, the music and the DJs. We have been in touch with all the residents and many of the regular guests, all of whom have given the venture huge thumps up, as have members of the Club UK Facebook group https://www.facebook.com/groups/6914147969 [FULL STORY]
Raising Awareness through the Power of Music!

[More News] - [Submit Your News]

HarderFaster Photosets
Members Photosets
CHAT FORUMS
Most recent topics - to see all the forums click here - to see today's active threads click here