Belegost - Harper & Green
Perfecto's Black imprint drops new Harper & Green in the shape of Belegost. No remix on this one, just the original and an edit.

Forgoing the edit, lets just jump into the Original Mix. As is typical with Black, the emphasis is on ... [Read More]


More Reviews:
Into The Sunset
Dionysus
Conquistador I
[quote : unquote]

..The trouble with the rat-race is that, even if you win, you're still a rat.,
American comedienne Lily Tomlin
LINK TO US
If you would like to link to us from your website you can find suitable icons here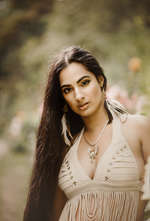 Written by Tara (19th September, 2018)

Quite possibly the biggest synchronised dance event in history (or at least that's how I described it when I interviewed Mark Sinclair for Earthdance 2007!), Earthdance has been held in over 1000 locations in 80 countries around the world since its inception. This weekend sees this very special event return to London's Steelyard, with an epic Goa trance line-up that includes Total Eclipse, Blue Planet Corporation, Shakti, NEO and Lauren Lyon in the main room and an awesome alternative psy chill room featuring the likes of Robin Triskele, Indigo Herder, Nimi, Bubblewrap, Anu and yours truly, FlibbertiGibbet.

As well as being a celebration of life, Earthdance doubles as a sacred ceremony and for this edition, the original voice of the prayer for peace, Eeshi-Ra Hart, will lead the live spoken prayer, which will be streamed on YouTube alongside the other Earthdance events worldwide.

With the countdown to Earthdance 2018 on Saturday 22nd September well and truly underway, we spoke with organiser, DJ and shamanic energy worker Amoriah Ka aka Shakti about this incredibly unique anniversary party, where all profits go to the London homeless charity Thames Reach and grassroots refugee organisation Calais Action…
[FULL STORY]
Other Recent Features: [More Features]
Fishing for Cats with Neutrino ahead of the launch of Progression Sessions
Ivan Pereira (Yestermorrow/Atomizers/Techyon/Boundless) and his Never Ending Quest!
Psychedelic Pan talks gatecrashing parties, weird decor & Goa Creamsicles!
Exploring the extra-terrestrial waves in the super sonic mind of Mindwave!
A Mindbending Conversation with Mindbenderz from Iono Music!




Reported by starkprofiles (11th December, 2018)

It's on!! 'Be Your Sound' - one of Cosmic Gate's most fan (not-to-mention personally!) cherished tracks' is back amongst us this month. 3million Spotify streams & 15mil in YouTube views into its release history, the one that lit the path to 2011's 'Wake Your Mind' has passed into the ever-dependable remix hands of ilan Bluestone.

His work a mainstay of CG' sets for many years, ilan's mix brilliantly gets under the skin of the Emma Hewitt written-&-sung gem. He's forged a 2018 reimagining that shifts 'Be Your Sound' ten degrees deeper, reframing its vocally emotional sear in a whole new light.

Fresh from the release of the Englishman's own debut LP, ilan, rallies that unique sonic genetic to BYS's cause. Through low-slung, ether-steeped bass, compelling, complex drum & perc patterns and imaginatively fashioned FX, he recasts 'BYS' in a moodier-broodier-still manner. Emma's haunting refrains and lament-tinged song cut every bit as [FULL STORY]
DT8 Project releases Leave It All Behind EP Vol 2. featuring The Edge
Thank-you from Nordoff Robbins for all the kind donations at the HarderFaster Christmas Party
BT – Ittefaq
(Official Orchestral Score Album)
Cosmic Gate - 20 Years: Forward Ever, Backward Never / Cosmic Gate Receive First GRAMMY Nomination
RAM, Alex MORPH & Alex Di Stefano - Grotesque 350
John O'Callaghan & Cold Blue 'Symmetric'
Pavel Khvaleev - The New Album - 'Sonder'
Markus Schulz Wins Third America's Best DJ Title
Giuseppe Ottaviani featuring Clara Yates - Why
Richard Durand & Christina Novelli - The Air I Breathe
Markus Schulz Pres. Afterdark Vol 1
'Music Rescues Me' by Paul van Dyk + new single 'Voyager' w/Alex MORPH
Bradley Gunn Raver Releases His Debut Track With Techno Producer Phutek

[More News] - [Submit Your News]

CHAT FORUMS
Most recent topics - to see all the forums click here - to see today's active threads click here