Depth Perception EP - Autoglider
With three mixes fom Framewerk, the Depth Perception EP surfaces with Part 2; entitled I Feel The Rush. These are the remixes by Framewerk which includes an intro mix and a dub.

For me, its the main mix that entices with its progressive nat... [Read More]


More Reviews:
Adelphi '88
Armagedon
Astrale Finale / Mysterious Moon
[quote : unquote]

..We're supporting the USA. At this moment, there's no such thing as ghetto, middle class or rich. There's only the United States,
Marion Suge Knight of Death Row Records backs the US Govt.
LINK TO US
If you would like to link to us from your website you can find suitable icons here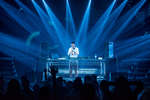 Written by Tara (23rd November, 2022)

With November 2022 marking my 20 years of music journalism and event promotion on this website under a variety of aliases and, in some cases, long-dead record label and party names (may they Rave In Peace), it's very easy to become jaded reading the usual ubiquitous DJ bios. But as a geriatric hobbyist DJ myself, I still can't help but read the bloody things. It's become increasingly rare, but just occasionally, someone catches your ears and eyes that really stands out from the crowd, and in the case of music producer, DJ and JOOF Recordings' A&R Manager Daniel Lesden, has fitted more into his decade-long career than many artists will achieve in a lifetime. [FULL STORY]
Other Recent Features: [More Features]
Earth Needs a Rebirth! Discussions with Psy-Trance Artist Numayma
Taking a Journey Through Time with Domino
New Techno Rising Star DKLUB talks about his debut release White Rock on Onhcet Republik!
PAN expands on many things including his new album 'Hyperbolic Oxymoron' due for release on the 14th April 2022 on PsyWorld Records!
Psibindi talks all things music including her new collaborative EP 'Sentient Rays' on Aphid Records, her band Sentience Machine and 10 years of Psy-Sisters!




Written by HarderFaster (25th March, 2020)

HarderFaster was saddened to learn that Jonty SkruFFF, eclectic and influential DJ/producer, music journalist and radio presenter, died on Friday, March 6, following a battle with cancer.

Jonty had a long association with HF, educating and entertaining us with choice reports from his SkruFFF news feed.

As a tribute to Jonty we're re-running his last Berlin Soul mix - Hammahalle Tough Techno Mix. RIP x

Tunes you can believe in [FULL STORY]
Other Recent Music: [More Music]



Reported by PSYLICIOUS (6th November, 2020)

50 Spins Around The Sun...

Launching: 12PM GMT on 19:12:20 @ Psylicious Radio

Leading you into Winter Solstice 2020 Psylicious Radio airs it's final show of the year, a 36 hour celebration for a good cause featuring some of the most respected names in Psytrance!

It's an online party celebrating EarthAliens 50th Spin Around The Sun and to raise awareness for a charity very close to his heart...

The Myelin Project...

The British Trust for The Myelin Project is a registered charity, no. 1000614.

It was founded in 1990 and since then has been dedicated to funding research in to
demyelinating diseases such as Adrenoleukodystrophy (ALD), Adrenomyeloneuropathy (AMN) and Multiple Sclerosis (MS).

Augusto and Michaela Odone created the Myelin Project for their son Lorenzo who suffered from ALD - a rare genetic [FULL STORY]
CLUB UK PRESS RELEASE :: THE ICONIC CLUB IS COMING BACK!
Stuck for things to do during lockdown?

[More News] - [Submit Your News]

HarderFaster Photosets
Members Photosets
CHAT FORUMS
Most recent topics - to see all the forums click here - to see today's active threads click here