Origins - Arlicht
Hypnotic is the name of the game here as Alter Ego drops the latest by Arlicht. This is Origins and it contains a Director's Cut mix by Arlicht, which lengthens the breakdown. But what's it like?

This is typically Alter Ego. Epic producti... [Read More]


More Reviews:
Relic (Remixes)
The Towers I: Inaccessible
Song To The Siren
[quote : unquote]

..I know it sounds odd but I feel safer here in LA than I ever did in London, though maybe that's because I'm heavily armed,
Technova's David Harrow on Leaving Tottenham For LA
LINK TO US
If you would like to link to us from your website you can find suitable icons here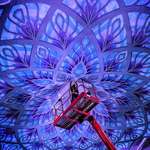 Written by Tara (14th December, 2022)

Magic is descending on London on the seemingly inauspicious date of Friday 13th January 2023 to transform The Steel Yard into an enchanted psychedelic wonderland. It's going to be an anniversary of epic proportions to celebrate Tribal Village's 10th Birthday, with London veteran party people World Lounge Project staging a rare reunion for WLP/Atom party crew main man Simon's 50th, plus it's also Bom Shanka Records rock star headliner Nuky's birthday.

Alongside these extraordinary milestones, an amazing international musical line-up has been curated over two rooms, with artists representing all five continents converging on London. But what's really going to make this super-special is the production, as local crews Dan LeCatt, Geomatrix Design, inOrbit and Urban Tribe are being joined by global décor goddess Ivy Orth, lead designer for LunoSol Design, who's flying in fresh from decorating Japan's New Year at Mt.Fuji (Powered By ADMC).

With the countdown to this spellbinding celebration well underway, we spoke with Ivy about the incredible journey that's taken her from London squat parties to kitting out some of the world's biggest music events…
[FULL STORY]
Other Recent Features: [More Features]
Shyisma talks parties, UFO's, and Shotokan Karate ahead of his upcoming album 'Particles' on Iono-Music!
SOME1 talks family, acid, stage fright and wolves - ahead of his upcoming album release 'Voyager' on Iono-Music in February 2023!
The Transmission Crew tell all and talk about their first London event on 24th February 2023!
NIXIRO talks body, mind and music production ahead of his release 'Planet Impulse' on Static Movement's label - Sol Music!
The Psy-Sisters chat about music, achievements, aspirations and the 10-Year Anniversary Party - 18/12/22!



HarderFaster Photosets
Members Photosets
CHAT FORUMS
Most recent topics - to see all the forums click here - to see today's active threads click here