Features

New Techno Rising Star DKLUB talks about his debut release White Rock on Onhcet Republik!
PAN expands on many things including his new album 'Hyperbolic Oxymoron' due for release on the 14th April 2022 on PsyWorld Records!
Psibindi talks all things music including her new collaborative EP 'Sentient Rays' on Aphid Records, her band Sentience Machine and 10 years of Psy-Sisters!
N-Kore talks Jean-Michel Jarre, unfinished tracks and fatherhood!
Celebrating International Women's Day and Ten Years of Psy-Sisters with Amaluna
A Catch Up with John Phantasm ahead of his upcoming set at the Tribal Village 4 Day Outdoor Event in Kent 6-9 May 2022!
'The Maestro that is Tristan talks barn owls, Shazamming and keeping it Psychedelic ahead of his upcoming performance at the Tribal Village 4 Day Event in Kent 6-9 May 2022!
DJ talk with Psyrenzo ahead of his debut set at Tribal Village, the Steelyard this Friday 14th January 2022!
TENZO aka Overdrive talks freely about launching his new act which will be showcased at Tribal Village, Steelyard on 14 January 2022!
A long overdue catch up with JourneyOM ahead of his next Tribal Village party this Friday 14th January 2022 at the Steelyard, London!
Goa based party animal and artist extraordinaire Nirmal talks punk concerts, metal sculptures, flying and rippin' it up on a High Tide!
DJ Wired talks to us about the Rise of the Hope and parties, ahead of his upcoming set at Tribal Village on 14th January 2022!
Fast rising star Domek talks about 'A Changing Disaster', his remix of NEM3SI$ 'The Fourth Kind' and his mega popular podcast 'The Playground'!
Psychedelic Pan talks Funny Moon Fest, Lost In Translation Chill Act and encourages us to be weird!
A quick chinwag with Belfast born Idiosyncrasy aka Alan Henry!
Psy-Sisters Present Set For Love 2021!
Gipsy Soul discusses the 'Circle of Life'
Telling Cosmic Tales with DJ Strophoria
Tom Psylicious aka EarthAlien takes 50 Spins Around the Sun: Raising Awareness Through the Power of Music
The Breakthrough interview with DM-Theory
An interview with SOME1, a new alias of Psy-trance artist extraordinaire Mindwave
One Function talks to us about his biggest loves and his new album release 'Harmony'
Lyktum talks Consciousness, Call of Duty & Covid-19 and introduces us to his new album Mission 5D
Luke Thomas talks us through the twists and twines of his longstanding career in the music industry!
Talking Hardcore, Depeche Mode & Jimmy Sommerville (amongst other things) with Techno producer Chris Coles!
A candid chat with the illustrious Latex Zebra, ahead of his debut on Onhcet Republik!
Phutek talks the Rave Scene, Carl Cox, Marriage Proposals and the reincarnation of 'Reincarnations'!
NEM3SI$ from Techno Label Onhcet Republik talks about ethos, the scene & gives a heads up on a very exciting remix of a renowned classic anthem!
Exploring SUN! Ahead of her debut album release on Iono-Music!
Proxius - Lust In Space
One Wise Man with Raymondo

Reported by Adam Symbiosis / Submitted 29-09-06 13:03

A wise old man once told me the secret to being a good DJ is to enjoy yourself. If that holds true then there's one wise guy that's had all the success in the world. Entertaining the masses for longer (and better) than some of today's know-nothing upstarts have been eating solid food, Ray Wise, better known as Raymondo, has consistently provided great music at parties across the world in a career that's seen him turn his skilled hand not just to DJing, but running a successful party, a fantastic website and also documenting the scene through his photographs and summarising it all into the famous club laws. To be honest if he hasn't done it, it's not worth doing.




But earlier this year he made the decision to abandon it all and spend some quality time on himself for a change. Deciding to retire from the full time rigours of DJing and running the website, the last few months has seen him take stock of his life and get back to the finer things. Raymondo's Last Stand was a line in the sand, "It was a finishing point, I'd had enough and I wanted to take it easy. It was a great celebration of what I had and hadn't achieved. Just like Mr Ben coming out of that little shop, don't expect me to be away for too long. Just to prove that the old boys can do it." I wondered nonchalantly if we might see him wearing a bowler hat for his return to the decks on October 7th, though you might be lucky to see him in his slippers and carrying a pipe. If however you'd like to be the one to help him in with his bag, then please send your details on the back of a postcard to the usual address. "I don't want to be perceived to be coming back. I've got nothing to gain and really I've always had my full time job. Even when I was playing 6 or 7 gigs a weekend, I still went to work on Monday. Personally I don't think you should lose track on that sort of thing, cause when it all falls down, where does it leave you? I've come back because I still have some love for it, I just don't want to be doing it all the time. You've got to be something special to make a go of it as a full time DJ and you've got to have you're head screwed on." I wondered if it might also have something to do with the way some promoters paid their DJs. "I think the perception of our scene is a little higher than it should be. Our scene isn't as serious as it should be and therefore perhaps the promoters don't pay as much as we used to get but they shouldn't take the piss. The larger events bring in more money, so they should pay the DJs more. I've been paid more money for playing in a small club then playing in a big club. DJs do get a raw deal at the end of the day. You could blame the promoter but then you could also blame the DJs, not to individually pick someone out but there are too many DJs who will play for free." Maybe there should be a DJ union? Could DJs club together, with the shop floor stewards having it on the dance floor? There's a thought to ponder. "If you pay good money for DJs, you tend to get good music because people are more bothered."

It's interesting, I thought as we joked about record trolleys with wheels and zimmer frames and the like. Is there an upper age for DJs? Should they be made to retire when they become older than the average clubbers parent? While this in no way affects Ray yet, there are plenty of other ageing DJs and rockers (think The Rolling Stones) still growing old disgracefully. "I'm not that old anyway," he countered with a wry smile. I wanted to drill down into his reasons for coming out of his self imposed exile and playing for Chemical Reaction (CR) at Twisted this October. Of course if you haven't heard of Chemical Reaction, you've been missing out. Constantly surprising the most jaded of clubbers with the depth in their DJ selections his reply wasn't that much of a surprise to me. "I'm playing for Annetta (of CR), she asked me to play a classics set and would I mind coming back, as it were. It's just what I wanted to do."



Ray had a great understanding of the highlights of his career and as he recounted the challenges and successes of his career, you could see the excitement and the memories flash brightly in his eyes, "Personally I set out to achieve one thing and that was to have a fucking good time and I did that without a doubt. I just set myself one goal after next. The first goal was a warm up set, the next was after 12, then it was last set, then something in the middle. Then it was I want to play at Camden, The Fridge, I want to do this, I want to do that, I want to go abroad. There was always some new goal to reach and some goals I didn't get." He never played at Camden in the main room for example; refreshingly there wasn't any bitterness, just a tacit understanding that there are always some things that you might miss out on.

His early years playing in London started in 1995 for Sunnyside up at SW1 Club, better known as Pacha now. This led to more gigs around the capital and Raymondo became a well-known name on flyers and at parties like Sunflowers and Pickle. "My set for Pickle in the main room of Brixton Academy had to be my best ever set. I think it was their birthday party and it was a big honour." Playing after a Dutch DJ hitting the crowd with some German trance, he recounted how the crowd just needed something different to pick them up. "Everyone was having a good stomp but I changed the beat a little bit and it went down really well. I finished up playing Underworld – Born Slippy and well…" You could say the rest is history. Resident at Pickle from more or less the start, he met both the Pickle and the Fever promoters in a black room with splatters of fluro paint thrown around the walls. "I got to know the both at the same time and luckily they both took me on! Pickle was a great party to play for. The way they did things were out on a limb, word of mouth type parties. We started off doing squat parties then moved up to bigger clubs; Stratford Rex is one I remember well. Then we went to Imperial Gardens where it really took off. There was a real good vibe." Confirming just why they were the good vibe tribe and making me reminisce about some fantastic Pickle parties I went to.



Parties were always on Ray's mind and he was putting on Overdrive down Croydon way long before he was playing in London. "Starting parties gave me some leverage in getting gigs in London. I've got some friends to thank for helping me with the parties. Me and a guy called Michael put this party on and the plan was to get one known DJ down from London every time to play at the party, which only ran till 2am. We'd put the DJ on last, I'd play before him and maybe another mate Ian before me and that worked well for me because even though the party wasn't that packed I'd end up getting a set in return at the guests party or they'd put in a good word for me." As his bookings grew the party had to be dropped, though the seeds for what was to become CiL / HDL were sown. "I was so busy and a lot of people wanted to know what I was doing so I made up a site just about me. Unfortunately I got a bit too involved in it and it started to take over. I think I forgot about DJing for a bit and cracked on with the website." Changing the site from Webmondo to Clubbing In London (CiL), forums were added, DJ pages were inserted and pictures posted up. The fledgling site was born.



"Between all that came the record label. I had my own label, Transation, which had five releases. My first release came out on Tongue In Check, a record label in Oxford." Another bug had bit Ray and he sat and learnt as much as he could during a series of visits to a studio. "I blagged it with Sid, who owned the studio, to make a track and he said, 'Yeah, but the rights are mine.' I though yeah fuck it, I want to get a track out so we went and cut a track. It was called Vanguard, the B side was something else to be believed in, but it was my track and it was out there." I had to laugh when he told me the tune was released on a 10" vinyl but the pride in his voice was flowing over and I nearly spilt my drink as we talked about having a 10" record box. "Every time Adam from Lab4 sees me he always asks when I'm going to give him a copy of the track. They made a record and dedicated it to my track. It wasn't even till later on in my career that he said it to me and I was quite astounded! I got very embarrassed about my tracks. When somebody played my records I used to run out of the room." I wondered if his spare time might lend itself to producing again and floating around by the masses of records he stores away I was issued with a super secret copy of a never before released track, which has now been spirited away in my CD box. "Well if anyone wants to take it on, then let me know."

We moved back onto the site and the change from CiL to Hard Dance London. "Looking back on it I should have just changed the site and not the name, it should have been made more versatile. At the time CiL was all about hard dance, though I had many people checking it out looking for other types of music. Still nothing ventured, nothing gained." On the back of both the sites were some legendary Thursday and Sunday parties. CiL parties were being attended by all walks of people long before many of our junior wannabe promoters were even out of school. "I owe that all to Blair and Brendan who used to run Charged and they started Sids and made me monthly resident. Believe it or not it used to get packed there on Sundays. We sort of took over from them and took it to the next level, Thursdays was just an extension. Blair gave it a good crack, but had an argument with Victor (of Sids) and gave it up. One or two years later I thought I'd give it a go as Victor was begging me to go down there, I did it for a bit, gave it up and then started again. I'd been advertising it quite blatantly on HF so decided to be a bit more discrete and called it CiL and things just went from there." In fact most people will tell you that it was the unofficial HF meet up for so long, it was by default the official HF meet up, with nearly everyone from back in the day attending at some point. "It was all a matter about getting the right DJs in. We weren't charging on the door, there were some deals at the bar and we had Superbok by the tank. We were also quite lucky to have a pole in the middle as well. It was tiresome to run it ever week but I was helped out by Adam, my Australian friend who assisted on the party and the site. I was trawling through CD after CD though I always thought if someone went to the trouble of handing in a set then I thought well why not. It was all about giving people a chance. Even in the early days we had people who are now very famous, people like James Lawson and Tania Mann. Unfortunately Victor got a bit aggressive sometimes with the customers so in the end we had to pull it." Still it's not as if the party didn't do the Mondo any favours in the many years it was running and he continued on to recount stories of Dean Peters, Phil Reynolds, Matt Clark and of course Ray himself taking turns to go on the decks on a messy Sunday afternoon. "One person would put a record on, then someone else would fall over and the next person would have to have a go. People just loved it."



In the background we had an old mix tape playing with some acid 303's buzzing up and down and as the track developed it Ray pointed out it was one of his first mixes. I was suitably impressed by the skill shown so early on but it did bring me back to his semi-retirement. Taking it easy was a theme he couldn't ignore but I wasn't surprised after his many years of being an integral part of the clubbing scene. "I'm still coming down," he told me with a laugh. "I'm doing all the things that you give up when you go clubbing. Simple things like going for a drink and a meal on Sunday afternoon, I was never interested before or was too busy playing or being asleep." You might find him sitting next to your local pond fishing, or by some well-known attraction taking a photo from an unusual angle for his new site www.photolondon.net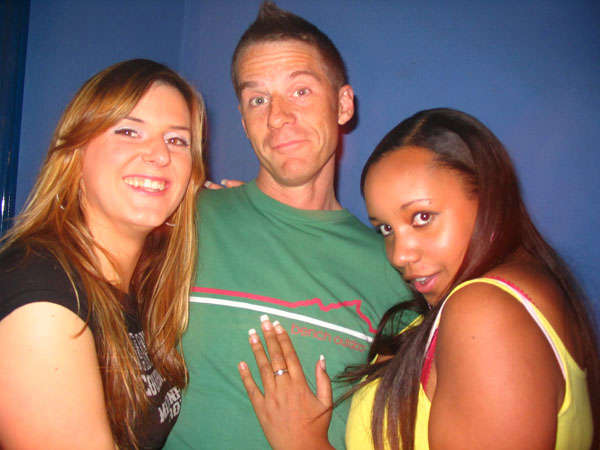 I was interested in some final words from the Great Raymondo (as I was first introduced to him by a certain number plate), some thoughts on the club scene. Quite frankly no interview would have been complete without mention of the club laws. Brought into the scene primarily as a marketing tool (and quickly copyrighted) they soon took on a life of their own with clubbers collecting them like addicts looking for their next hit. "There were 63 club laws, there could be more, I've got them written down somewhere. We were running a party called Choon Town and it was all part of the promotion for that. We'd booked out Imperial Gardens before any other trance or hard house party had, it was a garage location before and the first time I'd heard about the venue I'd heard that someone had been shot outside, so I thought that was worth checking out," he said with a laugh. "Instead of doing flyers, I decided to make a little booklet with each of the laws printed so that page one had laws 1 to 4, page two had laws 5 to 8 and so on. Then we shuffled the lot, got them photocopied, then gave them out randomly at clubs and people just started collecting them like mad. People would come up and say 'Have you got page 9 as that's the only one I'm missing!'" As a parting shot I challenged him on law 14. "Jesus!! I think that's Rizla, but I'm not sure. You know when you get these annoying people come up to you and they don't even speak, they just roll their fingers together expecting you to do something and you're like what?? If you're going to fucking smoke, bring your own fucking gear!! I always thought to carry some toilet tissue to hand out to these people, lets see you roll with that."

Adam Symbiosis



Photos courtesy of Raymondo and Adam Symbiosis. Not to be reproduced without permission.





TWISTED's 8th Birthday

On:
Saturday 7th October 2006
At:
The Fridge [map]


From:
22:00 - 06:00
Cost:
Advanced tickets £12 - MOTD
Website:
www.mostwantedevents.com
Ticket Info:
£12 Early Bird Tickets from Ticketweb - MOTD

For information and concession guestlist, email:

ben-twisted@hotmail.co.uk

Buy Online:
Click here to buy tickets
More:
YOJI BIOMEHANIKA & SCOT PROJECT LAND AT TWISTED!

Ladies and gentlemen, boys and girls, clubbers extraordinaire – welcome on board Twisted Airlines Flight 0710 for the maiden voyage of the sensational Airport clubbing concept.

Tonight's Airport destination is The Fridge in London, our scheduled time of arrival is 10pm. Your captains on this flight of musical fancy are international clubbing legends Yoji Biomehanika and Scot Project/[b], who will be lifting you off the ground with a dazzling mix of hard dance, European trance, techno trance and hard house.

Your Head Steward for tonight will be [b]Trevor McLachlan, ably assisted by guest cabin crew Latex Zebra. Both are on hand throughout the flight to warm you up with a stunning selection of the hardest most euphoric tunes as our flight rises higher into the atmosphere.

Should you require refreshment of a different nature, please feel free to unbuckle your seatbelts and visit the IceBox, where host Chemical Reaction will be serving up a filthy session of underground UK hard dance.

Emergency exits are to the front and rear of the plane but we guarantee you won't want to use them until our flight lands at 6am. Should you wish to show your appreciation at any time during the flight simply blow on the whistle attached the lifejacket under your seat and wave your hands in the air.

In the event of your breath being taken away, you will find your oxygen masks in the compartments overhead. Please don't worry as this is a common occurrence at Twisted events. Please do not remove the masks from the plane for later use as club wear.

Advance boarding passes are available but can also be purchased at the passenger gate on the night. We thank you for travelling with Twisted Airlines and we hope you enjoy your flight.

Flyer:
-
---
Share this ::

:

:

:


Follow HarderFaster ::

---
Other Features By Adam Symbiosis:
Godskitchen Xmas Party: Reviewed
The Big Chill: Reviewed
Tiësto at Victoria Park: Reviewed
Lilly Allen: Reviewed
Digital Society May 2009: Reviewed
---
The views and opinions expressed in this review are strictly those of the author only for which HarderFaster will not be held responsible or liable.
---
Comments:
From: Euphoria on 29th Sep 2006 13:12.35
A Legend! I had some wise words from this man


Don't stop! x Pickle Ressie.

From: Matt Smallwood on 29th Sep 2006 13:18.12
Ray you're a legend mate! Sooo many wicked memories from XLR-8 and Sids all those years ago!! ...Aah they were good days mate, hope you're well!

From: anushka007 on 29th Sep 2006 14:15.38
Adam - wicked read
I have always been big fan of Sir Raymondo and I remember the day we met

@ Tilt. He is my music hero too and I am so happy that he can join us for this advernture.
I am sooo looking forward to your set



From: Richard Launch on 29th Sep 2006 16:08.43
Raymondo..!!!! Hope all is good mate.

From: Menthol Taz on 29th Sep 2006 16:48.17
A legend & all round nice guy. x



From: Euphoria on 29th Sep 2006 18:35.43
The best interview on Harderfaster and its the truth!!! Massive RESPECT to MR RAYMONDO



From: Craig Jon on 29th Sep 2006 21:39.44
AAAh Raymondo.. You had a major influence on my Djing and i remember fondly the times at 266 and Sids. I still hear that track by 9pm(i think) called Till I come and think of you.... Much like yourself I have Semi-Retired but the memories will live on forever. Cant wait to see you in Melbourne in November. Great interview mate. X Craig Jon


From: Camden Nurse on 30th Sep 2006 09:41.25
Ray, your the man.

From: Dan Madams on 30th Sep 2006 14:47.42
top lad- have some very good memories of the 266.


From: Prozak on 1st Oct 2006 13:49.32
retired???]
hihihihi




From: Euphoria on 1st Oct 2006 19:01.28
The problem is , he cannot stop, he's too good



From: Cerberus on 2nd Oct 2006 14:31.44
can I play at your coming OUT of retirement party please....
Mr Gunn ;&gt



From: JODYPULSE on 3rd Oct 2006 13:04.46
Raymondo



Ive had many a good night with this man and hes played many times for me, hope your well dude!!!

what you up to nye?

From: maliksta on 3rd Oct 2006 22:51.35
You got the JAMMMMMMMMMMMMMMMMMm
Nice one Raymondo.
rock on bruv!
m

From: Raymondo on 4th Oct 2006 07:36.01
Thanks everyone for the comments - you are too kind - all very special friends in one way or another - those in London, look forward to seeing you Saturday - those in Oz.. see you in November :-) Jody - email me x

From: Stu Serotonin on 4th Oct 2006 13:31.03
Ahhh Sids... Thanks Ray for giving me my first set at a straight club(!) Good luck with the comeback!

From: spangledwench on 4th Oct 2006 16:36.25
Rock on The Mondo!! Bring back Sids! Nahh not really - best left as a memory, good times! Especially that pole...

From: dean peters on 4th Oct 2006 16:44.54
The word 'legend' is so overused but it applies so much to Ray. Top quality DJ/producer who has been there from the beginning.....Have so many fond memories of my early DJ career that involved Ray. An inspiration and a great ambassador for the DJ fraternity.....Will never forget sids/ provocation or 266!! My god the fun we had. Thank you Ray. Such a great bloke. Cant cook to save his life though....;-p

From: maliksta on 4th Oct 2006 23:24.18
In the beginning. nice one Peters..
TEQUILA provs!!!

From: ~deleted9531 on 6th Oct 2006 18:30.56
Gwan Ray, good to see you back where you should be...

From: Jo Bright on 7th Oct 2006 01:18.22
Wot a wicked interview!
So good to see u get the recognition u deserve Ray.
Sids, 266 and Your sets on b.h monday, at match made in heaven, we're simply the best.
Love ya . x


From: sexyminx on 10th Oct 2006 20:33.21
OI OI mass

to you. Wicked interview, well done

Keep up the good work & hope to see you out n about very soon