Motion - Toby Marks and Andrew Heath
After remixing Banco de Gaia on Disco Gecko, it was probably inevitable that Andrew Heath and the mastermind behind Banco would get round to recording a full album together. The thought of this was intriguing to me as I'm a fan of both artists. Its i... [Read More]


More Reviews:
The Lost Chapters
Just A Fool
Belegost
[quote : unquote]

..There's no difference between going to a club in Ibiza and your local Sharon and Tracy disco on the high street," said Jim. Serious clubbers, or rather people that aren't Sharon and Tracy types, have always wanted an element of elitism; they want to feel they're doing something that's cutting edge or at least not the same as the people who drink 15 pints down the pub,
Techno DJ/promoter Jim Masters (Skrufff)
LINK TO US
If you would like to link to us from your website you can find suitable icons here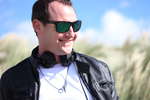 Written by Tara (16th January, 2019)

When I first interviewed Dino Ciancamerla aka Neutrino almost 10 years ago as part of the A.T.A.R.I. Project, he'd just played the main stage of the Fridge for the first time for Logic and had started to work on his debut album. He'd already played MOS and was playing his own tracks out, but he knew even then that the best was still to come.

Fast forward the best part of a decade and Dino and his gorgeous wife Kerry are the closest thing to Posh and Becks the psy scene has ever had, having promoted a number of epic events under their Yeah Baby brand, while as Neutrino, Dino has just released his incredibly catchy remix of Phaxe's 'Unforgotten' on legendary prog label Iboga Records. Skyrocketing to the top of the Beatport Psy Trance charts, it hit No. 1 over new year while Dino and Kerry were in Thailand, where Dino was playing at Koh Phangan's Halfmoon Festival.

With Dino and Kerry about to launch their brand new night Progression Sessions at Clapham's Fu Manchu on Friday 1st February with prog pioneer Ace Ventura headlining, it was most definitely time for a catch up with this rising star… [FULL STORY]
Other Recent Features: [More Features]
Up close and personal with Rena Psibindi as she talks DJing, Psy-Sisters Record label launch and her new band - Psychic Misfire!
Cosmic Tone talks 'Resources' and divulges his colourful weird psyche!
Talking with Ital's 'Voice of Nature'
Ivan Pereira (Yestermorrow/Atomizers/Techyon/Boundless) and his Never Ending Quest!
Psychedelic Pan talks gatecrashing parties, weird decor & Goa Creamsicles!




Reported by starkprofiles (15th December, 2018)

Together, they've mixed compilations, regularly recorded for the same label and even (rumour even has it!) share the same dentist. Yet somehow a studio side-by-side between John O'Callaghan & Cold Blue has remained MIA. That is until now.

Signing the month off in pretty darn explosive form, today the two trance dons right that oversight. Title-wise we don't think the pair are hinting at a certain natural compatibility in their musical styles. Regardless, one listen to 'Symmetric' and we reckon you'll hear a synchronisation all but impossible to miss.

The pair, it transpires, have been sitting on their first production union for more than a month or two now. Cards played close to the chest, in ID form JOC first brought it out at some of this years most prestigious events- most notably Luminosity, September's Subculture show at Melbourne's Hisense Arena and Dreamstate. Latterly it's also passed into the hands of a select bunch of DJs, including [FULL STORY]
TOP 100 DJs RAISES £69,289 IN AID OF UNICEF
Markus Schulz & Christina Novelli - Symphony Of Stars
Tim Penner Drops Debut Longplayer 'Radio Silence'
Key4050 Make Shock Album Announcement // 'Tales From The Temple' Set For Feb 2019 Release
Myon - Tales From Another World, Volume 01 - South America
DT8 Project releases Leave It All Behind EP Vol 2. featuring The Edge
Thank-you from Nordoff Robbins for all the kind donations at the HarderFaster Christmas Party
BT – Ittefaq
(Official Orchestral Score Album)
Cosmic Gate - 20 Years: Forward Ever, Backward Never / Cosmic Gate Receive First GRAMMY Nomination
RAM, Alex MORPH & Alex Di Stefano - Grotesque 350
Pavel Khvaleev - The New Album - 'Sonder'
Markus Schulz Wins Third America's Best DJ Title
Giuseppe Ottaviani featuring Clara Yates - Why

[More News] - [Submit Your News]

CHAT FORUMS
Most recent topics - to see all the forums click here - to see today's active threads click here