Dionysus - Dead Can Dance
Something a wee bit different now. I know I usually review trance and the hard stuff but I was sent the new Dead Can Dance record and I've only now got round to reviewing it. Oops. Anyway...

This isn't your typical DCD album. Usually, the tr... [Read More]


More Reviews:
Conquistador I
Plagued Streets Of Pity EP
Four
[quote : unquote]

..It seems to me that clubbing in London isn't that much fun. It's not that people don't listen to the music, but they do seem absorbed in the fashion aspect of clubbing or who's looking at them,
Yousef on the London scene
LINK TO US
If you would like to link to us from your website you can find suitable icons here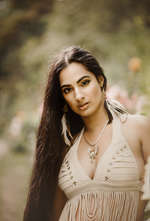 Written by Tara (19th September, 2018)

Quite possibly the biggest synchronised dance event in history (or at least that's how I described it when I interviewed Mark Sinclair for Earthdance 2007!), Earthdance has been held in over 1000 locations in 80 countries around the world since its inception. This weekend sees this very special event return to London's Steelyard, with an epic Goa trance line-up that includes Total Eclipse, Blue Planet Corporation, Shakti, NEO and Lauren Lyon in the main room and an awesome alternative psy chill room featuring the likes of Robin Triskele, Indigo Herder, Nimi, Bubblewrap, Anu and yours truly, FlibbertiGibbet.

As well as being a celebration of life, Earthdance doubles as a sacred ceremony and for this edition, the original voice of the prayer for peace, Eeshi-Ra Hart, will lead the live spoken prayer, which will be streamed on YouTube alongside the other Earthdance events worldwide.

With the countdown to Earthdance 2018 on Saturday 22nd September well and truly underway, we spoke with organiser, DJ and shamanic energy worker Amoriah Ka aka Shakti about this incredibly unique anniversary party, where all profits go to the London homeless charity Thames Reach and grassroots refugee organisation Calais Action…
[FULL STORY]
Other Recent Features: [More Features]
Psychedelic Pan talks gatecrashing parties, weird decor & Goa Creamsicles!
Exploring the extra-terrestrial waves in the super sonic mind of Mindwave!
A Mindbending Conversation with Mindbenderz from Iono Music!
A friendly catch up with Sensient - artist and label owner at Zenon Records!
Confessions of a SuperModule with DJ Lucas!




Reported by starkprofiles (23rd November, 2018)

Richard Durand, that masterful DJ, relentless globe-circler and Level 5 caffeine enthusiast, is delighted to present the handshake single for his new long-player. A joint release between Holland's Magik Muzik and the UK's Outburst Records, Richard's 'The Air I Breathe' also serves as his striking first time pairing with Ms. Christina Novelli.

If you want a first taste of what the Amsterdamer's first album in six years will look & sound like, here's where you're gonna get it!

From 'The Air's outset, Richard sets the most evocative of scenes, carving it deep with rolling bass concentration, echoic & deeper-timbered percussion and quick-release snares bursts. Moving from background to fore, its pads well up and Richard's synths start their sweep, while Christina's harmonic refrains begin to establish their presence.

Come the drop, Richard brings all the studio's spotlights to bear on 'The Air's song. Christina burns up the room [FULL STORY]
Markus Schulz Wins Third America's Best DJ Title
Giuseppe Ottaviani featuring Clara Yates - Why
Cosmic Gate & Emma Hewitt - Be Your Sound (Ilan Bluestone Remix)
Markus Schulz Pres. Afterdark Vol 1
'Music Rescues Me' by Paul van Dyk + new single 'Voyager' w/Alex MORPH
Bradley Gunn Raver Releases His Debut Track With Techno Producer Phutek
ReOrder - IAMREADY
Airwave - In The Mix 007 - Progressive Sessions
Peach is back in 2019 for the 6th reunion. £10 early bird tickets go on sale at 1pm on Sunday 11th November
Louder Than Words Festival Panel: Do Ravers Dream of Electric Beats?
'We Are The Light' Now On Full Release; Markus Schulz Talks About The Inspirations Behind His New Album
Richard Durand - The New Album - 'The Air We Breathe'
Solarstone Presents Pure Trance VII Mixed By Solarstone, Kristina Sky & Lostly

[More News] - [Submit Your News]

CHAT FORUMS
Most recent topics - to see all the forums click here - to see today's active threads click here