Features

New Techno Rising Star DKLUB talks about his debut release White Rock on Onhcet Republik!
PAN expands on many things including his new album 'Hyperbolic Oxymoron' due for release on the 14th April 2022 on PsyWorld Records!
Psibindi talks all things music including her new collaborative EP 'Sentient Rays' on Aphid Records, her band Sentience Machine and 10 years of Psy-Sisters!
N-Kore talks Jean-Michel Jarre, unfinished tracks and fatherhood!
Celebrating International Women's Day and Ten Years of Psy-Sisters with Amaluna
A Catch Up with John Phantasm ahead of his upcoming set at the Tribal Village 4 Day Outdoor Event in Kent 6-9 May 2022!
'The Maestro that is Tristan talks barn owls, Shazamming and keeping it Psychedelic ahead of his upcoming performance at the Tribal Village 4 Day Event in Kent 6-9 May 2022!
DJ talk with Psyrenzo ahead of his debut set at Tribal Village, the Steelyard this Friday 14th January 2022!
TENZO aka Overdrive talks freely about launching his new act which will be showcased at Tribal Village, Steelyard on 14 January 2022!
A long overdue catch up with JourneyOM ahead of his next Tribal Village party this Friday 14th January 2022 at the Steelyard, London!
Goa based party animal and artist extraordinaire Nirmal talks punk concerts, metal sculptures, flying and rippin' it up on a High Tide!
DJ Wired talks to us about the Rise of the Hope and parties, ahead of his upcoming set at Tribal Village on 14th January 2022!
Fast rising star Domek talks about 'A Changing Disaster', his remix of NEM3SI$ 'The Fourth Kind' and his mega popular podcast 'The Playground'!
Psychedelic Pan talks Funny Moon Fest, Lost In Translation Chill Act and encourages us to be weird!
A quick chinwag with Belfast born Idiosyncrasy aka Alan Henry!
Psy-Sisters Present Set For Love 2021!
Gipsy Soul discusses the 'Circle of Life'
Telling Cosmic Tales with DJ Strophoria
Tom Psylicious aka EarthAlien takes 50 Spins Around the Sun: Raising Awareness Through the Power of Music
The Breakthrough interview with DM-Theory
An interview with SOME1, a new alias of Psy-trance artist extraordinaire Mindwave
One Function talks to us about his biggest loves and his new album release 'Harmony'
Lyktum talks Consciousness, Call of Duty & Covid-19 and introduces us to his new album Mission 5D
Luke Thomas talks us through the twists and twines of his longstanding career in the music industry!
Talking Hardcore, Depeche Mode & Jimmy Sommerville (amongst other things) with Techno producer Chris Coles!
A candid chat with the illustrious Latex Zebra, ahead of his debut on Onhcet Republik!
Phutek talks the Rave Scene, Carl Cox, Marriage Proposals and the reincarnation of 'Reincarnations'!
NEM3SI$ from Techno Label Onhcet Republik talks about ethos, the scene & gives a heads up on a very exciting remix of a renowned classic anthem!
Exploring SUN! Ahead of her debut album release on Iono-Music!
Proxius - Lust In Space
A Logical preview with Edwin Van Cleef

Reported by Maxine / Submitted 29-11-06 21:58

I could use this space to try and build hype for this producer but I don't really need to. This producer has been steadily impressing the industry with his tracks and sounds for a while now. His electro fused, energised, techno beats are being dropped all over the world and his new label has been gaining support from many genres and labels. He has upcoming releases on Oblivion, Limbo Bimbo, Beat Technique and Digital Assault but this is only the beginning.

This producer has made hardcore tracks and released them under the pseudonym Spiffeh. This producer has even been featured on albums such as Hardcore Heaven and Tidy Manga. He is now even gracing the stage for Logic on the 2nd December at The Fridge. Who am I talking about? Well it could only be Edwin Van Cleef.



Hello Edwin, How are you?

I am spiffing cheers...

You've been very busy over the past few months; can you give me a quick run down of your highlights?

Well it's nice to know someone noticed haha, but yeah the past few months and in fact the entirety of 2006 has been quite crazy. First off I started up my digital label Captain Van Cleef's Salty Sea Trax. So far we've had four releases with a fifth coming in January next year. The releases are so far available on Trackitdown and Juno and will be up on loads more sites in the near future. The tracks have been getting a lot of support across the board and I've been very happy with the reception they have received. There's also my new website www.edwinvancleef.co.uk where you can find all the information you could possibly want on my piratey adventures, track releases and where I'm playing etc.

Also outside of the internet I've been busy developing my Ableton Live show ready for the big stage, kicking off at the Logic @ The Fridge this weekend, which I am looking forward to a hell of a lot. Not only that but I've also recently been signed to Oblivion Artist Management along with MDA & Spherical and Michael Dow. There are a few more artists set to join us in the next few months and it's a very exciting collective to be a part of.

Production-wise it's been rather good this year too, with two of my tracks, 'Warped' and 'The Wiggle', being signed up by new electro house outfit Limbo Bimbo (www.limbobimbo.com) ready for launch in 2007 with a host of awesome remixes (the Marc Ustari remix of 'Warped' is absolutely amazing). Another big signing has been 'Shake It' which has been snapped up by Jason Nevins of Run DMC/'It's Like That' fame which will also be getting a release next year. It's an electro track, which Jason took away, added some vocals in and a few other bits and it's rather interesting!

I do have to ask, where did you come up with the name Captain Van Cleef's Salty Sea Trax?

I wish I could take the credit for the name but actually a mate of mine Joe Reynolds (who I've remixed a few tracks for) came up with it. I like it though; it encompasses everything the label stands for. The Captain Van Cleef part shows that I run the label or that maybe I am a pirate captain or something. The Salty Sea part is umm... pirates are on boats and go on the sea... which is generally salty... and finally the Trax parts shows that I release tracks, but with an x on the end to show that I am down with the yout.



You have quite a few pseudonyms. Can you let us into a few of them?

Other than Edwin Van Cleef, I've used the names Spiffeh, Octavio Callari, and to a lesser extent Ex Dee. I can't even remember how the name Spiffeh came about to be honest, I'd just used it as my name for internet things forever and when I started producing used it for that too. I made a few hard dance and hardcore tracks and had a pretty big release on Nu Energy label Relentless with a cover of 'Basic Dawn — Pure Thrust' called 'Hardcore Thrust' which appeared on the massive selling Hardcore Heaven 3. More recently under that name I had some tracks out on Equinox's Tranzmit label in the shape of 'Retarded 2.0' and 'The Alchemist'.

Then as I became more interested in techno I started using the name Octavio Callari that I stole from an American census website. It's the least used name in America or something, I can't remember. Anyway, Octavio Callari is probably only known for the bootlegs of all the Eurovision songs from 2005, which were then turned into schranz. It was a lot of fun, but then I started to hate the name so I changed it again.

The shortest running name I used was Ex Dee, which was again back into hard trance. I did two bootlegs under it and then decided it was the worst name ever, and so got rid of it. I have a couple of new guises now that I am developing and releasing under at the moment but I'm keeping them secret for now!

OK so enough of the standard questions. When you were young, what did you want to be when you grew up?

I have the worst memory ever and can hardly remember anything from the previous day, never mind when I was young. I think it's because I fell off a ladder when I was about 5 years old or something and it's obviously broken my brain in some way. I guess when I was younger I wanted to be what every kid wanted to be... a pirate, or maybe a tiger... rawr!



What made you decide to become a producer?

I don't think I ever really wanted to be a producer as such, it just sort of happened. I started off by purchasing a copy of Fruityloops one day (stop sniggering) and was hooked from then on. I remember sending my first track that sounded like a cat being stamped on by a bigger cat with boots made out of horrible noise to Guyver over MSN. I don't think he was best impressed and deleted/blocked me the next day, but it luckily didn't put me off and so here I am today! These days I don't limit myself to any one style at all. I produce whatever I'm in the mood fort whether it is electro, house, techno, hard dance, hardcore… anything really! I love making music and that's what it's all about for me.

Is there one track that you've heard that you think "I wish I had written that!" And any reason why?

There are absolutely loads. I think it's people stealing my ideas before I've had them... how dare they! But I guess Eric Prydz — 'Call On Me' just because of the incredible success it had and the fact that he made so much money out of it! Haha (it's a great cheese record too!) Seriously though it's enabled him to finance his label Mouseville, which has had some awesome releases like 'Control Freak' etc. I guess however there's not one track that stands out the most for me really as any track I've really liked I've remixed it for my own use anyway!.

So you're going to play Logic on the 2nd of December, besides seeing Shaf and Dave and celebrating my birthday, what are you looking forward to?

I guess I'm most looking forward to my own set haha, I can't wait to test out my new tracks and super secret remixes on the famous Logic crowd; but I'm also looking forward to seeing my old chums MDA & Spherical and Michael Dow of course. As well as that there is of course the Lab 4 who are like the granddaddies of all things live PA. I've only seen them play once before and they were awesome, so I'm hoping it'll be just as good this time (which it no doubt will be).



With people praising all your work do you ever worry about people's high expectations?

I'm 99% sure the highest expectations come from myself. If a track I'm making doesn't get a good reaction from me, it's not going to get a good reaction from anyone else, and seeing as I'm so highly critical of my own work, there's a lot of tracks that haven't seen the light of day, or some that have died half way through the production process.

OK last one, what does the future hold for Edwin Van Cleef?

I'd love a hover board like in Back to the Future, or maybe an invisible car... that'd be cool too. However I guess you mean the near future so I'm hoping it will hold a lot more of my tracks being signed as well as getting my Edwin Van Cleef — Live pirate show all over the UK (or world, that'd be even better!)

Thank you for your time Edwin! See you Saturday.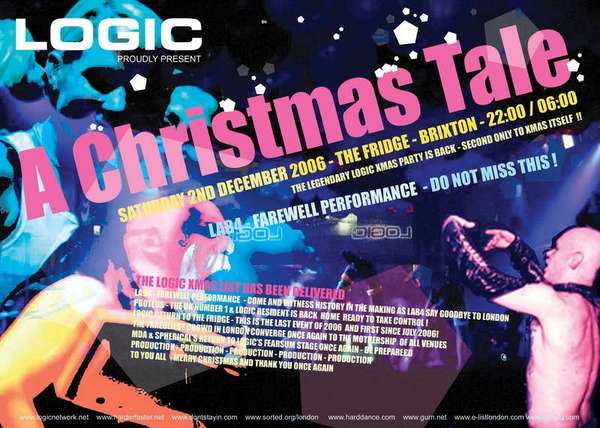 LOGIC Present: A Christmas Tale

On:
Saturday 2nd December 2006
At:
The Fridge [map]


From:
22:00 - 06:00
Cost:
£8 NUS Before 11PM, £10 early purchase then £12. MOTD
Website:
www.logicnetwork.net
Ticket Info:
TICKETS

Early purchase £12 then £15. More on the door.

ONLINE TICKET PURCHASE

http://www.ticketweb.co.uk


TICKETS GO ON SALE IN 24 HOURS

24 hour credit card hotline

Ticketweb: 08700 600 100

PAYING GUESTLIST

Please send your FULL names NOW to avoid disappointment !!!
Please mail names to: logicguestlist@yahoo.co.uk as soon as possible !

OUTLETS

Logic HQ [Brixton] 07960 750303, 07710 927694
NeverEnough Maria [Everywhere] 07813684399
Ticket Web [24 Hours] 08700600100
Cyberdog [Camden] 02074822842
Access All Areas [Camden] 02072678320
Kinetec Records [West End] 02073235303
Mad Records [Covent Garden] 02074390707
Buy Online:
Click here to buy tickets
More:
Logic returns to the Fridge once again for the first time in 5 months to celebrate the legendary Logic Christmas Party. A party that is only second to Christmas itself with production and vibe that make you feel like your dancing the night away in the center of Lapland itself.This will be the 6th Christmas party held at The Fridge and also marks Logic's sad farewell to arguably the scene's most prolific, well known and well respected live act - LAB4 (Adam & Lez). Logic feel very honoured to facilitate such an historic event and although not officially their last gig in the UK this will certainly be the LAST EVER performance for Logic, The Fridge and possibly London !!



So for those that have supported LAB4 over the years - this is an event NOT to be missed !

For those that have never seen LAB4 Live - this is an event NOT to be missed !

For those that mised out on any of the previous 10 LAB4 performances at Logic since 1999 - you guessed it !

Have you never been to a Logic Christmas Party? - Where have you been ?



PRODUCTION

Computer Generated FX and Audio visuals
Light and Lasershow
Decor and visual enhancements by KARMA
Extra Sound Especially for this event.
Stage performers and dancers - LAKUK
Stalls, Performers, Drummers and other acts
Ambient Chillout Area !!!
More importantly, the very best people on earth !!!!!

Flyer:
-
---
Share this ::

:

:

:


Follow HarderFaster ::

---
Other Features By Maxine:
K90 says happy birthday to Logic!
The Logic-al way to get Rich
Late nights and hard work: an insight into events management
Party Proactive preview with Billy Nasty
Party Proactive preview with BK
---
The views and opinions expressed in this review are strictly those of the author only for which HarderFaster will not be held responsible or liable.
---
Comments:
From: JennieRix on 30th Nov 2006 01:03.53
Woo hoo first to make a comment. LOL fair play Ash, cool inteview and cant wait to see you play (ooo errrr) on sat, bring it on ,ARRRR'.
x

From: Martin Begley on 30th Nov 2006 08:56.01
Have only just discovered this mans production talents, and what telent he has. Absolutely loving DEFUNKT - tune!

From: Emma Dicey on 30th Nov 2006 09:18.48
Wicked interview! Lookin forward to seeing you and hearing your PA on Saturday! If Southampton was anything to go by its gonna rock x

From: Norris123 on 30th Nov 2006 09:59.16
This guy is the absolute bollocks!

Can't wait to hear him in action Saturday!



From: Hi Freak1c on 30th Nov 2006 10:28.28
Wicked Interview Ash your a legend keep up the good work and good luck for the fourthcoming future. Keep the tunes coming mate. So much RESPECT.

From: MDA on 30th Nov 2006 12:52.05
awsome interview lol, saturday is gunna rock

From: James Jaye on 30th Nov 2006 13:14.24
Major talent.....fantastic producer with seemingly endless ideas! The LIVE show is superb, can't wait til Saturday!



From: benz on 30th Nov 2006 14:49.14
superb - wont be making it on sat but cant wait to see him

From: Mark. on 30th Nov 2006 17:37.45
Lol, good stuff Ashleh.

About time you got some well deserved recognition.



Pirates for president!

From: sexyminx on 30th Nov 2006 20:36.30
Can't wait to party with the Logic crew. Logic were my 1st ever event to party with when I started coming to Brixton 14 years ago. Saturday afternoon's at the George

See you all tomorrow.

From: Stu Cox on 1st Dec 2006 00:10.56
All I have to say is...



Arrrrrrr.



From: MooShoo on 6th Dec 2006 10:59.15
I still want that dam ATB remix you did pal!!! When's it getting a release or has it???

Good interview by the way, looooots to read



From: K8-e on 9th Dec 2006 01:49.40
Been loving your work for about a year now. Shame I missed Logic but at least I've got the recording



Keep up the good work!

From: sexyminx on 13th Dec 2006 22:05.15
Logic does it again

another phat party. Fantastic sets by everyone

Also wicked set by Edwin Van Cleef