Song To The Siren - Barraka
In 1983, This Mortal Coil, an ever-changing collective of vocalists and producers, released a track called Song To The Siren. It was a cover of a Tim Buckley song. It was sung by Elizabeth Fraser of The Cocteau Twins. She guested on This Mortal Coil'... [Read More]


More Reviews:
Say You're Mine
Ashes (Zach Zlov Remix)
Exhibition V
[quote : unquote]

..Listen mate, I've come to see this stupid c*** and you are not going to take a picture of me tonight,
Sir Paul McCartney visits David Blaine
LINK TO US
If you would like to link to us from your website you can find suitable icons here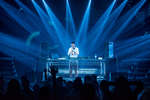 Written by Tara (23rd November, 2022)

With November 2022 marking my 20 years of music journalism and event promotion on this website under a variety of aliases and, in some cases, long-dead record label and party names (may they Rave In Peace), it's very easy to become jaded reading the usual ubiquitous DJ bios. But as a geriatric hobbyist DJ myself, I still can't help but read the bloody things. It's become increasingly rare, but just occasionally, someone catches your ears and eyes that really stands out from the crowd, and in the case of music producer, DJ and JOOF Recordings' A&R Manager Daniel Lesden, has fitted more into his decade-long career than many artists will achieve in a lifetime. [FULL STORY]
Other Recent Features: [More Features]
SOME1 talks family, acid, stage fright and wolves - ahead of his upcoming album release 'Voyager' on Iono-Music in February 2023!
The Transmission Crew tell all and talk about their first London event on 24th February 2023!
NIXIRO talks body, mind and music production ahead of his release 'Planet Impulse' on Static Movement's label - Sol Music!
Turning the world into a fairy tale with Ivy Orth ahead of Tribal Village's 10th Birthday Anniversary Presents: The World Lounge Project
The Psy-Sisters chat about music, achievements, aspirations and the 10-Year Anniversary Party - 18/12/22!



HarderFaster Photosets
Members Photosets
CHAT FORUMS
Most recent topics - to see all the forums click here - to see today's active threads click here