Storyreel (Satoshi Tomiie Mixes) - Interflow
Storyreel was actually released earlier in the year with all the mixes, including the Satoshi Tomiie and Flying At Earth mixes, incorporated into the package. But now, the Satoshi mixes are released on their own with new edits and new remastering on ... [Read More]


More Reviews:
Trance Trax 5
Autumn
Snowfield (Remixes)
[quote : unquote]

..The average British woman is now 5 feet 4 (162cm) and 9 Stone, 6 pounds (60kg); the average American woman is the same height and a stone (6.3 kgs) heavier.,
The Standard - 55% of US adults are overweight or obese.
LINK TO US
If you would like to link to us from your website you can find suitable icons here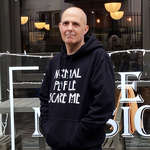 Written by Jessica Alici (23rd August, 2023)

NEM3SI$ has been a veteran in our scene for over 30 years; and continues to make epic dance-floor bombs that take the roof off! With his switch to Melodic Techno and some mammoth label releases in the pipeline, we decided it was time for another catch-up with this legendary artist. [FULL STORY]
Other Recent Features: [More Features]
Luke&Flex talk influences, the Irish rave scene, why Flex wears a mask and Play Hard, their new EP out now on Onhcet Repbulik Xtreme!
Lyktum expands on his new album 'Home' – talking about his love of storytelling, creating new harmonies and the concept behind his musical works.
Pan talks getting caught short crossing the Sahara, acid eyeballs and tells us Trance is the Answer, plus shares his thoughts on his latest release 'Beyond the Horizon' - all from a beach in Spain!
Miss C chats about living with the KLF, DJing in a huge cat's mouth, training her brain and the upcoming super-duper Superfreq Grande party at LDN East this Saturday, 16th September!
Psy-Sisters Spring Blast Off! We talk to DJ competition winner ROEN along with other super talents on the lineup!



HarderFaster Photosets
Members Photosets
CHAT FORUMS
Most recent topics - to see all the forums click here - to see today's active threads click here