Garuda's EJ chats about his latest release 'No More Chances' and gives us insight into his Formula E involvement

Reported by Alex_R / Submitted 29-08-18 15:26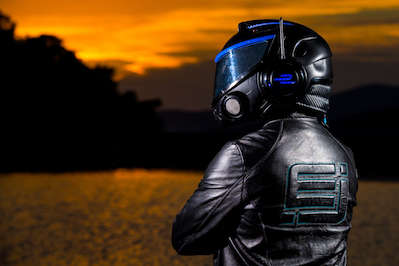 Your new single 'No More Chances' is out now on Garuda! Following on from the amazing 'Slipstream', this one really gives fans a classic peak time track! There is a slightly 90's undertone this one, was that something you were aiming for?

Yeah definitely. I grew up on the 90's trance vibe so have a real soft spot for it. It's such a definitive sound and there were so many amazing tunes from that era. If other people are hearing this similarity I am one happy bunny.

You've crafted an amazing sound which your last track and this new release reflects perfectly but for those that don't know what EJ is all about, would you say 'No More Chances' epitomizes your sound or can new fans to EJ expect a diversity across the new music you're making?

'No More Chances' and 'Slipstream' are definitely the style I would play during a peak time set, but when I perform the music can range from progressive house at around 122 to the more full-on trance sound at 133. All depends on where and when I am playing. I am currently working on some slower progressive stuff music for my album which you can expect to hear at the start of next year.

Joining the Garuda family must feel a special moment? Can we expect any new music from you on the label in the near future?

You sure can. As I mentioned I am working on an album that will be out at the start of next year but before that there are a few more tunes in the pot to come out also.

What was your inspiration behind your previous 'Slipstream' release, was this something you came up with on the road or in the studio?

It was more on the road to be honest with Formula E. I wanted a track that was euphoric and could be played when the cars are crossing the finish line for the winning moment. I was playing it at the last few races of last season and it works a treat.

As a DJ you've played some pretty amazing places! Any highlights so far? Any countries/events you'd love to play?

Zurich and Mexico City this year were amazing. In Zurich I got to play in front of a crowd of 10,000 people just before the drivers' podium which was really cool. Great crowd and we were right by the lake so the location was unreal. In Mexico, I also performed just before the podium but the stand-out gig was the opening party on the Thursday night before the race for Bud Light Warehouse. Awesome crowd. Love it in South America.

Who would be your dream B2B?

Mr Gareth Emery of course! I'm sure that will happen in the future ? If I was playing just a progressive set it would have to be the main man Eric Prydz. Ooooosh!

You are a resident DJ for the motor sport organization Formula E. That's a very unique residency? How did your association with the brand begin?

I have always worked with big dance music brands and back end of 2013 I met Formula E who wanted music to be a big part of the championship. We wanted a DJ persona that could head this and could grow with the championship to bring a youth audience so EJ was born.

You get to travel the world with Formula E. What shows have been the standout events for you? Met any cool drivers or interesting celebrities during the race shows?

Stand-out event would have to be Punta del Este in Season 1. Race rack right by the beach. It is probably our smallest race in the calendar but such a sick location. I also got to DJ with Eric Morillo. I'm always with the drivers at the races and get along with a lot of them. Sam Bird is a great guy and a fantastic driver. If you want a hang out with one and have a party with them then Mitch Evans is your man. Top guy and he let me in his car in Zurich, which was cool! Celebrity wise there is always one or two at each race. The stand out one has to be Idris Elba who I DJ'd after in Paris. What a true gent!

So beyond Formula E, what else is in your plans for 2018? Will fans get the chance to see your anywhere else in the world this year?

We are looking at dates at the moment for the back end of the year to tour outside of Formula E so keep an eye on my website for more info ejmusic.com. The new Formula E season kicks off in December and you can check out the full calendar at fiaformulae.com

Any words for your fans out there?

Just thanks so much for the support so far. It's so cool to meet fans at the races and gigs so if one is near you please come down and say hello. I hope you keep enjoying the music and hope to see you soon.
---
Share this ::

:

:

:


Follow HarderFaster ::

---
All trademarks and copyrights on this page are owned by their respective companies. All other content is (c) 2001-2019 HarderFaster.