News Headlines

VONYC Sessions 2013 Presented By Paul van Dyk
Ferry Corsten – Once Upon A Night Vol. 4 Released Through Premier Recordings, November 28th 2013
LA BOMBA @ MINISTRY OF SOUND : XMAS SATURDAY 28th DECEMBER : TAKEOVER PARTY
Detroit the 'Much More Dangerous' New Berlin?
RAVE Christians Just Say No (Make-Up)
Moby Mocks Thom Yorke's Spotify Stance
Roland Leesker (Get Physical) - 'I'm Not DJing for Money Anymore (interview)
Skrufff Bites
HAÇIENDA : NEW YEAR'S EVE AT THE ALBERT HALL, MANCHESTER
Alex MORPH Pres. Corti Organ - Magnum
TRADE AT CHRISTMAS - SATURDAY DECEMBER 14TH from MIDDAY ONWARDS
Rank 1 - 13.11.11
Pacha Original House Anthems
Goldie Discovers Lost Tribes
Ministry Of Sound Accuse Property Developers of Killing London Clubland
Whitey Sees Red Over TV Company's Zero Sync Offer
Steve Porter Samples Canadian Crack Mayor
Dylan Barnes (Mutiny)- Bashing Bearded London Hipsters (interview)
Skrufff Bites
Genix & Las Salinas Release 'Say Another What'
Land Switcher - Cloud 36 (Free-Spirit Records)
Richard Durand Mixes Black Hole Recordings' 'Portrait' Cd For DJ Mag's Latest Issue
Black Hole Recordings Pres. Mellomania Vol. 23 Mixed By Pedro Del Mar
Solarstone Pres. Pure Trance 2 - Mixed By Solarstone & Giuseppe Ottaviani
DJ MAG TOP 100 DJS POLL 2013 – THE RESULTS : HARDWELL VOTED THE NEW NO.1 DJ : TIËSTO WINS KLM'S TOP 100 DJS LEGEND AWARD : AWARDS PRESENTED BY GIORGIO MORODER
IllumiNaughty offers creative grant of £1000
Trade: The Birthday - A Party For All Seasons on Saturday November 2nd 12pm midday onwards with DJ's Ian M, Andy Farley, BK, Pete Wardman, Ross Homson, Tom Stephan, Smokin Jo, Daz Saund, Nick Tcherniak, Pagano
'PHOENIX BEATS' EP with Dubfire & Evan Marc mixes forthcoming from SYSTEM 7 & ROVO
Betsie Larkin - All We Have Is Now: The Deluxe Edition
Electronic Youth Revamp the Angie Stone Classic "Wish I Didn't Miss You" Out now
Astral Circus launch party featuring Nick Sentience, Mechanimal, Cathar, Savage Circuit, Liquid Ross + many more: Friday 20 July @Brixton Jamm

Reported by AstralCircus / Submitted 13-07-12 23:58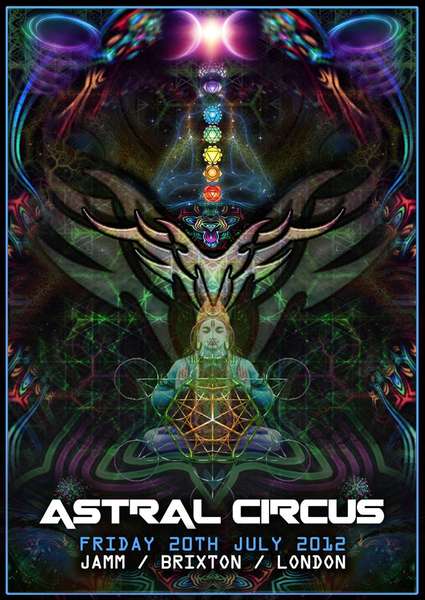 In a hitherto tiny, undiscovered corner of the electromagnetic spectrum, a small bundle of particles, waves and vibrations have emerged from a single flash of consciousness rippling through the universe. Their structure of self-organisation imprints in the space-time fabric; resonating across dimensions as the spectral cacophony creates interference patterns that dance into life, emerging into human consciousness at an arbitrary coordinate somewhere in the solar system.

Welcome… to Astral Circus.

Astral Circus is a manifestation of collective endeavour, combining the talents of audio and visual artists, to create a multi-dimensional event that provides the ideal environment to immerse the senses and stimulate the mind.

Astral Circus will submerge the mind into the prismatic colours and symbols of the unconscious, transporting its travellers beyond the confines of 3-dimensional reality to a place of unhindered creativity, excitement and exploration.

Accompanying you on your journey is a range of exceptionally talented visual artists, live acts and DJs…

·٠•●ૐ●•٠· PSYCHEDELIC TRANCE ·٠•●ૐ●•٠·

▶▶ Nick Sentience
www.facebook.com/nicksentience.music

▶▶ Mechanimal [Live]
www.facebook.com/mechanimalmusic

▶▶ Cathar [Live]
www.facebook.com/pages/Cathar/223036641059742

▶▶ Savage Circuit [Live]
www.facebook.com/savage.circuit

▶▶ Nikki S
www.facebook.com/NikkiSOfficial

▶▶ Andy Force
www.facebook.com/AndyForce.Mutagen

▶▶ Liquid Ross
www.facebook.com/djliquidross

▶▶ Neutrino
www.facebook.com/pages/Neutrino/275230521412

·٠•●ૐ●•٠· ALTERNATIVE / ELECTRONICA / PSYGRESSIVE ·٠•●ૐ●•٠

▶▶ Nolan Shmolan
www.facebook.com/pages/Nolan-Shmolan/180326028672684

▶▶ Cosmic Warrior [Live]
www.facebook.com/pages/Cosmic-Warrior/118531351572067

▶▶ Zeus
www.facebook.com/DJZEU5

▶▶ Fordy

▶▶ Kaptain Kairos
www.facebook.com/profile.php?id=732070895

▶▶ Mirageman
www.soundcloud.com/mirageman

▶▶ Sachin
http://www.facebook.com/pages/DJ-Sachin/149805221755791

▶▶ Andy Force
www.facebook.com/AndyForce.Mutagen

▀▀▀▀▀▀▀▀▀▀▀▀▀▀▀▀▀▀▀▀▀▀▀▀▀▀▀▀▀▀▀▀▀▀▀▀▀▀▀▀▀▀▀▀▀

★★ UV Decor by Cognitive Dissidents, Ink Junkie & Floating Bush Collective. ★★
www.facebook.com/cognitivedissidents
www.facebook.com/inkjunkieuv
www.facebook.com/FloatingBushCollective

★★ Visuals by VJ Baby K & Nikki S. ★★
http://www.facebook.com/InsaneLiveVisuals

★★ Funktion One Sound System. ★★
★★ Two rooms plus outdoor terrace. ★★

▀▀▀▀▀▀▀▀▀▀▀▀▀▀▀▀▀▀▀▀▀▀▀▀▀▀▀▀▀▀▀▀▀▀▀▀▀▀▀▀▀▀▀▀▀

1 week to go?!!!!!

Expect some of this…





…and definitely some of this:





Hoping Nolan lays down some of this!





Certainly don't miss this:





and see you on the dancefloor for some of this!!!





And make sure you keep your eyes open for some of this!





Tickets
Limited early bird £5+bf all sold out! Advanced £10+bf; MOTD.

★★★★ BOOK YOUR TICKETS HERE ★★★★
www.onlinestall.com/cgi-bin/stall2.pl?act=ip&id=2579
www.astralcircus.net

Info & guest list
info@astralcircus.net – 020 7274 5537

Outlets
North London – Access All Areas - 020 7267 8320
South London – JAMM - 0207274 5537
Cyberdog (Camden) – 020 7482 2842

Websites
www.astralcircus.net
www.accessallareas.org
www.brixtonjamm.org

▀▀▀▀▀▀▀▀▀▀▀▀▀▀▀▀▀▀▀▀▀▀▀▀▀▀▀▀▀▀▀▀▀▀▀▀▀▀▀▀▀▀▀▀▀

Join us on Facebook for news and updates!
---
Share this ::

:

:

:


Follow HarderFaster ::

---
All trademarks and copyrights on this page are owned by their respective companies. All other content is (c) 2001-2013 HarderFaster.