Tara

Registered: Aug 2002
Posts: 1276 - Threads: 64
Location: The land of the concrete cows




2016
Winner
Feature Writer

TRIBAL VILLAGE PRESENTS: WAO FESTIVAL - LONDON

Friday 9th March @The Steelyard

22:00 - 06:00

The Tribal Village team is thrilled to present one of the most eclectic and innovative psychedelic events in Europe: the WAO Festival 2018 Visionary Ecotecture Gathering.

The 4th edition of WAO is scheduled for 14–19 August 2018 and confirms its scintillating formula of 5 blissful days of psychedelic arts and culture in Central Italy. A stunning natural view provides the backdrop for WAO's Dance Playground that will host some of the most cutting-edge psy trance acts – including Kalya Scintilla aka Merkaba, Eat Static, K.I.M., Journey, Rastaliens, Parasense, Electrypnose, Sonic Species, Dust and many more.

We're excited to also be part of the festival program as Journey aka Jay OM, Mononegro, Regan, Dust & Eat Static will all be performing at WAO too!

Alongside its artistic core, WAO focuses on sustainability, eco-architecture, permaculture and spiritual wellness. WAO Festival's Cultural & Healing Area has a rich program of holistic therapies and healing practices, together with workshops and talks on ecological building techniques, organic farming, responsible tourism and open source business solutions.

We're bringing WAO's transformational vibe to The Steelyard for a very special London launch party. The positive and inspirational message of this unique gathering has reached our hearts deeply and we're looking forward to sharing this feeling with you and creating a unique event of truly transformative proportions.

Check out the WAO website and join us for what promises to be one of the highlights of the summer. Tickets are up for grabs on www.waofestival.org/en and paper tickets will be available at the event in London on 9th March.

We can't wait to activate this next incredible stage of our psychedelic adventure. Relight the fire! The Tribes are gathering…

Two music rooms
An amazing mezzanine Chill Out area with Chai Bar by Soma PsyLounge
Amazing deco & cutting edge production by LunoSol Productions (USA)
& DreamScapes (UK)
Clear Sound
Stalls including SamiArt & Nina Lilly Svetlova aka Lilly MoonCat
Healing Area
Face & Body Painting by Eva Szolga
Poi Performers
Photography
Jugglers
Psychedelic
Full On
Trance
Progressive
Down Tempo
Dub
Breaks
Chill Out
Good Vibes...
Tribal Music...!


--- PLAYGROUND ---

:: BENTLEY
https://soundcloud.com/gentleydj

:: CHILD_OS
https://www.facebook.com/djchildos/

:: C.K
https://www.facebook.com/CKDJOFFICIAL

:: DUST
https://www.facebook.com/Dust.LMrec/

:: EAT STATIC
https://www.facebook.com/eatstatic

:: EBRU AL
https://www.facebook.com/DJebruAl1/

:: FLIBBERTIGIBBET
https://www.facebook.com/DJFlibbertiGibbet/

:: JOURNEY AKA JAY OM
https://www.facebook.com/JOURNEYakaJayOM/

:: MONONEGRO
https://www.facebook.com/MONONEGRO-126734677357039/

:: PAOLO TOSSIO
https://www.facebook.com/paolotossio/

:: RAZZEK
https://www.facebook.com/DJ.RAZZEK/

:: REGAN
https://www.facebook.com/regan.nano

:: SYSTEM E
https://www.facebook.com/SystemEuk/

:: SAYBER

Tickets available now at £20 plus booking fee from Access All Areas Network
http://ow.ly/nl7530ih0LH

& TicketSource
https://www.ticketsource.co.uk/tribalvillage

£30 AT THE DOOR!

...friendly security...outside smoking area...
ID required for council security reasons to enter the venue.

Parking Facilities:
there's a NCP Car Park just 100 metres from the venue.
Here is the link to car park:
https://www.ncp.co.uk/find-a-car-park/car-parks/london-vintry-thames-exchange/

@ The Steelyard 13-16 Allhallows Lane EC4R 3UL, London, UK

Entry 22h00 - 06h00
Last Entry 03h00

Join the event page for updates!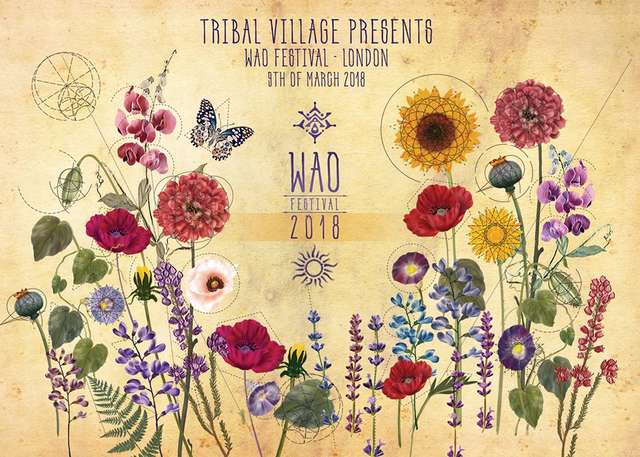 Click here to view original image
** Astral Circus ** Friday 24th November 2017 @Electrowerkz **
£10 advance tickets on sale now!
Join our FB event page for news & updates