Daf
Red Lunar Dragon

Registered: Feb 2003
Posts: 16202 - Threads: 671
Location:



[Edited by Daf on 04-03-2010 16:37 PM]
Somewhat harsh in my opinion.
http://www.robgalbraith.com/bins/content_page.asp?cid=7-10049-10543

Quote:
---

Stepan Rudik, winner of the 3rd prize story in the Sports Features category of the World Press Photo 2009 contest, has been disqualified from the contest for removing a foot from the background of one of the photographs in his winning story.

"Your website gave information about disqualification of my material at the World Press Photo contest. I do NOT argue the decision of the jury."

"At the same time, I would like to present the original photograph, from which it is clear that I haven't made any significant alternation nor removed any important informative detail. The photograph I submitted to the contest is a crop, and the retouched detail is the foot of a man which appears on the original photograph, but who is not a subject of the image submitted to the contest. I believe this explanation is important for my reputation and good name as a reportage photographer."

Rudik granted permission to publish the photo which he says is the one that forced the disqualification. The unaltered version is shown, 1st, and cropped to show the background foot detail in it, 2nd. Beneath that is the version Rudik indicates he submitted to the World Press contest.
---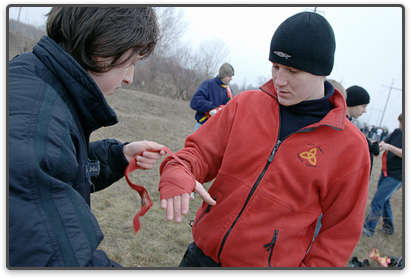 Click here to view original image
www.dafyddowen.com Recent Updates:
22/11/09 - Photophilia 2 *NWS*
16/08/09 - Glastonbury 2009
06/06/09 - Twist DJ's 2 - Brow, Steve Maynard, Tom Basquil