Piracy is not a crime – sail away with Feestgedruis!

Reported by Agnes Klos / Submitted 28-03-13 21:47

Feestgedruis is a booming party concept which adopted piracy as its ideology and ever since it has been constantly pumping beats and good vibes into the Belgian party scene. The name can be translated as 'the noise of a good party' and this organisation definitely knows how to raise the roof. Become free like a pirate, forget every day troubles and have fun as their motto states 'piracy is not a crime'. The creators from Feestgedruis aim at entertaining and surprising the audience with unusual party locations, overwhelming sound and jaw-dropping décor. Their booking agency, Sweet Trade, is the harbour of the entire organisation and encompasses other party concepts such as 'Kraken' (progressive) and 'Thé Dansant' (day time).

Ahead of the next event, Sweet Fortress, headlined by some of the biggest artists on the underground circuit: Neelix, Guy Gerber, Marcus Meinhardt and Jef K, I sat down with the owner of Feestgedruis and Sweet Trade, Tom Reynders, to talk more about this electronic music movement flooding in from Belgium.




Hi Tom (and Debbie), thanks for taking some time out to answer questions for HarderFaster. First of all, could you please introduce yourself and tell us how you both got to the place you are at the moment?

It all started out about 18 years ago when the first wave of electronic music was entering Belgium with the new beat and Detroit techno etc. At that moment electronic music was totally underground, unknown and new; many people got drawn to this energetic vibe and started organising raves and parties. The scene in Belgium was pretty big and I started out helping with promotion at such icon places like Kozzmozz, Fuse and other clubs. That was the moment when I realised that I also wanted to create something spectacular that people would remember. My urge to do parties began to evolve inside me.

After a while I started throwing parties with my friends. The main idea was to find unique buildings that have not been used as a party concept before. For instance, an old coal mine, a cave or old factory structures. We came up with some funny ideas to decorate the space such as putting a bouncy castle in the middle of the room. I always wanted to entertain and surprise people with the extreme party locations, new concepts and ideas.

Finally I stood in front of the choice: Whether to keep it just as a hobby or whether to start doing it in a professional way. In 2001 I decided to take it on a professional path. One person might want to be an architect, whereas I want to be a party maker!



How did you come up with the whole idea of the party called Feestgedruis? Can you take us to the very beginning and describe how, when and who started the whole concept of Feestgedruis?

The concept Feestgedruis started in a carnival shop where we found some pirate outfits on one beautiful sunny day at this German festival, 'Sonne Monde Sterne'. Me and my good friend Ronald Jaeken had decided to do parties together and were already looking for the concept of our new party. At that very moment, having the time of our life dressed up as pirates, we had the epiphany: 'Let's use the piracy as our leading theme'.

With time I started to take more responsibility and decided to move it to the next level and have our own event company, run in a professional way which I knew would require from me a lot of love, care, patience, time and energy. Afterwards I met my love, Debbie Kraak, who has the background of event management and we joined forces as a team running the organisation together. Nowadays Debbie is the head of our booking agency, Sweet Trade and looking at how busy we are these days, doing more than 30 productions per year, it would have been very hard without her help.



Is there a story behind the name, Feestgedruis?

Feestgedruis is a Flemish word and a very catchy name, literally translates to 'Party noise'. It can be described as the noise of a good party. We decided to use that instead of an English name for our parties because we are a Belgian organisation and we wanted that element of our culture background to be expressed in the name. Feestgedruis means the peak point at the party when you feel that everyone has reached the highest point and you want to explode with the amazing energy filling you up - the orgasmic scream of joy when a track reaches its culminating point, the energy created between the crowd, DJ and venue, the big explosion of emotions on the dance floor.

What is the ideology behind your party concept?

The idea is actually pretty simple. In the era of fast evolution, everyone wants to let loose in the weekend - 'become a pirate'. The philosophy behind it is that a pirate is this free-minded creature that wants to be free and do whatever he wants to do, but with a decent amount of respect and values. And that's how we came up with our motto: 'Piracy is not a crime'. Everyone simply wants to play and have fun.

Our logo also expresses the philosophy of the party; the skull with bones crossing it. We incorporate lots of elements of piracy into parties such fireworks, fires shooting by the stage, ocean creatures as a décor etc. It all breathes energy, love and freedom.

We have made the Feestgedruis and Kraken movie which explains our ideology better than any words ever could. Enjoy:





In addition to being an extremely proactive crew that has a lot on their plate right now, you are also running Sweet Trade booking agency. Could you give us some more insight into that?

At one point I realised that if I wanted to run Feestgedruis in a professional way, not only did I need an event company but also a booking agency in order to give the whole organisation a professional structure. Sweet Trade is the legal company and also the home base of our 6 party concepts: Feestgedruis, Thé Dansant, Kraken, Extrema Outdoor, Lost Theory and the new Colours Festival. Besides that we also manage several artists under the label. The agency can be described as the harbour of all our work.

Feestgedruis is a pirate concept; the music policy is minimal, tech house and techno. Kraken is the progressive concept. The name Kraken comes from the mythical creature living in the deep ocean and in a strange way everything is somehow interconnected with the piracy concept, which glues it all together. Thé Dansant happens one time per month in summer, on a Sunday afternoon, always with a specific theme such as sport or burlesque and at different locations in Belgium, for instance by a swimming pool or castle.

Colours Festival is brand new and will happen for the first time this year. Its roots stem from the holy spring festival in India but we will give it our own touch. Three organisations: Feestgedruis, Love Matters and Roots of minimal will be joining their forces to create a festival with 3 stages for 3000 to 4000 people and you can expect lots of colour pigments, pumping beats and smiling faces. After the festival, you might end up going home, looking like a rainbow.

Extrema Outdoors is a festival that originated in Holland and has now its third edition in Belgium. We are the only organisation that will host our own stage during two days of the festival. Lost Theory is a festival in Croatia where we will also be hosting a stage this year. We are very excited about our upcoming projects.



Feestgedruis prides itself in being a brand on the market which has already headlined some of the biggest names in house and minimal music. Could you tell us about the past parties? Which of them are you the most proud of?

The breakthrough for Feestgedruis was without doubt the City Parade, basically same concept as the love parade, trucks stacked with sound systems and just a lot of crazy fun in Brussels under the Atomium three years ago. It was actually my birthday that day and I took a big risk with this party as I wanted to take the business to a more professional level. In order to achieve it, I realised I had to be involved in the professional and big events such as City Parade. I invested crazy amounts of money but at that moment I considered that event a once in a lifetime opportunity and I went for it. The funny thing was that at that moment Feestgedruis as a party name was getting more recognition and fame on the scene and I was contacted by the people of Funktion-One (in my opinion probably one of the best sound systems in the world) to work together and create this massive pirate truck/boat filled with Funktion-One sound. This event put Feestgedruis as an organisation on the Belgium party map. Everywhere I went to inquire about clubs, venues, etc. for our next parties, people remembered us as the crazy pirate truck of the City Parade and it for sure opened a lot of doors.

If you were to describe the party to someone who has never attended it before what would you say? What kind of atmosphere are you trying to achieve at the party?

The energy between people, the interaction in the room is always amazing. This is a typical feature of our parties. Feestgedruis is a total experience that happens among people who really decide to come and get together at one place and share the same moment. This is a really unique feeling that attracts people and puts a smile on their faces. I want to create for them a space and time where they have a break from their normal weekly routine, where they can feel free. It is fantastic for me to look at the crowd and to say as the promoter, "I can be proud of my crowd".



You are also a part of the organisation that introduced the daytime parties that have already become a highlight of summer for many party-goers in Belgium. How has it all started?

The daytime parties, called Thé Dansant, actually means old vintage tea time on a sunny Sunday afternoon. So we thought to ourselves, "Let's have tea together with a bit of electronic music". These parties are organised with the guys from Ketaloco, another party organisation here in Belgium. The first party we organised took place at the waterfront in Ghent. The concept proved to be a massive success with 900 people attending the first edition. Now we are at a point where we do it five times a year, every time in a different unusual location such a swimming pool, a castle or a terrace of a bowling alley etc. It just needs to be a nice and special outdoor location. We always try to work with a different dress code for each party to spice it up!

What do you have to do in order to prepare each party?

This is a very difficult question because we do so many different productions and each of them requires a different approach. It all depends whether it is a concept in an existing club, a one-time venue, outdoor party or hosting a stage at a bigger festival, which means a lot of different ways of preparing.

The first thing to do is finding a unique location or venue. When that is approved, I try to match a concept that goes with it. For instance the upcoming event on 30th of April, Feestgedruis presents 'Sweet Fortress' will take place in a massive industrial venue. The aim is always to bring something new and extra in the concept we already have to keep it interesting. Basically, the question is: How can we make this venue a playground for adults?

However, I have to underline that the most important thing to prepare a party is having a good team, people that stand behind the concept and share their energy with you. Jago, Sven, Marleen, Ode, Michael, all my friends and artists without them not one party should be what it is today!



Who provides decorations and visualisations?

I work with a few people and decoration companies. For the visuals we use mapping by VJ Stoudt from Amsterdam, one of the first people that did this in Belgium. For the decor I work with the company Sprookjes (fairytales). The owner is very creative and has a big collection with everything you can imagine, from a shell to a dinosaur or a space ship. Whenever I visit the place, I tell the owner about my party concept and then we look in his massive storage hall for things that fit the description. Sometimes we brainstorm together, deciding how we can put all the decorations in a spectacular way at the party. For me it's really nice that I can be busy with electronic music but also with using my imagination in creating the right atmosphere.

Could you describe the type of audience Feestgedruis aims at reaching out to?

The average clubber that comes to our parties is usually a bit more alternative, someone who has a taste of spiritualism and is able to be one with others. The average age is between 22 and 40 years old. You could say these people step into the world of our parties because they want to find a good escape during the weekend, looking for an experience with like-minded people. People with soul and good taste.



Who plays at your parties? Do you have resident DJs or does the line-up change every time? How do you choose your DJs?

Depending on the concept we decide whether to either work only with our own artists from Sweet Trade or to book big names. In our bookings agency we have around 20 DJs and artists who play for our productions on a regular basis. To me, a DJ needs to be eclectic and able to adapt to a party and the audience, of course we have a certain style that goes with the concept but within these parameters a DJ needs to be flexible. I don't like to put music in boxes, therefore, I like to call our organisation an electronic movement. The crowd knows we want to bring quality and they trust us to make the right choice in DJs even if they don't know them. It gives me the opportunity to work with less known labels and agencies that are very motivated, which results in better DJ performances.

What distinguishes Feestgedruis parties from any other party on the scene?

Lots of people have told me that when they come to a Feestgedruis party they really feel connected. Everybody is together and everybody is equal. Nobody is standing above you and everyone is united with one purpose; to have a good party and we are all going to share this experience with each other. This is a very nice energy.

Other factors that make us stand out are the massive site effects and decoration. We want to entertain and surprise people all the time. Our aim is to deliver total entertainment to the audience. All the senses need to be stimulated and this is what creates the core of a good party.



This year you have already been offered to host a stage at Extrema Outdoors and Lost Theory Festival in Croatia. With such an ambitious repertoire, where do you see yourself 10 years from now?

What I really want, if I have the freedom, is to invest in my own big pirate boat. Take a crew with me and travel around, go to the big music gatherings and make it really become a lifestyle. I might say, "taking the pirate concept into a new dimension". Of course this is my fantasy. My plan for future is to take the Feestgedruis concept outside of Belgium. Places like Central and South America, Africa where the scene is booming. I don't want to leave Belgium completely but I would love to have the possibility to take some of my artists and say, "Hey, now we go for a half year to South America and work with the movement over there". It's not about the money but about being busy with the things you love to do. I don't know how things are going to end up but it would be nice to maybe have a house there and being able to travel between countries. There must be a pirate path to take us around the world.

What can people expect from your party on 30th April at the Event Brewery in Brussels, spread out over 3 rooms, headlined by such legends as Neelix, Guy Gerber, Marcus Meinhardt and Jef K?

BOOOOOOOOM!

They can expect the perfect winter closing, amazing crowd, nice visuals, a lot of craziness, great atmosphere, very good music and lots of love. In my opinion this kind of line-up is actually already a dream. It feels great to be able to book these artists at one party. For me this needs to be the party of the year, of course I will say that of the next party as well!

Expect the unexpected, shock people in a positive way!

For more information, click here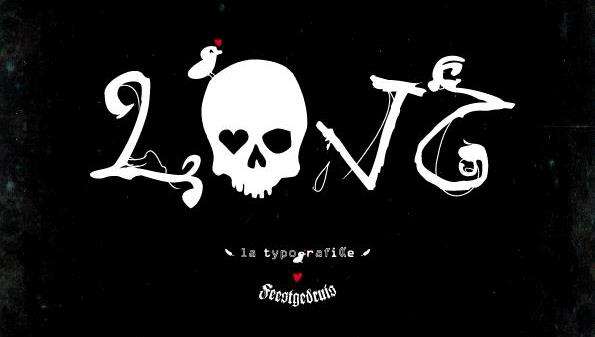 All images courtesy of Feestgedruis, Sweet Trade, Allnighters.net, Dai Ha, la typografille and Extrema Outdoors. Not to be reproduced without permission.





Sweet Fortress

On:
Tuesday 30th April
At:
Brussels Event Brewery [map]


From:
11pm - 7am
Cost:
☺ Early Bird Tickets (500 pieces) : 14 € SOLD OUT ✭ Normal Ticket : 22 € ❤ Door - Price : 30 €
Website:
www.sweettrade-bookings.com/events/sweet-fortress/
Ticket Info:
☺ Early Bird Tickets (500 pieces) : 14 € SOLD OUT
✭ Normal Ticket : 22 €
❤ Door - Price : 30 €
Buy Online:
Click here to buy tickets
More:
╰☆╮A good day mateys╰☆╮
▔▔▔▔▔▔▔▔▔▔▔▔▔▔▔
As the cold winter wind blows his final whistle and spring will pop up in the country, Feestgedruis is getting ready for another stunning season out in the open. Already confirmed are Extrema Outdoor, Lost Theory Festival in Croatia and of course the beloved Thé Dansant.

But before we leave our cozy caves and dungeons the blackbeards of Feestgedruis would like to please you with a final chapter indoor. On the 30th of April the Event Brewery in Brussels will open his doors for a tremendous gathering. The recipe is simple, yet attractive: three types of electronic music in three different rooms with a overwhelming sound and a lovely decoration. In the name of 'Sweet Fortress' you will be once again greeted by some of the biggest names the scene has to offer.

After one year of bargain with his agency it finally has worked out to book Guy Gerber for an exclusive performance, the only one in Belgium this year! The Israeli is playing and producing in the top division of the electronic music scene for ages now. Retirement is not in sight. The man has a lot more beauty's in stake for us the coming months and years. Together with Marcus Meinhardt of Bar25, Belgian finest Ultrasone, Beazar & LaMaz they will be the pirates at FEESTGEDRUIS.

The KRAKEN AREA will be the scenery of progressive sounds. Headliner is Neelix. With his powerful and lively sound the man is considered as one of the best in the field. At the Fortress he will surprise us with a live performance, serving only the finest tunes of his productions. Neelix will be accompanied by Synesthetic, two promising producers from Spain and Portugal. 'Sweet Fortress' will be their first visit to Belgium. R'Deem, Philip Anders, Kairon & Ode Maen complete the line-up of the room. In harmony they will battle against the mighty beast, the Kraken.

The artists in the DEEP SEA will dig up music from the old days. Tunes healing from funky to garage, from deep – to jacking house, skillfully mixed by Sweet Trade's house wizards and their friends.
Frenchman Jef K will be the main guest. Together with his friend Pirrès he will bring the 'Moulin Rouge' to Brussels. At their side you have DeeJames & Fred Hush, wise-man of the Belgian house scene.
Without doubt you will find the love of your life in this hot and sweaty room.
Flyer:
-

Region:
International
Music:
Psy Trance. House. Deep House. Tech House.
DJ's:
Our selected artists...

✖ FEESTGEDRUIS ✖
▔▔▔▔▔▔▔▔▔
☊ Guy Gerber ( Supplement Facts l Israel )
☊ Marcus Meinhardt ( BAR 25 l Germany )
☊ ULTRASONE aka Igor Vicente ( Visionquest l Belgium )
☊ Beazar LIVE ( Moodfamily l Belgium )
☊ Lamaz ( Sweet Trade l Belgium )


◙ ◙ MAPPING ::: VJ STOUDT ( Netherlands ) ◙ ◙
http://vimeo.com/user3456917


✖ KRAKEN AREA ✖
▔▔▔▔▔▔▔▔▔
☊ NEELIX LIVE ( Spin Twist l Germany )
☊ Synesthetic LIVE ( Spin Twist l Spain , Portugal )
☊ R'Deem ( Purple Snow l Belgium )
☊ Kairon vs Ode Maen ( Sweet Trade l Belgium )
☊ Philip Anders ( Belgium )

✖ DEEP SEA ✖
▔▔▔▔▔▔▔
☊ Jef K ( Silver Network l France )
☊ Fred Hush ( King Kong Club l Belgium )
☊ Pirrès ( Silver Network , Sweet Trade l Belgium )
☊ DeeJames ( Sweet Trade l Belgium )

---
Share this ::

:

:

:


Follow HarderFaster ::

---
Other Features By Agnes Klos:
Back2Basics - 10 Years of Party Productions & Tomorrowland Stage Hosts
Atmosphere Records - The opening of IBIZA 1936
Entering the world of Waldfrieden in Germany with DJoanna
Progressive flavours with DJ R'Deem ahead of Neelix party
Discovering the tropical island psychedelic festival - The Experience
---
The views and opinions expressed in this review are strictly those of the author only for which HarderFaster will not be held responsible or liable.
---