Android Jones and Phadroid Ė an up_rize of visionary art in London

Reported by Anu Shukla / Submitted 29-11-11 16:50

Electrical artist Android Jones uses digital art to navigate reality and influence human consciousness. Over the last 15 years heís woven together a career as an experience designer, working on films, games and building online and physical communities through www.conceptart.org and www.dreamcatcher.net. Designing and building massive interactive installations at events like Boom and Burning Man for tens of thousands of people, he creates some of the most visionary art on the planet in between performing as part of Phadroid with his wife Phaedra and friend David Block, the Human Experience.

Androidís London debut, up_rize focuses on recent work produced between 2010Ė11. A fusion of academic techniques and emerging digital technology, images are designed to inspire creativity and uplift humanity...

Today Android tours, performs and teaches as a digital art cartographer and evangelist, helping shape new creative pathways for humanity. The California-based fine artist, illustrator and designer has helped revolutionise the concept of digital art ó leaving technologists mesmerised and traditionalists, slightly stumpedÖ

In 2011 Android had the honour of projecting live art covering the exterior and interior of the Sydney Opera house, his spectacular performance was broadcast live to millions of viewers.





A live multimedia performance where Android and his wife Phaedra combine software, hardware and heart-ware, while performing as Phadroid, Android projects visuals to organically tune into the fluidity of the motion she creates on stage. Phadroid have already blown away the Boomers and the Burners earlier in 2011 at Boom and Burning Man Festivals, but this is the first time theyíll perform in London. Theyíll be doing a small intimate show at the closing party of up_rize on Thursday 1 December alongside Gaudi and the Human Experience at the Hoxton Gallery, then a much larger production at the Halcyon Christmas Ball on Friday 2 December at the Coronet Theatre.





Anu Shukla met up with Android for a rare interview at the opening party of up_rize at Hoxton GalleryÖ




So this is your first exhibition in London, welcome! How do you feel?

Iím quite happy with the reaction so far and really grateful for the opportunity and the community that like me and that have supported me coming out here. Things started off a bit dodgy, but everybody really pulled through Ė itís taken a lot of people to make this happen, I canít do this by myself, so Iím grateful for all the support that everybody has been showing me and in bringing the art all the way over here, it took a lot of emails and a lot of conversations, and I just met a lot of lovely people.

For me I really enjoy the experience of watching people physically look at the art, see their body language, where they go and how they explore it visually. You never really get that sort of connection when you put something online through clicks or likes or views or shares, itís so much more tangible way to get the feedback as a really essential aspect of the whole dynamic creative process.

Youíve been doing this for a long time now... but what took you so long to get to London?

Iím a busy guy! Thereís lots of places to go... Iíve no shortage of things to do or places to go.



So London wasnít on your list of priorities?

I think my priority is to make art, my priority is not to show art. You know, people really have to pull me out of my shell to show the art cos Iíd much rather be making it. Making art is where I wanna be most of the time. I feel like Iíve worked hard this summer with projects such as Seeing is Believing, so I feel quite excited to be sharing that work with people right now.

This is probably a question youíve heard often, but I wanted to ask you about the inspiration behind your art...

Well, there are so many things that can inspire a piece. Every piece that I do is a reflection of the life that I live. But if I boil it down to a certain set of conditions that inspire a lot of this work in particular, it would be really amazing electronic music and nature. I listen to incredible music and I live in a forest. I live in Red Wood forest in California and I work out of my van, which opens up to the forest and Iím surrounded by trees.. And those two together Ė the synthetic, artificial, creative aspect of electronic music, mixed with the beauty and the molecular density of the Red Wood trees and the fog and the birds Ė I think that creates a lot of the grounding and a lot of the base from where I draw my creative inspiration.



You must have had an epiphany or a breakthrough at some point in your life that made you realise Ďthis is what I want to do to communicate with the worldí; when did you have that realisation?

I donít think itís one realisation. For me it was a series of realisations and the epiphanies kind of develop over time. There are certain different aspects and things I could pinpoint, but overall itís a kind of a confirmation from the Ďotherside...í It wasnít some lightening strike that made me realise that I want to be an artist. Itís about the constant feedback that the Universe provides that makes it abundantly clear that this is the path for me to be on.

As a digital artist, you may have heard criticism or analysis from people more involved in traditional forms of art Ė what would be your response to someone who says that creating this work using computers takes away the authenticity of what art is supposed to be in its traditional form?

Thatís an easy one and there are a lot of ways to answer that. Based on that sort of mentality, if human beings didnít share a supportive outlook of art and basic technology, weíd still be painting in caves! Thatís the simplest statement I can make in response.

But all art in human history is predicated by technological advances and you know, whatís more mindbreaking in our current day and age than the advent of the internet and the advent of computers? Weíve only had electricity for a hundred years and look at what we can create now...



If you could pluck any major artist throughout history that the traditional purists may hang their hat upon, which one of these artists, given the opportunity, wouldnít want to at least experiment with electric art? I donít think thereís many. And I think thereís a certain opportunity, almost a cultural obligation that I feel to explore this medium to the fullest of my ability, not just for myself, but for the collective of creative consciousness.

The narrative embedded within some of your work allows the onlooker to really fly, or even dive deep into it, taking you on a journey, itís like putting together the pieces of a jigsaw puzzle to work out some kind of message. Is there an underlying message?

There are messages, but thereís also a kind of emotion. I think itís emotions that people really respond to a lot in the work that I do, and itís not necessarily emotions like facial expressions or like looking at a picture of a sad clown. I try to infuse the work with an emotion Ė gratitude as an emotion, excitement... The place that I often search in order to achieve is one of being in a state of just bliss. Iím in love with making art, Iím in love with what I do, and that emotion of love is what I really want to come through.

I donít want people to see a tortured artist, or someone against the world that struggles, I want them to see someone whoís in love with art and in love with life and in love with being alive Ė and I want them to feel that through my art so that they can feel that for themselves.



There are some political elements to some of your work, such as the powerful piece: Power to the Pyramid...

Iím actually working on another political piece at the moment, itís going to be called the Elrection 2012. Thereís a part of me that wants to be making political art all the time... Part of being an artist is being conscious of your surroundings and kind of working with that. Itís impossible for me not to be conscious or have some kind of awareness of the current state of affairs and the things that are happening around me. Its an incredibly pivotal point in history and to not be able to comment on that and use that opportunity to communicate would feel dis-genuine, would not feel authentic to me.

So Iím much more eloquent with shapes and colours and forms than I am with words or speeches. I feel that through the work that I create, I can communicate on a much deeper level with regards to the different thoughts that I have. If I put all my words down verbally, Iíd just come across as a conspiracy nut!

What current issues have inspired your work of late?

The current piece Iím doing right now is inspired by much of the Occupy movement thatís happening. People are so upset Ė I mean, I was part of Occupy in Oakland and in San Francisco, and thereís so much to be upset about, to be frustrated with, that itís hard to pinpoint what that is or where that is, or whoís responsible or where the blame is. Itís very frustrating, so Iím working on a piece right now thatís overall, a visual metaphor that you can point the finger to the energetic system that I believe is an aspect of the issue.

Itís interesting too, because when you make political work, thereís a fine line between a political art piece and a satire or political cartoon, so Iím in between those two places where I still want it to be a powerful piece of art and not trap myself with attaching myself too much. I want there to be a timelessness to it as well, I want it to be culturally relevant, but I want it to have a message that stands the text of time. It kind of speaks about where America is and where it has been Ė in my lifetime at least. Itís much easier to see America from the outside, and that perspective as an American, I think is a very radical point of view... When Iím in Russia, Germany, London or in Portugal, I can see America with much less of a veil, and when youíre in the depths of it, you donít really notice.

Imagine, as a kind of metaphor Ė youíre kind of a dishwasher on the Death Star... And then one day the fucking Death Star is gonna blow up and nobodyís gonna cry for you. The poor dishwasher, he doesnít want to kill any Jedis, he just wants to fucking wash some dishes! You know, feed his family? But fuck, heís on the fucking Death Star! And you kind of realise, this place that you pledged allegiance to as a child Ė before you even knew what pledging allegiance meant Ė has been hijacked by some people, and itís not nice, itís not a fun thing to wake up to and to actually wake up and realise that thereís a lot of atrocity and the bloodís on everybodyís hands.

Weíve all got to do something, and the first step is at least acknowledging it, because if you canít, then it uses you, but the more you wake yourself up and wake other people up, the more you can change human beings... Causing change in human beings is one of the hardest things to do Ė but it will never run out of style.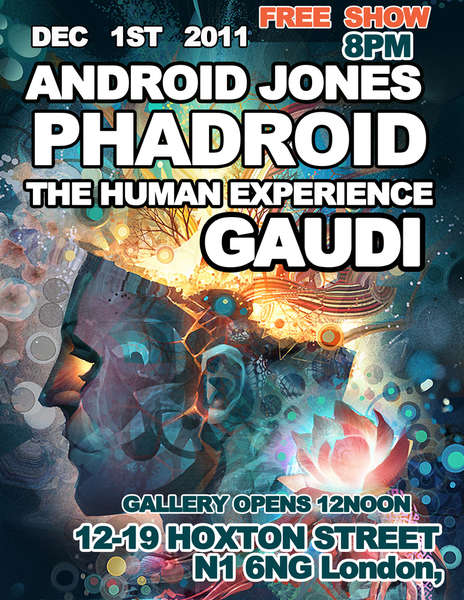 All images courtesy of Android Jones. Not to be reproduced without permission.





HALCYON - 'The Christmas Ball'

On:
Friday 2nd December
At:
The Coronet [map]


From:
22:00 - 07:00
Cost:
£10 - £20
Ticket Info:
ACESS ALL AREAS

Buy Online:
Click here to buy tickets
More:
Weíre back! And ready once again to unleash a mind-bending extravaganza, with an extraordinary selection of international artists, record labels and crew for Londonís trancendental Christmas gathering of its psychedelic family at the beautiful historic Coronet Theatre.

Overcoming the setbacks of the past few months has been a challenge, but the cancellation of our August event has galvanised our desire to produce a spectacular event and end 2011 with a bang. To make this extra-special, weíre combining the forces of the two massive pioneering labels HOMmega Productions and Twisted Records showcasing their top performers in the main room.

In room 2 Mutagen Records host progressive legends Middle Mode for their debut UK appearance, as well the label's raw talent including the new project Isophaze between Sean Spindrift and DJ Mif.

Liquid Records host room 3 with some of their best breaks and electro talent.

And for all those who just donít want to go home at 7am, weíve arranged a very special afterparty at the legendary Corsica Studios, 2 mins walk from the venue.
Flyer:
-

Region:
London
Music:
Tech Trance. Psy Trance.
DJ's:
Main Theatre:

Astrix - Live
Hallucinogen - Live
Sub6
Prometheus
Dejavoo
Liquid Ross
Libra 9
Andi Leppard
Matt Lorine


Room 2 - Hosted by Mutigen Recs (UK)

Middle Mode - Live
Mechanimal - Live
Continuem - Live
Andy Force
Isophaze
Oontz Doof


Room 3 - Host by Liquid Recs (UK)

Neurodriver
Liquid James
IPCress
Eastmann
Liamaleaf
Aliji
Ade
---
Share this ::

:

:

:


Follow HarderFaster ::

---
Other Features By Anu Shukla:
Giuseppe and the Zen of Parvati
---
The views and opinions expressed in this review are strictly those of the author only for which HarderFaster will not be held responsible or liable.
---