Holding it together at Cohesion

Reported by Andy Force / Submitted 24-11-10 18:50

Popping out on a Saturday evening is never a simple task, especially if like me, you are endowed with about as much self-restraint as a pyromaniac in a firework factory. As I stumbled out the 414 at near midday on Sunday, I had to acknowledge to myself that there is often truth in generalisations that are thrown about so easily, like the one trailing through the back of my mind at that moment; the old cliché that goes: "the spontaneous nights are the best ones"

Having made my way from Farringdon trance night Odyssey, fuelled on a cocktail of alcohol and residual adrenaline after an epic closing set by Jurrane it was high time to take things up a gear, finding a willing sidekick/victim/accomplice didn't prove difficult, both acknowledging our mutual weakness for little else but psychedelic trance, we rampaged on to Cohesion at Club 414 in Brixton, London



Sucked in by the muffled rumble of pulsating baselines, we walk in to find a wall-to-wall packed dance floor rocking away. DJ Face from Italy was on the decks, I'm not too familiar with his sound, but couldn't you can't argue with a busy dancefloor! It's easy to see why the psytrance crowd, who can be averse to any rave that's not in a squat, are at ease in this venue. Even though the 414 has smartened up since those days where the only seat was the floor, and there were trippy murals on the walls, it still hasn't lost that feeling that you're dancing in someone's living room (it actually once was someone's living room!). An intimate house party atmosphere, and it works well for this type of event. The downstairs is saturated in the glow of UV from the stretchy white fabric strewn across the ceiling and walls, and Cohesion's psychedelic décor immerses the dance floor in colourful shades of fluorescent paint, a lot of thought and effort has gone in to giving us a visual feast, a vital part of any psytrance party and every person on the dance floor is clearly lapping up everything thrown up their senses.

Cohesion is a monthly party run by Isaac and Kamila aka DJs Prozak and Sati who are both signed to international psytrance label Free Spirit Records. Headlining this time is label manager Journey (Jay Mastino) performing a live set. I catch Jay up on the roof terrace and he's been very busy, recently running a label party in Milan, playing at Boom festival in Portugal, and promoting releases from his one of his latest signings Ralph (Braincell). 'He's a studio monster' Jay quips, before I can question him further he runs downstairs to prepare his live set.

The 414 roof terrace/smoking area is an enticing space, nicely lit with L.E.D's and a lot of friendly banter and humour, it's often easy to forget there's a rave downstairs, but my cider needs a refill, and Journey is about to come on, so back down we go.

Journey has a quite unique sound, very atmospheric and driving with lots of hypnotic wobbles and squelches, the whole room is grooving away, as I stand back and watch the laser flicker across the room and the colourful people going for it all around me I get a bit nostalgic, for about 7 years I've been frequenting this venue, and still it seems that when you get a good crowd and excellent music in here, there's an extra magic that brings the place to life…



Cohesion has been running for 12 years, and in that time the styles of music have changed as things evolved. DJ Prozak took over the running of cohesion from trance DJ Miguel in 2008, bringing with him a fresh music policy of full on psychedelic trance, usually warmed up to with a progressive set or two early in the night. Prozak has run numerous other promotions over the last 11 years including Quake, The Matrix, Subsonica and Event Horizon. DJane Sati came on board in 2009, putting her official stamp on the party with her unique tough and groovy sound, and bringing experience from running successful parties Oneness and Carnage at the Medusa down the road.

Doing my best to deplete the 414 of Magners, and wear a crater size hole in their dance floor, I eagerly watch Prozak and Sati take over the decks, each of them has a distinctive and recognisable style, and having played together many times before they lash out a brilliantly programmed set of full on flowing baselines. Dirty, but still euphoric and my ears prick up as what sounds like one of Braincell's new tracks tumbles out the speakers to a great reception on the dance floor, Sati looks focused and energized as one track blends seamlessly into the next, I've seen her play many times before and watching the crowd feed off her energy, as well as her music is exhilarating, and that's not just the copious amounts of cider talking. I love to watch a DJ (or any artist for that matter) when they're totally in the zone, it's hypnotizing to observe, and even better when they're playing some of my favourite tunes.



Speaking to Isaac after his set, we exchange views on where the psy scene is heading, we both acknowledge that the free reign of squat parties might be in decline after recent events, as well as legislation being brought in to make it harder for squatters, as well as partiers. "Cohesion" he adds "provides psy trance lovers with a safe environment, free of being shut down, no other place in London outside of the squat scene offers a monthly psytrance party." But like the underground parties, Cohesion has had some renowned international artists and live acts making appearances, including Tron, Braincell, Tactic Mind, Monastic Squid, Pogo and Journey, as well as established UK artists like Liquid Ross, Compressor, Mif, Sutekh, Sinan, Moon, Pan, Neutrino and Mr Mush.

After chatting to Isaac it's evident to me why Cohesion is respected by so many regulars who keep coming back, there's a personal touch, and him and Kamila work hard to get the familiar faces there every month, creating a friendly vibe for everybody who comes to party. Being a critic, it's hard for me to go out and let go of all my DJ prejudices to do with music and expectations, but Cohesion sucked me in, and spat me back out with a fresh new look about the 414. It won't be long till I'm back!

Cohesion usually runs through till the late Morning, but this time there was a techno crowd from down the road doing the after-party, Impressed by my 11 hour stint in the 414 I crawled down Coldharbour Lane to my bed. Good Times.

Next Cohesion party: Saturday 4th December 2010
11pm till 7am
414 Coldharbour Lane,
Brixton, SW9 8LF
London/UK

Special Guests:
*Mechanimal LIVE & DJ's: *Spunky Lobster + Residents: Sati, Prozak, Mr Mush

www.cohesionparty.com
www.djprozak.com
www.djsati.com
www.free-spiritrecords.com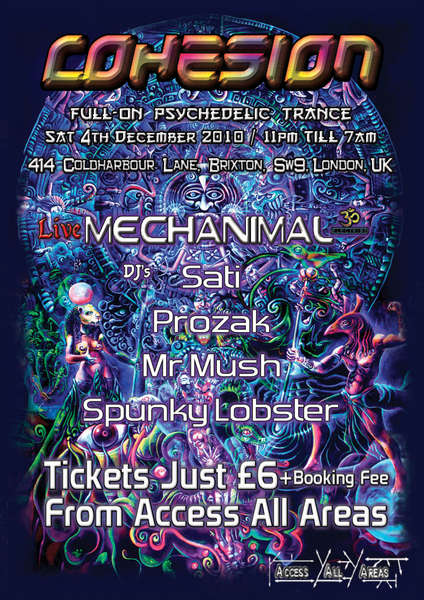 All photos courtesy of Cohesion. Not to be reproduced without permission.





Cohesion 4th December 2010

On:
Saturday 4th December
At:
CLUB 414 [map]


From:
23:00 - 07:00
Cost:
Entrance Prices... *Advanced Tickets £6+bf from Access All Areas: http://www.onlinestall.com/cgi-bin/stall2.pl?act=ep&id=4174 *Or £5 if names are text or emailed by 5pm Saturday 4th December 2010 and you arrive before midnight. This is the last £5 list Cohesion will be making! *On the Door £8 before midnight / £12 after
Website:
www.cohesionparty.com
Ticket Info:
*Advanced Tickets £6+bf from Access All Areas:

Buy Online:
Click here to buy tickets
More:
Hellloooooo Everybody

Thanks to all whom attended the last Cohesion.
We have not seen the party so busy for a while.
We couldn't have done it without you all
Many thanks to Face for coming all the way from
Milan, Italy to play an amazing set.
Special thank you to Jay OM (Free-Spirit Records Label President),
For djing and the Live set of Journey with its tripnotic sounds.

Our next event is the last of 2010
Returning will be Mechanimal Live and DJ Spunky Lobster
Plus residents Sati, Prozak and of course progressive resident Mr Mush.

Try not to miss it…

☀ ☀ ☀ ☀ ☀ ☀ ☀ ☀ ☀ ☀

Saturday 4th December 2010
11pm till 7am
414 Coldharbour Lane,
Brixton, SW9 8LF
London/UK

☀ ☀ ☀ ☀ ☀ ☀ ☀ ☀ ☀ ☀

SMS: +44 (0) 7956 472 558
Email: cohesionparty@gmail.com
Web: WWW.COHESIONPARTY.COM

Flyer:

Region:
London
Music:
Psy Trance.
DJ's:
☀ ☀ ☀ ☀ ☀ ☀ ☀ ☀ ☀ ☀

*Special Guests

LIVE:

*MECHANIMAL (UK/BR)
(Mutagen Records / Electribe)
www.myspace.com/mechanimalmusic

DJ's:

*SPUNKY LOBSTER
www.spunkylobster.com

+ Residents:

*Sati (PL)
(Cohesion / Free-Spirit Records)
www.djsati.com
www.free-spiritrecords.com

*Prozak (IL/UK)
(Cohesion / Free-Spirit Records)
www.myspace.com/djprozakuk
www.free-spiritrecords.com

*Mr MUSH ( Progressive Set)
(Cohesion / Free-Spirit Records)
www.myspace.com/djmrmush
www.free-spiritrecords.com

☀ ☀ ☀ ☀ ☀ ☀ ☀ ☀ ☀

---
Share this ::

:

:

:


Follow HarderFaster ::

---
Other Features By Andy Force:
Lifeforms detected at Astral Circus!
Andy Force interviews Sourone ahead of his UK debut at the Zenon Records Special
Dare to be different: Tribal Village meets Suduaya
Keeping moving with Mechanimal!
Land Switcher – The Earth is Moving at Tribal Village
---
The views and opinions expressed in this review are strictly those of the author only for which HarderFaster will not be held responsible or liable.
---