Alan Banks blows out the candles at EDM

Reported by Crazy-Frenchie / Submitted 17-06-09 17:57

Alan Banks has gone from strength to strength. From a start at small but well loved parties like Fundamental, he's gone on to attracting the attention of big promotions like Electronic Sessions and Digital Society. Those down near his London base will no doubt have seen him bringing the sound of the underground to the commercial streets of Wimbledon via his party EDM. Now nearing its first birthday Crazy Frenchie asks him just where his last year has gone.



In a year that has seen great change, economic meltdown, new hope and sad losses, it's certainly amazing what can happen in 12 months. With so much going on it makes me look back and think just where the time gone? I find myself feeling the same about EDM. Simply meaning Electronic Dance Music, EDM has been hidden away in the depths of Wimbledon's Bar Sia just down on the main high street. The venue itself is an old converted Turkish bath and has something for everyone. The upstairs - a "vibey" bar area with seats and plenty of fantastical drinks for those cocktail lovers - directly contrasts with downstairs which is more fitting to the broody club vibe. The cosy dancefloor and awkward walk ways create a maze for all first timers, it is this dark and undiscovered area where EDM has found its home. But it's this dark underground vibe that has given EDM that distinct feel and a distinct music policy to match.

Originally conceived by Alan with a simple idea, "All I wanted to do is create a night that would move through different styles of great dance music rather than stick to a simple formula which seems to be the staple of today. Progressive house warms up trance, there's funky house only nights, while tech house warms up for techno. I just used to get bored of hearing the same sort of sounds all night." A simple concept that was adopted before all the segregation in dance music as it is today, where you could go to the club and hear a mixture of music in one room, none of it conforming to a certain style. Why has this ethos been abandoned? Has the dance music community just got too snobby limiting themselves to a certain sound only?



"For me coming from playing at mainly trance parties, it used to kill me to hear really boring prog house music for the first couple of hours. People would just walk in and there would be no atmosphere. It bored the hell out of me and it would take a good couple of hours for the party to really get going musically." It's not always been this way for Alan however. Although known mainly for playing at some of the biggest trance parties London has hosted (Judgement Sunday, Anjunabeats, The Gallery/Vaccine, Electronic Sessions and Knowwhere to name a few) he has always kept in mind that dance music is diverse and rich. "Before I started getting a name for myself in London I used to DJ in commercial high street bars playing everything from house to breaks to drum & bass, even the odd commercial remix. It's a great learning curve; in a dance club everyone is there to dance, but it's harder to get people into the music in a bar. I learnt some great lessons there."

So what is the music policy at EDM then, is it simply a trance night? The answer is no. While it does feature trance heavily it also focuses on other great dance music avenues such as house, electro, driving prog, breaks and techno. "The night typically progresses but does so with the best of music from that genre, so people will be coming in at 10pm and hearing some energetic house music that moves through to the tougher sounds as the night moves on, before reaching the euphoric sounds of trance which always work best towards the end of the evening."



It's a theory that works and EDM can boast an eclectic crowd of people who enjoy the dirty side of house through to the uplifting moments that it produces. "It's all about quality. I'll only book DJs that I've seen play out and that I've seen do a good job but also have a clear understanding of what I'm trying to put across musically. Nowadays it's far to easy to make an amazing mix CD, putting people on the spot is when you see what they are really like and many people really don't cut it. All the DJs I have booked for the party have always brought something different to the table and more importantly done the job." This attitude has served Alan well. The last party I attended had people talking of comparisons with a rock concert 'mosh pit' as a mixed crowd of people got down together and showed their love for the music. The room was hot and sweaty and the tracks had a definite thump behind them; a far cry from any sort of dance music found on the high street or in the lovely packaged Hed Kandi compilation CDs. This was club music; energetic, filthy, uplifting, feel good club music.

EDM seems to be moving on nicely then with its solid music policy which, while risky in todays climate of one genre clubbing, seems to be doing the job and Alan is looking to the future and what EDM can become, "I want to move EDM to a bigger venue for sure but with the current economic climate it could be risky. I just need to find that perfect venue - a nice 400 capacity club slap bang in central London instead of on the edge." But how could any move change things? At the moment the night is focused around Alan and his ability to mix up the various styles with guest DJs coming in and playing the first two hours so of course with longer opening hours there's more scope for more DJs.



But does he think there are there any particular DJs that can be brought in? "Personally I'd love to see a real mixture of DJs play, ranging from Jon Rundell and Abel Ramos to Jon O'Bir and Simon Patterson, of course alongside local talent. I think it would be great to get some house DJs down to play, artists who might have never been to a night featuring trance towards the end of the evening. I think the combination would be really explosive and a great eye opener!"

An eye opener indeed, but would it work? Have these kinds of parties worked in todays climate? Party Proactive and The Gallery, two parties that spring to mind, in recent times have mixed house, techno, psy trance and hard dance into one main room whilst still retaining their loyal following, a follwing who seem to bask in the great diversity their main rooms have to offer. But what more can be done to turn the tide and get people through the doors. "Along with the party I'm going to be starting up the EDM show for internet radio. I want to get the show spot on and don't want to just do a mix and call it a radio slot. I'm going to have features, interviews, reviews and a whole host of things on it, not only to support the night but to also support the countless other parties that are spread across the country. Once I get the format right I can then move forward, but it will take time."



So a club night with aspirations of moving to bigger and better things and a possible radio show, it seems as though the brand is moving forward nicely especially with the upcoming birthday party on the 27th June. "Expect more of the same great quality electronic music. On the billing is one of London's favourite trance DJs, Jurrane - the man doesn't know how to do a bad set! Second we have Juxtapose, a new female duo act that have really started to make a name for themselves within the scene. Finally we are going be doing some special things on the night as well and who knows I may even have a cake all ready and waiting for you!"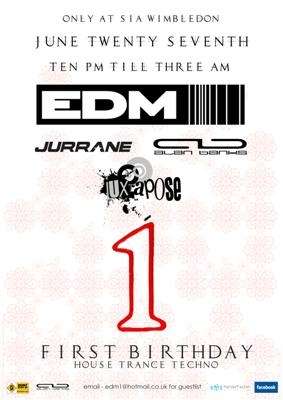 ---
Photos Crazy Frenchie, Alan Banks and the HarderFaster archive. Not be to reproduced without permsion.





EDM - The 1st Birthday Party

On:
Saturday 27th June
At:
Bar SIA [map]


From:
10pm - 3am
Cost:
£3 concession list when names emailed
Website:
www.alanbanks.co.uk/edm.htm
More:
The summer months are upon us. Ibiza, music festivals, heat-waves, drunken behaviour, (trance on the thames ) etc. We all know what happens in the crazy summer months. One year ago something else crazy happened, DJ Alan Banks started up a new night down Wimbledon way, and it's still running one year later! Over the course of the year the night has seen such great diverse DJ's come along such as K.A.R.L., Adam Symbiosis, RolandLONDON, Serg Pereira and James Rae to name but a few. With a music policy that is varied, diverse and more importantly makes you want to stomp your feet. EDM has always been about playing great music be it house, trance or techno, quality is key….

Now for the 1st birthday we've upped the stakes, bigger line ups and even more surprises in store. Joining us will be London trance heavy-weight Jurrane.
Born in Holland but now living in London, Jurrane is one of the fastest-emerging talents on the worldwide trance scene. His trademark high-octane, energetic DJ sets and powerful, uplifting productions have been a regular fixture in UK trance clubs for the past few years, and he is now gaining global recognition on the international stage.

Jurrane is best-known across the trance world for his prolific partnership with fellow UK producer Sly One. The Sly One vs Jurrane production team is one of the trance scene's strongest duos with original tracks and remixes released by Discover Records, Discover Dark, Conspiracy Recordings, Emalodic Recordings, Perceptive Recordings, Propulsion Records, and others. Tracks by Sly One vs Jurrane have been featured on BBC Radio One (UK), Kiss FM (UK), Ministry Of Sound Radio, and other radio stations worldwide. Having signing a long-term deal with UK trance giant Discover Records in 2008, Sly One vs Jurrane are currently working on a John O'Callaghan remix for Armada Records, one of the world's largest trance labels.
Jurrane is a resident DJ at Planet Angel, London's biggest underground trance party, playing monthly to huge crowds of up to a thousand passionate clubbers. He has a proven DJ pedigree, having played for virtually every trance promotion in London, including main room appearances at The Gallery @ Turnmills, Wildchild, Vaccine, Knowwhere, Tidy vs Extreme Euphoria, Twisted, Innovate, and many more.
As a DJ, Jurrane has appeared alongside some of the biggest names in the industry including Paul van Dyk, Judge Jules, Marco V, Gavyn Mytchell, Adam Sheridan, Scott Bond, Lee Haslam, Cosmic Gate, K90, Graham Gold, Ronald van Gelderen, Alex Morph, Marc van Linden, Matt Hardwick, Stoneface & Terminal, Orkidea, Mark Norman, Ronski Speed, Kuffdam & Plant, Blank & Jones, Cor Fijneman, Pynn, Randy Katana and Marcel Woods.
Picked by many as one of the trance DJs and producers to watch this year, find out more about Jurrane by visiting www.jurrane.com and www.myspace.com/jurraneproductions. Expect an energetic set from one of London's top DJ's, we can't wait…

Next up we welcome Juxtapose. Juxtapose are a new female DJ duo who are already taking the clubbing world by storm! Tina Martin and Saman'i made their debut appearance at Ministry of Sound in January 2009, and done nothing short of blowing the crowd away!
A contrast of blonde and brunette, but side by side both the highly passionate Dj's of all things house and techno, have decided to collaborate their skills, knowledge and accomplishments of a collective 8 years that they've been performing, to form a new and fresh innovative act.
Since they've formed the new duo, they've have already made a couple of appearances at the Ministry of Sound in London, firstly for The Gallery/Plastic Fondu, and more recently for Ripped at Danny Howell's Dig Deeper night, playing alongside Mr Howell himself, Johannes Heil, James Priestley, Jimpster and more! Other appearances have been playing for the Electronic Sessions Boat Party in London, and upcoming house nights in Reading and Brighton!
The girls also have nothing short of a busy summer ahead too with gigs confirmed for Qudos @ Mango, Reading; LunderGround @ Nature One Festival – Germany; The Gallery @ Ministry of Sound, London; Random @ Hush, Ibiza; Stylus Recordings @ Orange Corner, Ibiza; and Twilo @ Pacha, London!! For more information on the girls and the great future they have check out www.myspace.com/juxtaposedjs

Completing the line up is resident Alan Banks who will be doing two special sets for the evening. The first set will be warming up the room then later on for a full on peak time set. Having just rocked London's most famous boat party, Electronic Sessions, Alan will be geared up to celebrate 1 year of EDM. Not only that but Alan has also been busy in putting together plans for an upcoming EDM radio show so keep your eyes and ears peeled for info on that when it becomes available….

The party downstairs starts at 10pm (doors to the upstairs bar are open before and is free to get in before then) and will finish at 3am. Don't forget to get yourself on the concession £3, list send your names to edm1@hotmail.co.uk before 5pm on June 27th. This list is applicable till 11.30pm on the night so make sure you get there early. Party hats are encouraged as it's a Birthday and you may want to bring your own spoon for the jelly and ice cream!

EDM
Bar Sia
The Broadwalk
Wimbledon, SW19 1QG
Flyer:

Region:
London
Music:
Trance. Tech Trance. House. Prog House. Electro House. Tech House. Funky Techno. Club Classics. Electro.
DJ's:
Jurrane
Juxtapose
Alan Banks
---
Share this ::

:

:

:


Follow HarderFaster ::

---
---
The views and opinions expressed in this review are strictly those of the author only for which HarderFaster will not be held responsible or liable.
---