On a Sinewave to Event Horizon with Spencer Scott

Reported by Event Horizon / Submitted 26-04-08 00:10

Spencer Scott started 2008 on the crest of a wave, playing at Brazil's Universal Parallelo and Australia's Rainbow Serpent festivals. Meanwhile back in the UK he was listed in DJ Magazine as one likely to make a major impact in 2008, alongside Moby and Michael Jackson. This weekend kicks off another round of gigs as he plays The Gathering presents… Event Horizon on Saturday with Israel's Tactic Mind, BeatNik, Prozak and many more under his Sinewave guise, before next weekend's Waveform Festival benefit gig at The Synergy Centre on Saturday 3 May followed by Psychedelic Academy on Bank Holiday Sunday, where he'll be playing what he calls 'transgressive' as Emoticon. We were curious to check out this multitalented muso as he finishes work on his first artist album…




Burning Man Festival: USA, 2007



At long last, this is the first time you've been featured on HarderFaster. You originally started out in rock bands in your native Perth, Australia. What bands were you in and what instruments did you play?

It all started back in uni in 1996 when I entered a Battle of the Bands competition and my best mate Andy and I formed an indie/grunge band called Concord three weeks before the first round of competition. I played guitar and thrashed around a lot. We ended up making it to the semi finals which was such a laugh. Soon after that I was getting more influenced by electronica and ended up selling my guitar equipment and buying a digital keyboard.

I worked with another friend on a project called MKULTRA which was a dark tech/industrial project and about a year later I joined a band called Round as programmer/tech/keyboard player. This is where I got the first real taste of being in a band and we had a strong following in Perth for a couple of years.

Growing up you were obviously influenced by indie and rock bands; who were your favourites? Do you ever listen to rock music now and would you ever play in a band again?

A lot of people assume because I have been involved in clubbing and performing and DJing trance music for a long time that I don't listen to anything else. At home or when I travel I still enjoy listening to rock bands. I have a collection of about 400 albums of rock, from my days when I was DJing on radio. My favourites would have to be Soundgarden and Faith No More. Every now and then I pick up my guitar, but it's not something I can see myself doing again in a full band.

You didn't fall in love with trance music until you came to the UK. Can you remember what event or track was the turning point?

I remember it clearly. It was my first underground party in London called Kundalini and it was a Transient Records night featuring Slide playing live. I couldn't believe the energy of the place and will never forgot when the lights came on at 6am in the morning and everyone was shouting for one more track. The DJ played a track which had the sample from the Matrix film that goes 'You take the blue pill...' — unforgettable!

Why the name Sinewave?

I've always been a techy type of guy and when I was studying sound engineering a couple of years ago I learnt about the fundamentals of sound theory. We would always start to create sounds with a sine wave when we started shaping sound with analog synthesizers. I liked the flow of the name and the shape.



The Sinewave sound is quite distinct from other full-on psy trance live acts — how would you describe it and what gives it that individual edge?

Some people say its 'psygressive', which is sort of progressive full on psychedelic. Hahaa... I don't know what they are on about, but other people say it has a Goa trance sound. That is not surprising as that's what I listened to before coming to London and the idea of having complex melodies and soundscapes still interests me when I hear a track.

I like to make music that has melodic hooks and rolling basslines. To me it's all about the hook. I guess that's because of all those years listening to riffs as a guitar player.

Playing as Sinewave you're well-known for your high energy live sets. What technology do you use to play 'live'?

Everything is done in software nowadays and I use a Macbook Pro running Ableton 7 with a RME Fireface card, loads of VST plugins for the synths that I can play and tweak live on top of the track. I also can trigger drum loops and abstract noises with effects that give the track more dimension. I like Ableton a lot and am starting to work on some electro tracks under the name Emoticon where I produce music with Ableton only.

Psy trance is one of the fastest growing genres in the world right now. Do you think it has already peaked in the UK? Why do you think it's so popular in places like Brazil and Australia? Can you see it continuing to grow in years to come or will something new take its place?

Psy trance is definitely designed for huge sound systems and sunshine and it goes superbly with the beach, which is why Brazil and Australia are the ideal places for this scene. It all comes from the days back in Goa, India, where people would get out of their head and dance for days. It definitely has its peaks like any other music genre, but I don't see it getting any smaller in the near future.

You've recently started up an side-project under the name Emoticon. Why the change of name and sound? What sort of music goes under the Emoticon guise?

Emoticon came about as my 'transgressive' project. It's my opportunity to express myself at tempos and vibes lower than 140 bpm. So even though I've defined it as electro, it's more of a freestyle project with no boundaries.



Under your Emoticon guise you've also started up a promotion called High Rollers. Who else is involved in High Rollers and how did you come together? What plans do you have in the pipeline over 2008?

High Rollers came about when my wife Sonal and I decided to do something together for a night of electro, breaks and progressive trance. We had the support of some good friends such as DJ Wonky Badger, otherwise known as Sutekh, who is always an inspiration to play with. He is in my opinion one of the best DJs out there right now who can mix either full on trance or grindy hip wobbling electro. 2008 is going to be full of surprises, and we have something special planned for after the European summer.

You were pegged by DJmag as one to make a major impact in 2008 alongside names as diverse as Moby, Michael Jackson, Booka Shade, Nicki S and your DJ friend Sutekh aka the Wonky Badger. It must've been quite a buzz to get this acknowledgement. Do you reckon you're going to have made a major impact on the music scene by the end of the year and what plans do you have in place to do so?

The DJmag article was mindblowing! To be in the same pages as Michael Jackson and Moby was an honour for sure. I'd like to think that the Sinewave project brings a touch of originality to the trance scene and merges a lot of different influences together into a deep sound. This will be apparent with the release of my debut album this year.

You've been working on your artist album for a good while now and it's due out in a couple of months. How is your production work going and what sort of music is it going to consist of — full-on psy trance, electro or something else?

The album will be a combination of a lot of the newer musical influences I have experienced in the last 12 months. My sound and tastes have developed a lot since travelling to Australia and Brazil over the last four months. I am deliberately trying to avoid what is a typical or popular psy trance sound and forge something that stands alone as an interesting piece of art.



You kick started 2008 playing at the awesome U.P. festival in Brazil, followed by the Rainbow Serpent Festival in Australia and in 2007 you played at some of the world's top festivals including Burning Man and in the UK, Sunrise and Waveform. What's been your favourite festival to date and why?

Even though everyone raves about the scene in Brazil, nothing will compare to my experience of the Rainbow Serpent Festival 2008 in Australia and the Burning Man Festival last year in 2007. Rainbow Serpent returned my faith in the dance music scene where I experienced some of the most friendly atmosphere and down to earth vibes I've seen in the last five years, compared to anywhere else in the world. I guess it was a bit of homesickness and the sunshine that made me smile the most, but nothing compares to it for sure.

Burning Man on the other hand was like being in 'Fear and Loathing in Las Vegas' in the desert, with vagabonds and freaks running around tripping on life. It was such a visceral feast of energy and spontaneity. I doubt anything in the world will beat that experience. It left such a huge mark on me, and changed my opinion of the people in America forever.

With the festival season almost upon us, what's your top tip for keeping it together and making the most of any festival?

Based on last year's turn of weather I'm definitely bringing a pair of wellies in the car, and a trusty hip flask for those squelchy dancefloor mudfests.

As well as playing out most weekends at events and festivals around the world you help run Alchemy Records, promote their events and get as much time in the studio as possible. How the hell do you manage all this while holding down a demanding full-time day job? And what do you like to do with the limited down-time you have?

My life motto is 'No rest for the wicked' so it goes without saying that you should at least experience life to the fullest. Downtime is relaxing watching movies or getting out onto the open road on my motorbike.



You're playing a live Sinewave set at Event Horizon at Jacks on Saturday 26 April alongside Israel's Tactic Mind and the Event Horizon ressies. What can fans expect from your set and what surprises do you have up your sleeve to make is a special one?

I have been working on several new tracks over the summer and will be previewing them at this gig with Event Horizon. One was inspired by my time at the Exodus Festival in Australia, where I was hanging out with some of the coolest bunch of Aussie doofers. On one of those bender weekends we came up with the name of our crew as The Tribe of Assassins, so a track was born from this name. It has a very special place in my live set now.

Your next big Emoticon set is in the VIP room at Psychedelic Academy @Brixton Academy on 4 May. With the gig only a week after your Sinewave live set, how will your set be different and why should HF readers come and check it out?

The Emoticon set is a lot more down and dirty than the Sinewave sound. As I mentioned, Emoticon is my transgressive project so it's going to be more of a mash up of electro influenced tunes than pure full on psy trance. In a way it's a lot more experimental and I can mix the tracks in the Emoticon set a lot longer than you can in a full on psy trance set. Ableton again allows me some awesome control of effects and loops. Either way you're going to get some acidic electro beats slammed in your face.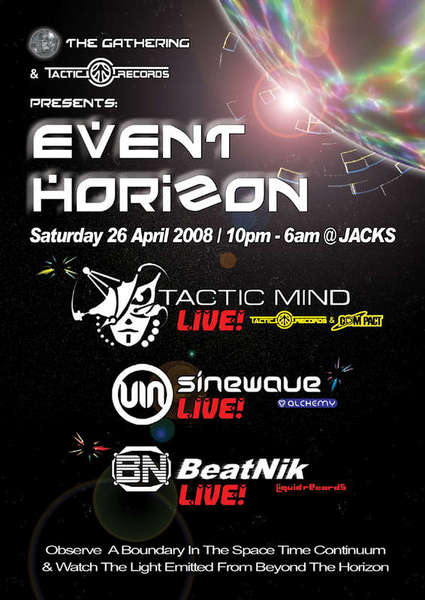 Photos courtesy of Sonal and Spencer Scott. Not to be reproduced without permission.





The Gathering Presents:EVENT HORIZON

On:
Saturday 26th April
At:
Jacks [map]


From:
22:00 - 06:00
Cost:
£10 in advance
Website:
www.myspace.com/eventhorizonuk
Ticket Info:
Price: £10+bf advance more on door

Tickets are available online at www.accessallareas.org or at the Accessallareas Shop in Camden Lock or by calling Prozak 07956472558, Felix 07900554509, Miguel 07886919940
Buy Online:
Click here to buy tickets
More:
The Gathering & Tactic Records are proud to return to our favourite club, Jacks in London Bridge, on the 26-04-08 to celebrate the spring and Passover in true underground style with a Psychedelic Festival dedicated to all things psychedelic!!! Featuring Live Acts, DJs, Puppet & Magic Shows (tbc), Dancers, Chai & Face painting stalls, Origami & Meditation & Drumming classes and much more!!! As always the main room will be dedicated to the sound of Full on Psy Trance in all its glory while in room 2 the music policy will be dictated by the DJs and will range from Progressive Psy/Trance to Ambient to Chillout + lots of activities to keep you happy
Flyer:
-

Region:
London
Music:
Psy Trance. Chillout / Leftfield.
DJ's:
Full On Psychedelic Trance Arena


***TACTIC MIND Live (Com.pact Records, Tactic Records)***


**SINEWAVE Live (Alchemy Records)**


**Beatnik Live (Nano Records )**


Etnarama (Boundless Music)


Prozak (The Gathering, Event Horizon)


Miguel (The Gathering, Imagine)


Toxigen (The Gathering, Imagine)



Proggy/Ambient/Chiilout Arena



Max Stellato aka The Doktor LIVE (Frolic)


Outer Space Creations LIVE (Mystik Systems)


Sati (Carnage)


Max Alien Trax (Escape from Samsara)


El Greko (The Gathering)


Chandrananda (Trinakria)


DeepaShade Of Green aka DSG


---
Share this ::

:

:

:


Follow HarderFaster ::

---
---
The views and opinions expressed in this review are strictly those of the author only for which HarderFaster will not be held responsible or liable.
---
Comments:
From: Prozak on 26th Apr 2008 10:29.03
wicked, cant wait for this one tonight
see you all there

From: PSYLICIOUS on 2nd May 2008 14:52.29
Waveform Benefit event will be rockin' also :o)

From: NickiS on 3rd May 2008 13:11.43
Big

to the Ozzie!