Insekt preview: crowd rockin with Ben Stevens

Reported by Toomz / Submitted 04-04-06 17:22

In a scene where the flavour of the month in sound is ever changing, one man has stuck to his guns by continuing to play and produce the sound he loves. Heralded as a future hero by Mixmag and more recently at the 2005 Hard Dance Awards, Ben Stevens has had a meteoric rise to hard house stardom.

Gaining a residency with the highly acclaimed Vicious Circle camp in his late teens, Ben has played at a stream of events up and down the country, including such heavyweight nights as Sundissential, Frantic and Storm and also picking up another residency at Parlez-Vous in Bradford along the way. The lad's skills have not gone unnoticed overseas either, with numerous bookings to spread the Vicious sound across the world.

Ben has also been working furiously in the studio over the past year trying to carve his own sound in the hard house/NRG market and to great effect. With a number of releases such as 'Squeeze', 'Traumatic' & 'Crowd Rocker' on Vicious Circle already in the shops and 'Swarm' & 'Gangster Beat' to follow, as well as numerous remix requests for other reputable labels, Ben Stevens is all set to take the scene by storm.

Having finished off the last few I Love VC events in great style, Ben's set at the forthcoming Insekt is hotly anticipated and the gang are looking forward to having him on board. I met up with Ben for a few words on what he has been up to and his thoughts for the night ahead on Saturday.



Hi Ben. It has been over a year since we last spoke to you and in that time we see your gigs have taken you around the world from Canada to Australia. How has it all been going?

Hi mate, good to speak to you again & looking forward to coming back down to Insekt! It's been a fantastic year for me gig-wise & as you say I've been lucky enough to play overseas a few times. My favourite of the overseas gigs would have to be over in Canada, I played in Calgary & then up in Edmonton. The gig in Calgary was organized by a lad called Ben (Rodi Style) & he is one of the best up & coming talents I have seen in a long time. His DJing is perfect & his productions are awesome too! The gig in Edmonton was a blast too, it was for the guys at Y Afterhours (an after hours club if you didn't guess!) & they really looked after me. I was only in Edmonton for about 24hrs & had to get straight on the plane home from the afterparty. It wasn't the best flight I've ever had! I'm back over there again in May so really looking forward to it!

I was also lucky enough to play at Creamfields & the Love Leeds festivals, both of which were fantastic. It's a real honour to play at major festivals such as these.

As far as this year goes, I'm looking forward to going back over to Ibiza in the last week of June & then the plethora of Vicious Circle Events that we have got coming up!

Your productions have also gone from strength to strength with 5 of your tracks being signed to Vicious Circle, which must be great. How's your production work going?

I have been in the very lucky position of working with Paul Maddox on most of the tracks I've done for VC. He is an absolute wizard in the studio & without him I would be nothing! It was always an ambition of mine to have some tracks on Vicious Circle so when Glaz started taking them I was a happy Ben!

I've recently had my cellar converted into a studio & now have a new pc so will be spending much more time on my own cracking on with Cubase! I've also had a little go at some dirty house stuff after spending all of the summer last year listening to it at DC10, but it's really just for my own amusement.

Your 'Hit The Beat' remix, as featured on the I Love VC CD, has been causing a bit of a stir around the clubs. Will this be seeing a release?

The original of 'Hit The Beat' is one of my favourite VC tracks so I jumped at the chance to have a go at remixing it. Originally it was just going to be featured on the I Love VC CD & not see a release, but it may now see the light of day as an exclusive download from VC's new download site http://www.vcmp3.com]www.vcmp3.com.

I have really enjoyed getting my teeth stuck into a few remixes this year & have been especially happy with 'Mad Dogs' & my forthcoming mix of F1 – 'Alright' on Toolbox.



We hear there is an interesting new mix CD due out from yourself, can you tell us more about that?

I've been putting together a mix of my favourite VC Classics. It's been a real pleasure mixing the old tracks that I had forgotten about! It is going to be called 'A Retrospective Of Vicious Circle' & will be available in the shops on 24th April. Another little twist in the tale of this CD is that it is now going to be mixed by myself & Glaz back to back!

And there' s also a special launch party due for this I presume?

Haha of course! We are having a party to celebrate on Saturday 22nd April at the Fridge in London. We have been working on the line-up for a very long time & for me it's got all my favourite DJs playing. All the info is available on http://www.ilovevc.com. There will also be club tour later on in the year.

What can we expect to hear from you at this & the forthcoming Insekt? Anything new to show off?

You'll all just have to wait & see I'm afraid! There will be plenty of new material in there but also a smattering of classics as always!



Which other producers are doing it for you at the moment?

Marc, Glaz & Justin always impress me with their tracks & also Frank Farrell, Dave Owens. Riggsy, James Searles. The new groovy hard house that Maddox has been doing has been quality too. He played an awesome set at the Tidy Weekender last weekend, pure class!

What can we find Ben Stevens doing outside the studio and your gigs? We hear sleeping is one of your favourite pass times.

Haha, I love a good shnooze yeah! My main pastimes recently have been getting on with the studio at home & finishing off decorating my house. Its almost all done now, just the kitchen to finish. It will be a massive relief when it's all done! I spend a lot of my free time over in Manchester with my girlfriend & my mates & also up in Leeds with some good friends. I have also been working on a new website which will be launched in a few weeks!

Probably my biggest pass time has to be looking forward to going to Parlez Vous in Bradford each month. It's my residency & all of my best mates go each month. It's a quality party & will never get tired of going there. They have just added a third room to the venue & have some fantastic guests lined up to play!

Your upcoming Insekt gig sees you playing alongside arguably one of the scenes greatest producers, Dom Sweeten. Are you a fan and are you looking forward to it?

I've never seen Dom play so I'm really looking forward to it. Hopefully he will play a load of new tracks that I've not heard yet!

See you down the front!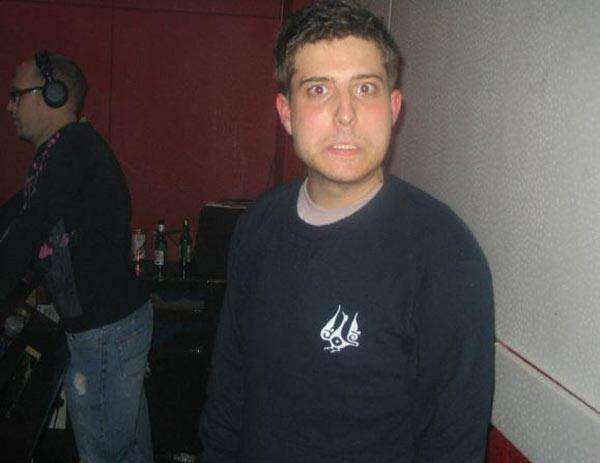 Photos courtesy of Ben. Not to be reprodcued without permission.





INSEKT

On:
Saturday 8th April
At:
Fire [map]


From:
22:00 - 05:00
Cost:
£15 on the door / £10 concession Guestlist
Website:
www.insekt.co.uk
Ticket Info:
For more info please contact:

Marc Johnson / 07946 311204 / marc@insekt.co.uk
James Nardi / 07779 634820 / james@insekt.co.uk
Chris Comben / 07866 626838 / chris@insekt.co.uk
More:
Insekt welcomes to you come & witness The Arrival... He is without doubt the most influential producer in recent times. Know to many as: the man behind OD404, Base Graffiti, Defective Audio, El Durangoz, Tomcat & Satalite Kids.

We bring you: Dom Sweeten!

Dom is joined by an all-star Insekt line up which is nothing short of mouthwatering.

This month the FirePit plays host to the much talked about ONE promotion.
Flyer:
-

Region:
London
Music:
Trance. Hard Trance. Hard House.
DJ's:
[Main Room - The Arrival]
Dom Sweeten
(OD404 / Defective Audio / Base Graffiti)
Ben Stevens
(Vicious Circle / Parlez Vous / I Love VC)
Ian M
(Tripoli Trax / Trade / Fuel / Insekt)
James Nardi
(FlashPoint / Tonka Trax / Insekt)
Tim Clewz
(Neonate / Blue Cubed / Toolbox)

[Firepit - In association with ONE]
K.A.R.L.
Jurrane
Julien
Gavin Macfarlane
AENEA
---
Share this ::

:

:

:


Follow HarderFaster ::

---
Other Features By Toomz:
Insekt preview with Simon Paul & Housewives Choice.
An interview with Flash Point's quiet man Jupe.
Insekt preview: interview with George E
From Oz to AM: a look at the past year & 2006 with James Nardi
An update on a Vicious year for Insekt's early riser, Marc Johnson
---
The views and opinions expressed in this review are strictly those of the author only for which HarderFaster will not be held responsible or liable.
---
Comments:
From: karl davis on 4th Apr 2006 18:17.31
great stuff m8

From: Perera on 4th Apr 2006 18:22.10
Top read.. Top lad.

From: James Nardi on 5th Apr 2006 08:29.21
Well done Ben!!

From: Jennie B on 5th Apr 2006 09:35.27
Always loved Ben's sets! he always rocks Fire when he plays there



From: ~deleted5181 on 5th Apr 2006 12:27.49
First time I saw Ben playing was about 3 years ago at a frantic event in old Camden Palace. he is an amazing talented DJ!!! and such a sweet guy




From: bb_paul on 5th Apr 2006 17:13.13
great interview! keep 'em coming benny boy

From: Marc Johnson on 5th Apr 2006 19:43.43
Wicked Interview and wish we had the guts to include some of your better pictures haha

Cant wait for your set on sat

From: little_raver on 5th Apr 2006 20:05.47
Wicked interview, see u on Sat Ben

From: Norris on 7th Apr 2006 12:03.00
Add your comments here !

From: Norris on 7th Apr 2006 12:04.42
haha! Whooops!!

Always been a fan of Ben since my mate gave him some of his first ever sets @ Kemistry in Leeds, top bloke too. Well done Ben!

From: Steve Gillen on 7th Apr 2006 15:25.25
Great Interview Ben



From: Justin Time on 7th Apr 2006 23:23.12
Wicked interveiw, Ben is quality dj and an awsome producer



From: Andy Rise on 9th Apr 2006 17:51.32
Awesome Interview, Keep Up The Good Work Mate

From: Redrum on 9th Apr 2006 18:33.17
Great interview. And he did rock the socks off us lot at Insekt.Brilliant Set!