Who said size doesn't matter... oh Yes! it does!

Reported by taktikal london / Submitted 11-01-06 18:00

"Hefty intergalactic evil electro, eerie electro bass, 80s electro rap n hip hop, electro house, breakbeat, tech house (more tech than house), monging acid house, dark proggy house, crunchy techno n a spot o psy trance for good measure." Quote from Hefty, 2005.

Hefty by name hefty by nature — full on forceful sounds is the name of the game when it comes to this man! Just imagine taking a trip to the darkest corner of the subsonic soundscape and wading through the filthiest funkiest electro sounds, reaching that taboo peak in that good dirty kinda way and your be close to describing the experience this man has in store for you at YES!




YES! presents Hefty



We caught up with Kiran aka HEFTY in Brixton to get the low down before he plays his debut set at London's most talk about party.

Hi Hefty, happy New Year to you! So what did you get up to NYE?

And a heftily heartfelt happy New Year to you too!! Wow, me first interview!! NYE was cooool I always like to be with my closest friends on NYE so we had a small house party in good old Brixton where I played a proper bo 2hr set! Mucho fun indeed!

I read that you used to play many different instruments as a youngster, what instruments did you play and do you think this obvious musical ear helped shape you into a DJ?

It all seems very obvious in a strange 'fate' sorta way. I had a very musical childhood, my parents got me playing the piano, the keyboard, the drums and percussion instruments and I was always going to music classes in the summer holidays etc., which at the time I didn't really appreciate, but now I can see that this musical upbringing has certainly helped with what I'm doing now. I was never that great at reading musical notes but if I heard a piece of music I was able to work it out and play it back. I think it has helped me with the understanding of musical key changes and chords, the structure of music and also with my musical memory.



Another of your early influences was the legendary underground London based event Pickle, where you became a resident — how did this come about?

Wowzers, where to start? Pickle was the best thing that ever happened to me. My good friend Mark aka DJ Bedouin from Uni introduced me to the world of Pickle in 2000. He somehow got himself a job as their SE London promoter so he invited us along one night. It was Pickle's 5th birthday at Brixton Academy and it was FAAAAT!! Up until going to Pickle I had been a trancey kinda guy, going to Peach and other events like that and going to the commercial clubs like Fabric. I bought Trance Nation cds and Euphoria cds, I was also into speed garage n prog house n stuff, and thought I had a pretty eclectic and up to date taste in music. How wrong was I? It was like a whole new world of people, music and venues.

I stumbled into the chillout room, sat down and was blown away by what they were playing: breakbeat. I had never heard this kind of music before and the syncopated broken rhythms were TOTALLY new to me and I was amazed. So amazed that I had to go and tell the djs (Thee Anarcho Funkateers) how much I loved this new music. After that first Pickle I couldn't wait to go again so I could see all these cool people and hear this fantastic new music. From then on every month for about 3 years (the best of my life) I spent every Pickle from start to finish in the chillout room lapping up this music n fucking loving every minute of it. Every Pickle without fail I'd go n tell Thee Anarchos how much I loved what they were doing and how much I LOOOOOVED their music. Then one Pickle I decided that this was what I wanted to do, the djs, the people, the atmosphere and the music inspired me to become a dj. P.S that's the short version.

Following on from this, it was at Pickle that you got your first big break, at Thee Big Hug. How was it playing for an event that had played such a big part in moulding your sound and style?

It was a dream come true! I got to play in front of the people who inspired me to take up djing, my musical heroes! I really felt that I had accomplished something special. Pickle was like a big family and to be part of it was amazing! It was my most enjoyable set ever!! I messed up the very first mix, but then caned it with some evil electro after that. Also I met Brandon Block, nutter! Thanks to Pickle I had my first residency with them and now continue the Pickle vibe through my residency at IMPLOSION.



I also heard that you left Uni to save up to buy decks and to learn to mix? I bet your career adviser didnt recommend that but it shows real commitment, it must have been a big decision to make?

I was so confident that I was right, more confident than I have ever been about anything. I told my parents that I was leaving Uni to follow me dreams of being a Pickle chillout room dj. As I said I had been clubbing loads before and never thought that I wanted to dj, there's something special about Pickle, and it was like a moment of clarity, it just came to me, "this is what I want to do." I was more confident going into my first set than I ever have felt for any exam. I can remember thousands of tunes and labels (I've become a bit of a music geek) and intros and outros but I wasn't that great at retaining academic information, it all seems very obvious now......

Apart from DJing have you made any advances into the world of production?

I certainly have! It's a bit strange because before I got hold of the software (then Reason 2.5 now Reason 3.0) I had a very definite idea of what kind of music I was going to produce: breakbeat and electro, because they are my favourite genres. However, I've been making all kinda different stuff, mainly (which I find a bit odd) techy acidy proggy numbers. When I first got Reason 2.5 I didn't have a clue what I was doing, I was completely baffled by all the bits n bobs n this n that, if I managed to load up an instrument I ended up with some shitty pipe organ noise, so initially I thought it was a pile of cack. It wasn't until my good friend Dave Mc Dave showed me that you have to tweak the shit out of it and generally fek about with the noise till you have what you want. He has taught me the ways of Reason! I've worked out how to sample stuff too, in the track 'Donnie Darkened' I've sampled stuff out of Donnie Darko, and I have now finished 6 or 7 tracks which I hope to get mastered shortly and then I'll get on the case trying to get a release.



How would you describe your style and what tantalising treats can we expect to hear from you at YES?

I'd say the two words that describe my style best are: hefty and eclectic. I got my dj name because people said my tunes were hefty so it just kinda stuck. One thing that I definitely learned from the Pickle chillout room was that variety was goooooooood! If you never know what's coming next it keeps a level of anticipation in the room, people can't wait to hear what your going to put on next. So I really try to play different styles in the one set, from sleazy dirty punky electro house, to mongy dark n nasty acid house, tuff tech house to bassline breaks, with a spot of evil electro thrown in for jokes. Treatswise well a hefty portion of all of the above methinks, I've done a promo mix for the event which I'm sure will be available soooooooooon!

What other artists are you looking forward to hearing at YES?

Well there's a lot of hype surrounding Stoneface and Terminal so I'll definitely check them out, I definitely want see Max Cooper, he's the man of moment, the three-way vs deckathon looks very interesting and as K.A.R.L is doing very well for himself I'll be seeing what kinda tunage he's pumping out, LOL it looks like I'll be doing the rounds in all the rooms.

Ok, now some random quick-fire questions…

Hollyoaks or Eastenders?

Sanjay! Gita! Sanjay! Gita! Eastenders!

Salt or pepper?

Mmm salt.

Light or dark?

Dark

Humungous and hefty or slight and small?

Hefty everytime!

Thanks for your time, and see you on the 14th @ YES! For some Hefty breaks business!

YES INDEEDY!

Please click here for an exclusive mix for YES! by Hefty. www.waxdj.com/hefty

Photos courtesy of Hefty and taktikal.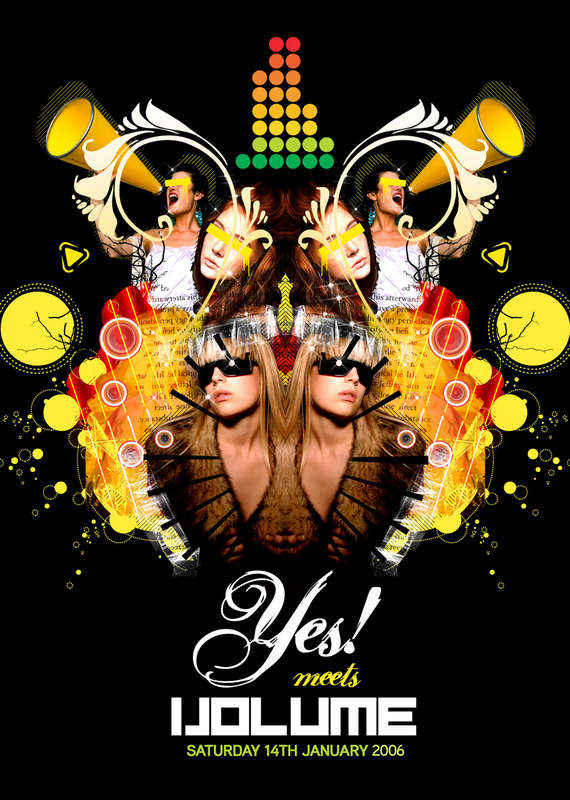 YES! meets Volume

On:
Saturday 14th January
At:
Hidden [map]


From:
10pm - 6am
Cost:
10 in advance 15 on the door
Website:
www.aliwilson.com
Ticket Info:
For 10 advance tickets call Lee on: 07908022105 or clubyes@hotmail.com
More:

YES! Meets Volume @ hidden
Saturday 14th January
2006

Where were you when the revolution started?!

Saturday 3rd December saw Tekelec Records step out into the London club scene with the launch of their sensational new venture: 'Yes!'

Like every fresh idea, what was supposed to be a one-off Record Label launch, quickly took on the snow ball effect and the sound of Yes! is still resonating through London 3 weeks later.

The question on everyone's lips has been when will the positively named party return to tantalize our aural cavities? Well the suspense is over. The next stage of the revolution is charging across the horizon in an unstoppable melee of sound & light and will arrive back at South London's Hidden on Saturday 14th January 2006.

Like every great event, the people behind Yes! have refused to sit on a
formula and have evolved the party yet again to incorporate even more party fuelled pilgrims. 14th January will see Yes! joined by Hidden's very own Volume. Taking on Room 3 the challengers for the thrown of Sexy-Funky-Tech-House maestros will be bringing to the party their sexy rhythms and even sexier crowd!

The magic of the Yes! launch was the carefully formulated line up which sat across dance music genres like the New York Tri-State area! Encompassing Tech-Trance, Trance, House & Breaks it was an engrossing cocktail of sounds few could resist….Jan 14th will be just the same. The special guests for this edition will be two of the most innovative trance producers that walk the earth. Having previously stepped into the studio with the likes of Alex M.O.R.P.H., Fred Backer and the mighty Armin Van Buuren, this is an exclusive performance as they journey to London for the very first time!

And joining them will be Yes! secret weapons, the Tekelec Record all-stars: The Electrilogy! Ali Wilson, Matt Smallwood & Lee Osborne are emerging as the most exciting Tech-Trance producers in the UK with super-stars such as Carl Cox & John Askew all desperate for any material the lads turn their hand to: an immense centre piece for the Yes! revolution.

Yes! The next wave of the revolution is here.






THE SOUNDBOX: JUST SAY YES!

STONEFACE & TERMINAL (FIRST EVER UK SET)
ELECTRILOGY (ALI WILSON / MATT SMALLWOOD / LEE OSBORNE)
REECE ELLIOT B2B EHREN STOWERS (SUPERCLUB SHOWDOWN)
K.A.R.L. (ONE)
KRIESS GUYTE Vs GARY OPTIM Vs FRASE
(Lost Language / Mixmag / sixthirty:records)


THE TERRACE: VOLUME 'turn it Up'

CHRIS BARRET (Serious)
TOM ALLAN (Kurruption/Sundazed)
PROBLEM CHILD (Prehab)
D-MAN b2b DJ SWITCH (Passion fm)


THE PARLOUR: Breakbeat & Electro Allstars!

MAX COOPER (RADIO 1)
STEELO (3 Hours of x-rated filthy NuSkool breaks)
FRASER OWEN (ELEKTRIK)
HEFTY (ELEKTRIK)
LEE LINCOLN plus live guitar (FLOATING FANDANGO)


Just say YES!
& Turn this mother F**cker UP!




Flyer:
-

Region:
London
Music:
Trance. Tech Trance. House. Bouncy House. Deep House. Funky House. Funky Techno. Breaks.
DJ's:
THE SOUNDBOX: JUST SAY YES!

STONEFACE & TERMINAL (FIRST EVER UK SET)
Electrilogy (Ali Wilson / Matt Smallwood / Lee Osborne)
Reece Elliot B2B Ehren Stowers (SUPERCLUB Showdown)
K.A.R.L. (ONE)
KRIESS GUYTE Vs Gary Optim Vs Frase
(Lost Language / Mixmag / sixthirty:records)


THE TERRACE: VOLUME 'turn it Up'

CHRIS BARRET (Serious)
Tom Allan (Kurruption/Sundazed)
PROBLEM CHILD (Prehab)
D-MAN b2b DJ SWITCH (Passion fm)


THE PARLOUR: Breakbeat & Electro Allstars!

Max Cooper (RADIO 1)
Steelo (3 Hours of x-rated filthy NuSkool breaks)
FRASER OWEN (ELEKTRIK)
Hefty (ELEKTRIK)
LEE LINCOLN plus live guitar (FLOATING FANDANGO)
---
Share this ::

:

:

:


Follow HarderFaster ::

---
Other Features By taktikal london:
Supernova preview with Nick Sagar-House: the first thrash musician interview on HarderFaster
Scratch my record and I'll scratch yours!
We are krowdkontrol! Resident djs Filthy & Wrong
Yes yes! Rinse out the 1s and 2s with the bad boys of breaks! Tom Real does Steelo – strictly!
Young gifted male seeks like minded people for fun, frolics and wild nights of debauchery!
---
The views and opinions expressed in this review are strictly those of the author only for which HarderFaster will not be held responsible or liable.
---
Comments:
From: JC-TAKTIKAL on 11th Jan 2006 18:14.14
Watch out for this man! Big things from the man they call...

(((((((((((((((((HEFTY)))))))))))))))))))

Just Say Yes!



From: little gem on 11th Jan 2006 18:40.24
oh YES!!! hehe!

From: Matt Smallwood on 11th Jan 2006 19:22.24
Smooth moves Hefty, looking forward to your set saturday mate!

From: Zoelee on 11th Jan 2006 19:53.59
I predict Heftmania!! Nice one Hefty..see you on Saturday



From: Hefty on 11th Jan 2006 22:56.51
wow! big thanks guys! Mucho happy to b on board. oooooh i cant wait for sat, got some proper hefty business lined up! lookin forward to seein u all there



zoe ur cds r in ze posty

JuST SAy YES y'all

From: Lee Osborne on 12th Jan 2006 00:22.17
Wkd! Yes Yes!

From: Hemlock on 12th Jan 2006 02:19.52
Nice one geezer. The relentless march of the Heftmeister!!!

I doff my cap to you you bad boy perveyor of intergalactic darkside funk de bubble innit!!

Bring it on!!

From: Hemlock on 12th Jan 2006 02:22.51
Nice one geezer. The relentless march of the Heftmeister!!!

I doff my cap to you you bad boy perveyor of intergalactic darkside funk de bubble innit!!

Bring it on!!

From: Flip on 12th Jan 2006 12:28.02
Nice one Hefty my friend. Have a good'un at Yes!

From: ~deleted1390 on 12th Jan 2006 13:48.33
Good work Hefty. Loved your set at Techstyle.



From: Bella on 12th Jan 2006 14:33.06
:

Looking forward to seeing you soon sweetie

From: Becka on 12th Jan 2006 15:01.12
Saw him play before wicked! looking foward to hearing what he has got for us at Yes! xx

From: 2 PhUnKEd Up on 12th Jan 2006 15:55.31
Top work Dude. See a good year ahead for you. Keep it up and see you soon!

From: PICKLE MARKY MARK on 12th Jan 2006 16:23.24
Hefty is a big posh sod with plums in his mouth.... he feeds beefburgers to swans and makes pigs smoke!
Jaa bless.....love you.... in a way!

From: PICKLE MARKY MARK on 12th Jan 2006 16:29.06
p.s get your dirty brummy ass down implosion on saturday


From: PICKLE MARKY MARK on 12th Jan 2006 17:08.26
shit... just realised you're playing at 'yes' on saturday.... well... when will Jack be coming? pig in a boat? a boot?

From: Jay OM on 12th Jan 2006 17:55.15
Good stuff Hefty my man!!
See you on saturday bro...

From: Ashley James on 12th Jan 2006 18:56.28
Geezer!

From: garyoptim on 12th Jan 2006 19:31.02
yes mari givin it some in the pic there!! lol

lookin forward to hearing the hefty one, all about that kinda sound really!

From: Hefty on 12th Jan 2006 22:54.22
WOW thanks everyone for all ur support n kind words, thanks to all the promoters who have given me the opportunity to play coz without you id still b in me bedroom, and a special thanks to all my Pickle chums for inspiring me to do this!

Mark dont knock just come!

From: PICKLE MARKY MARK on 13th Jan 2006 10:07.30
fight you!

From: K.A.R.L. on 13th Jan 2006 11:39.13
Great interview. Was blown away when I first heard a demo of Hefty's, top stuff. Looking forward to Saturday.



From: voodoobass on 14th Jan 2006 10:55.41
Hefty's shit is the bollocks




From: Neats on 16th Jan 2006 13:52.36
nice one... keep it up



From: WEBBO on 18th Jan 2006 18:22.34
nice one , was good to meet you sat , demos are wicked