Addiction @ Deep Blue Preview: Introducing the Addiction Generation

Reported by Olly Perris / Submitted 08-05-05 23:59

On the 13th May 2005, Addiction will take over Deep Blue at the SEone Complex, London. Of course, unless you truly have been ignoring everything going on in the hard dance world recently, you'll know that Addiction is the fastest growing hard dance promotion on the planet, regularly entertaining the crowds at The Southside Bar every other Thursday night in a party which has seem them achieve cult status in record time. For their first allnighter, Addiction have secured Ilogik and James Lawson's DJ services for what is surely going to be an absolutely explosive night. But Addiction are bringing with them their own breed, the DJs whose careers they have helped to launch. It is here that we pay tribute to these DJs and let them speak their minds and tell you exactly what they're all about. Ladies and gentlemen, please welcome The Addiction Generation.

K.A.R.L

K.A.R.L is a London-based trance DJ who only began playing out in early 2004. As co-promoter of One, K.A.R.L's momentum is gaining pace and with future gigs planned at the Fridge as well as other leading venues, it's only a matter of time before he becomes a major trance player on the circuit.

As a pioneer of a very unique trance sound, what do you have in store for us at Deep Blue?

Well speaking to Andy & Mike they booked me to play that filthy trance sound as it's being called, so that's what I'll be doing. It will be quite possibly a mixture of trance/electro and techno, anything driving with a really good groove basicly. And I haven't played like that for ages either so I am really looking forward to it, and have managed to pick up a few new tunes recently which will fit in nicely into that sort of set.

You've been an Addiction regular ever since it began last year, having an attendance rate of almost 100%! What do you think has been the key to its success?

Sometimes I feel like I live in that bloody bar! The whole Addiction crew put a lot of work into the promotion and they actually care that people are having a good time. It's also a good place to catch up with people. It's centrally located so it's easy to pop into after work and have a cheap beer and listen to some top tunage.

As an Addiction regular, how did you feel the first time you performed? Did you feel that the crowd was going to be responsive no matter what you played?

I was really excited about it. I still hadn't been playing out that long but had had a great responce to my set at Twisted the previous weekend. It was a b2b with Conrad and our styles are different so we had to really think about it. The place was filling up nicely just before we were on and I remember someone asking me what we were going to play. I said the first tune is a techno tune (Tim Taylor - The Horn Song) and he just looked at me strangely. But the place went nuts when I dropped it. I knew it was a good record that would grab people's attention, and the right record just to raise the tempo from the previous dj.



M.D.A & Spherical

Matt Adams and Mark Beadle, aka M.D.A & Spherical, are two upcoming production geniuses originally hailing from London. As only teenagers, they have already released huge records and been tipped from the top on numerous occasions by many leading figures on the scene. Their 'Beastie Snacks' bootlegs have also got everyone rocking on the dancefloors as of late, where they have remixed the cheesiest chart tunes into the hardest of hard dance bangers.

You have both been tipped from the likes of Simon Eve to be major players this year on the hard dance circuit. How does it feel receiving such plaudits from such established names?

It's such a great feeling to know that you are backed by some of the leading players in the scene you know and love. It's really motivating and makes you even more determined to reach the top. We just have to keep trying and see where this year takes us.

What new tunes have you done recently and is there anything you're particularly excited about?

Recently we've made an epic hard trancer with DJ GRH called 'Illusion' featuring the vocals of Donna-Marie. That's been going down excellent wherever its been played. We've just finished 2 new tracks; 'Phantasm' with Chrysus – a full on funky partytime 303 tune, and 'Untitled' with Alf Bamford and Chrysus – an intelligent hard dark trancer.

There's a couple of things that we're quite excited about that are due out imminently. Our remix of Benny Drohan's 'Back To The Programme' is something we're quite proud of – that's due out on Whiplash early May. And also the crowd-pleasing 'Out Of Touche' under our Beastie Snax guise gets a release very very soon



As a DJ partnership you play back to back. Do you ever try to have a laugh and put each other off when playing or is it all serious action behind the decks?

Ha! Well, don't know about putting each other off, because that then reflects badly on the other! But its never 100% serious behind the decks. We go out to play music, mix well, but still have a good laugh. Music is about the having fun, and our mood reflects on the mood of the dancefloor. And we want people to have a good time!



James Terry

James Terry is perhaps the best representative of what the Addiction attitude to DJs is all about. As a complete unknown only a year ago, playing his first ever gig at Addiction, James has completely blown everyone away with his raw natural talent and real head for tunes. He is going to be DJ'ing for Addiction this year in Ibiza, as well as opening proceedings in the main room at Deep Blue.

What a year it has been for you! A year ago you hadn't played out in a club and were still practising in your bedroom, and this year you're playing the main room at Deep Blue and headlining a major Ibiza Cream pre party. Can you even begin to describe how this feels?

Yes, amazing! My main aim this year was to play at a large venue such as SE1 and that fact that's its only the 6th time I have played out makes it even more exciting as who knows what the future may hold. On top of that being asked by the Addiction crew to join them in Ibiza for their Cream @ Amnesia Pre-Party has really made my year. I feel so honored that they picked me to go. It's going to be such an experience, one I know that I will never forget. I couldn't ask for more.

As a trance DJ, what do you think the trance sound has to offer a hard dance night? Do you think it works well as a warm up, as at Addiction's Thursday parties, or would you like to see more peak time trancier sets at hard dance nights?

Trance can be used as a musical tool in so may different ways. Nowadays people seem to forget that its not just about increasing the BPM's. With trance I believe you can take people on more of a journey. Musically speaking you have a lot more possibilities this is something that the scene needs. I think trance as a whole works well as a warm up from progressive to harder dance music. I think the warm up slot is just as important as the last. You are opening a musical chapter and its important to play what you feel will get people in the mood but slowly build the tension. This is ideal for Addiction because it showcases a progression in music, pushing the night forward to faster peaks and adrenaline filled sounds. However I would still like to see more peak time trance sets at hard dance nights as well as the warm up's. It would be nice if hard dance nights were a bit more diverse introducing trance at peak times. I think it would add variety and it would give the crowd a chance to build up more slowly. For me the anticipation of not knowing where the night is going is what makes it exciting.

What would be your ultimate gig?

There's so many but Addiction @ Brixton Academy, main room would be the ultimate. Then world domination soon to follow!



Mancub

Matt B, aka Mancub, is co-promoter alongside Ian H of Momentum, Reading's premier hard dance night. Matt's mixing ability and choice of tunes has seen him play Addiction many times, and his friendliness and approachability as a promoter has seen Momentum really go from strength to strength over 2005.

As co-promoter of Momentum in Reading, you are pioneering the hard dance sound there. Briefly describe the thought behind Momentum and what you aim to do with the party.

Momentum came about for a few reasons. My co-promoter, Ian H, lives in Reading and was always complaining that there was nowhere to go locally if you wanted to hear good djs play good dance music, we were both looking for more opportunities to play out and we both have similar ideas about what makes a good party. The rest just came together from there. Our main aim for the promotion is to put on a good event that people enjoy and doesn't cost the earth. Not everybody who likes clubbing can afford a mission to London every weekend and we aim to give them the same vibe a little closer to home. We offer a very intimate experience too, our djs come and hang out with the crowd afterwards for a few beers and you certainly don't get that with many promotions nowadays.

Many people say Reading's harder nightlife died when the Matrix closed recently. How would you respond to this?

A lot of the locals see the Matrix as being the last bastion of harder music and feel that when it closed, Reading had nothing more to offer them. That much was probably true for a while but we don't believe that a single institution could or should ever be responsible for keeping the party spirit alive. We see many of the old Matrix regulars at Momentum and it's become clear time and again that the people are what keeps the harder scene alive, not the venues, and as long as they want to go out and have a good time we're happy to help them do it. Reading's harder nightlife may have been on the ropes for a while, but it's far from ready to throw in the towel.

As another Addiction regular, with an almost perfect attendance record, what would you argue was the key to its success?

Addiction is a great atmosphere and has a really friendly crowd. The Addiction boys and the Momentum crew go back a long way and we've always been very supportive of each other's parties, but aside from that it's always a great place to meet up with your friends, make new ones and have a few cheap drinks and a bit of a dance on a thursday. You can get down there, meet some great people, hear some great music and get drunk all for less than twenty quid. Now you can't say fairer than that can you?



Greg Brookman

A man who needs little introduction, Greg Brookman is technically one of the best producers on our scene. with comparisons to the mighty BK and Nick Sentience in nearly all the hard dance press, Greg's tunes shine with so much quality, it's amazing to think he's only been around on the hard dance scene for the best part of 2 years.

You're probably most famous for your production work with Nukleuz. How did you come into contact with them and how did you get noticed?

It was a very funny coincidence! I was working at another studio and was just getting a demo together to post out to a few labels (Nukleuz included). I didn't know who the A&R guy was at Nukleuz so I phoned a friend to ask and he told me it was a bloke called Ali Wells. I had literally just writen Ali's name on an envelope when the phone rang and this guy on the other end goes, "Yeah hi. I'm Ali Wells, I work at Nukleuz. Andy Whitby has passed on a CD of yours to us and we would like to have a chat with you!!" I thought, "Rah, this must be fate!"

Your stupidly big tune 'Panzan' with Tim Coe on Impact Records absolutely blew up last summer. Did you expect the reaction to be that large?

No, Tim and I didn't really. We had written Panzan about a year and a half before it got released so it was wicked to see it do so well and sell well too. The best thing about Panzan for me was the first time I saw Phil Reynolds play it at a Frantic event and the whole place went crazy!

It made all those hours in the bedroom studio well worth it!

Finally, you're perhaps becoming more famous for your DJ bootlegs and intros, most notably "Murder At The YMCA" and the Countdown intro! Can we expect any other surprises at Deep Blue?



Those jokey bootlegs and intros I tend to save for smaller events where it's a bit more intimate with the crowd. You don't get many hard dance tunes that actually make people laugh but 'Murder at the YMCA' (the Village People's 'YMCA' over the top of DK8's 'Murder Was The Bass') seems to do the trick! I'm sure I'll make some more yeah. PM me with some suggestions!



These will be the guys helping to rock Deep Blue to it's very foundations on the 13th May. But of course, no preview would be complete without getting a few words from one of the headline acts. Ilogik is a legend in his own right. Emerging from the hardcore scene onto hard dance over 6 years ago, Ilogik has established himself as one of the most consistent hard producers on our scene, appearing on every major label as well as maintaining his extremely successful Elasticman imprint.

Ilogik

You have two hours and three decks upon which to perform your technical wizardry. After hearing you at Slinky in January doing impromptu beatboxing on a CDJ-1000, not to mention your technical tricks with Paul Glazby's 'Hostile', do you have any other tricks you're waiting to unleash at Addiction?

Oh I always have tricks!! You'll just have to wait and see!



Addiction has been the fastest growing hard dance promotion in London in recent months, maintaining that perfect intimate vibe with some of the biggest London names. As a DJ, do you prefer the intimate environment or is it large clubs all the way for you?

I like all types of clubs as long as they are full of people that are up for it. I have had my best gigs in the biggest festivals and also in the smallest of places. One place which was one of the maddest for me was in a club called Base in New Zealand. The capacity was about 200 and although it was well over capacity for my gig and it was not much bigger than my house, the crowd were seriously having it. It made me nervous and thats rare for me so that says it all.

Do you have any particularly new exciting productions which you wish to unleash upon the Addiction faithful at Deep Blue?

I have many new tunes to play as I've just finished my artist album called "My Definition of Sound" which is out in June. As well as all these tracks I have a few cheeky remixes too, one of which may be a new remix of Gridlock. Bring it on!


James Lawson

As well as Ilogik, James Lawson will also be rocking the floors of Addiction. Any hard dance fan will instantly recognise James' name as being synonymous with quality hard trance music. Under his Edison Factor guise with Matt Williams, James has written some of the biggest hard dance anthems of all time.

It's been a really busy year for your DJ'ing career so far, with appearances at Twisted, Basic & Twist to name a select few. Many people have said this is because of your recent divulgence into the psy trance scene, do you agree?

I wouldn't say I was originally booked at these clubs because I play Psy trance in my sets. I have been a resident at Twisted for around 4 years and when I first played at Basic and Twist they didn't know that I was going to play any psy trance until I did. However, I would agree that there has been quite a lot of focus on me recently as I have been pushing this sound. I have been gradually introducing psy into my sets over the past year and it
has been going down incredibly well, so thank you to everyone for the support.

How far do you see psy trance influencing hard dance and do you think it would be a welcome influence?

For my music it is going to have a massive influence on what I play and produce. It is very forward thinking, not stuck to the same old formula and as such it really is exciting. From what I have seen so far from the response in the clubs, many people agree with me.

You're playing the closing set (5-6am) in the main room at Deep Blue on the 13th May. What can we expect to hear from you in this set? Will you be roadtesting any new productions?

I will be mixing up those Psy tunes that have already been mentioned with some new hard dance tracks including "The Edison Factor - Engage", "Steve Hill and D10 - Reaching into my Brain (The Edison Factor remix)", Jason Cortez - "God" (James Lawson Remix) plus many more new productions that I have been involved with recently. It should be a good party. I am really looking forward to it.



With awesome visuals, improved sound, dancers and a chillout room, Addiction will be converting Deep Blue into the ultimate intimate club experience. The vibe carried by their Thursday parties is sure to intensify beyond belief on Friday May 13th. Miss it, and you truly will be missing out. The future begins here.

Thanks to the Addiction team for the photos.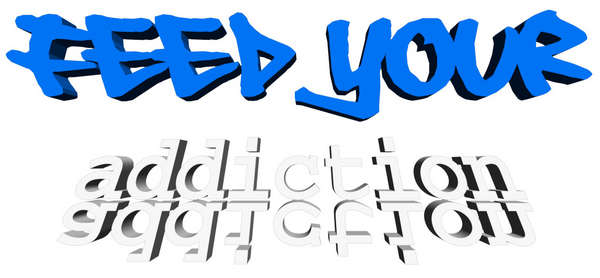 Addiction

On:
Friday 13th May
At:
Deep Blue / seOne London [map]


From:
10:00pm - 06:00am
Cost:
£7 - Early Bird Tickets NOW SOLD OUT !!! £10 - Advance tickets £10 On Door B4 Midnight, £12 thereafter
Website:
www.addictionclubbing.com
Ticket Info:
EARLY BIRD TICKETS NOW SOLD OUT !!!

Early bird tickets NOW SOLD OUT !!! £10 Tickets on sale NOW via our website www.addictionclubbing.com with NO Booking Fee. Payment is secure Via Pay Pal, and once payment has been made you will receive a confirmation email with your Guestlist number.

£10 Tickets also available with NO booking fee from The Southside Bar (at all parties) and with booking fee from.....

Ticket Web
Never Enough tickets - 07813 684 399 / 07746 742 457 / 0208 352 0705 neverenoughmaria@hotmail.com
Mad Records (Soho) 0207 439 0707
Cyberdog (Camden)
Kinetic Records (Little Portland St.)

N.B. There will be NO concession Guest List for this event
Buy Online:
Click here to buy tickets
More:
Here comes the one we've all been waiting for.....

On Friday 13th May Addiction will take over the stylish Deep Blue Venue of the SE1 Night Club Complex.

We will be transforming the three arches into two rooms of music and one chill out room !!! The main room will feature our two extremely talented special guest DJs... Ilogik (2 hr 3 deck special) & James Lawson, not too mention one very talented young man and two B2B sets !!

The 2nd room will feature some of the most popular DJs that have played for Addiction over the past few months, and we think that's a line up worthy of the ticket fee alone.

On the night we be bringing in Extra Sound for each room. There will also be laser's in each room, state of the art visuals provided by MindCandy, dancers, extra decor and in true Addiction spirit there will be giveaway's all night.

Come Experience a New Level of Addiction !!

Directions:

Deep Blue is located on Weston St. (under London Bridge Station). Exit London Bridge Station / underground via Tooley St. walk past the London Dungeons and Weston St. is the second Tunnel Road on your right.

Flyer:
-
---
Share this ::

:

:

:


Follow HarderFaster ::

---
Other Features By Olly Perris:
Addiction @ Hidden preview: interview with Sean Tyas
Interview with Ian H & Matt B of Momentum
Interview with Pierre Pienaar aka P.H.A.T.T.
From a young gun to an industry lion: Heat/HF Xmas Payback(2back) Party preview with Spencer Freeland
Party techno, party music, party animal! The lowdown on hard dance's newest prodigy, Jamie Taylor
---
The views and opinions expressed in this review are strictly those of the author only for which HarderFaster will not be held responsible or liable.
---