Features

One Function talks to us about his biggest loves and his new album release 'Harmony'
Lyktum talks Consciousness, Call of Duty & Covid-19 and introduces us to his new album Mission 5D
Luke Thomas talks us through the twists and twines of his longstanding career in the music industry!
Talking Hardcore, Depeche Mode & Jimmy Sommerville (amongst other things) with Techno producer Chris Coles!
A candid chat with the illustrious Latex Zebra, ahead of his debut on Onhcet Republik!
Phutek talks the Rave Scene, Carl Cox, Marriage Proposals and the reincarnation of 'Reincarnations'!
NEM3SI$ from Techno Label Onhcet Republik talks about ethos, the scene & gives a heads up on a very exciting remix of a renowned classic anthem!
Exploring SUN! Ahead of her debut album release on Iono-Music!
Proxius - Lust In Space
Globetrotters Mind and Matter touch bass - ahead of their upcoming album release - 'Fragile Nature' - The Remixes - out 03/02/20 on Iono-Music!
Is This Your First Record? Khromata gets ready to make her UK debut at Tribal Village
Pixie Nature: from Brazil to Bristol with DM-Theory
Delving deeper into the energising, empowering and invigorating spirit of Shakti!
Mechanimal's Digital Nature album preview at London's Psymera Summer Boat Party
A chinwag with Psy-Sisters Competition Winner - Future Species - ahead of her debut release!
Tron talks festivals, flip flips and mezcal ahead of Tribal Village
Warming up for Tribal Village with Free-Spirit Records' Merlin's Apprentice
Celebrating 10 Years of Furthur Progressions Records with Hamish and Bedders at PRISM
Psychedelic Sister CORAL talks about how she found her trance dance pants!
Winston A Young aka MC K :: Remembering a Clubland Legend
Up close and personal with Rena Psibindi as she talks DJing, Psy-Sisters Record label launch and her new band - Psychic Misfire!
Cosmic Tone talks 'Resources' and divulges his colourful weird psyche!
Talking with Ital's 'Voice of Nature'
Fishing for Cats with Neutrino ahead of the launch of Progression Sessions
Ivan Pereira (Yestermorrow/Atomizers/Techyon/Boundless) and his Never Ending Quest!
Psychedelic Pan talks gatecrashing parties, weird decor & Goa Creamsicles!
Exploring the extra-terrestrial waves in the super sonic mind of Mindwave!
A Mindbending Conversation with Mindbenderz from Iono Music!
Manifesting the intention for Earthdance London 2018: interview with Amoriah Ka aka DJ Shakti
A friendly catch up with Sensient - artist and label owner at Zenon Records!
Subsonica

Reported by CraigH / Submitted 27-04-05 00:48

A little more than a year ago the legendary Fortress Studios introduced yet another newcomer to the dance world, in the form of Subsonica. Born from the still burning embers of the much loved Chaos and Lunacy promotions, Subsonica is now leaving its unique imprint on the underground scene.

Five years on, detail to an intimate party-vibe and a cutting-edge approach to each event lives on in the very spirit of Subsonica. Never forgetting their roots, so vital in terms of a vision for the future, Subsonica proudly maintains as strong a bond with what has gone before, as it does with what the future has to offer...




From the outset the Subsonica philosophy has brought together a more than credible selection of DJs, all capable of re-enforcing a strict, yet fluid music policy that ultimately upholds those on the dance floor as paramount. DJs firmly established within the capital's clubs are placed with relative ease beside those that are simply starting out and craving a worthy platform to display their talents behind the decks. DJs are booked not purely on ability, but more importantly on their attitude; one that always guarantees working a crowd and sustains that philosophy of good friendship that lasts long after any gig is over.

A deliberately instituted progressive policy has Subsonica offering a variation of music. A club that essentially has two main rooms ultimately caters well for all. One room consists primarily of driving progressive house, this building into trance in its various forms in a crescendo of music and vibe. The second option, or first depending on personal taste, would be described by many as eclectic. The fact is; you never quite know what you going to get. Previous events have seen all facets of house, breaks, electro and even the downright obscure come pumping through the PA system. This in itself has been very popular across the last few parties and for many is a drawcard in itself.

As the punters so love to do, every Subsonica DJ is duly encouraged to truly express himself/herself through the music, this resulting in that intimate and happy vibe so required by any club that feels it is making a valid contribution to dance as a whole. (Ed's note: recent events have seen the likes of Craig Gunn, Tom Real and Steve G partying as hard behind the decks as those in front of them…. keep it up lads… and pass me another Stella.)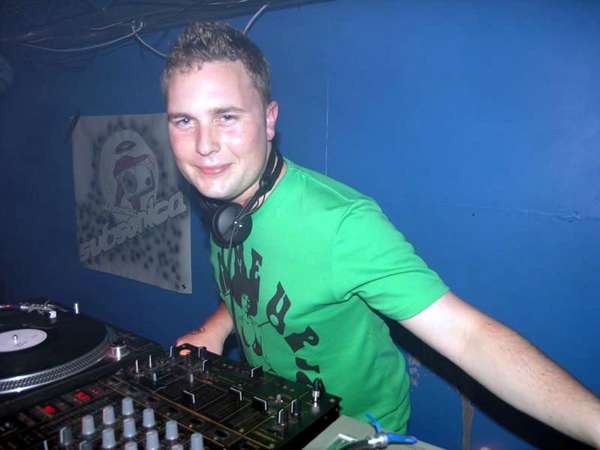 The Subsonica approach to promotions is in itself multi-faceted. Besides the run of the mill promoting required by every club, the promotions team considers the one vital ingredient as actually getting out there and doing the "leg work" amongst those people that Subsonica would most like to put a party on for. It takes hard work, late nights and nursed hangovers; but to achieve that spirit that defines Subsonica, one has to be part of it from the ground up.

Subsonica is very fortunate to have a loyal following, the vast majority who have been there since day one, still maintaining the energy and passion like it was their first ever night out clubbing. Diverse in nature, diverse in culture, the "crew" represents a cross-section on London's clubbing population. There is a bit of everything; born and bred Londoners, the hard partying Antipodeans, permanently-skint-concessions-guest-list students, the Indie rocker types whose mates are DJs, and even an ever-present Scotsman called Russ.

After a successful 1st birthday party in February, Subsonica kick off their second year as one of London's favourite underground nights in uncompromising fashion with a DJ line-up of massive proportions. Never afraid to blend the old with the new, Subsonica on 29 April 2005 will showcase DJs and producers that are all undoubted leaders in their field and command respect on both the national and international dance music stages.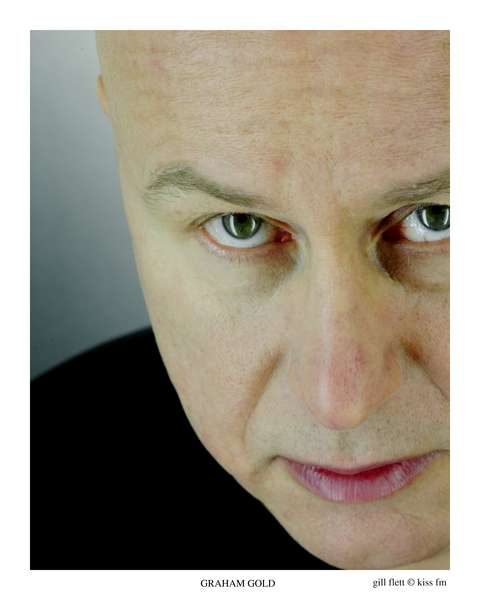 Graham Gold is one of the longest serving members of the international dance music community. Any criticism aside, nobody can deny the contribution that Graham has made to dance as a whole. He has played an integral role as a performer, a record label manager, a journalist and now a credible producer. As a trance DJ, Graham's uplifting style has earned him accolades at every major festival, clubs across the world and London's long-running Peach, The Gallery and a residency at Slinky. Graham Gold has been one of the first to notice that clubbing is heading back to where it came from; underground. "It's all about smaller, more intimate venues." Subsonica is just that; small, intimate and exactly where you will find Graham Gold on April 29.

"Darren Pearce has an ear for advanced music, he is an innovator." Not much is left to say in defence of one of the most influential DJ/producers active in the trance and breaks scene for the better part of a decade. Recent months have seen Darren take the global dance world by storm under his production moniker JDS. Along with partner Julian Napolitano, Darren has been responsible for a string of dancefloor hits. The latest Blackout and Purple Funky Monkey have rocked the breaks and house scenes, and with regular plays on Radio 1, become two of the biggest selling dance tracks in the last year. Having remixed the likes of Jason Nevins and Orbital, and Norman Cook as a confirmed fan, JDS are set for much bigger things. Look out for the first JDS album due for release this year.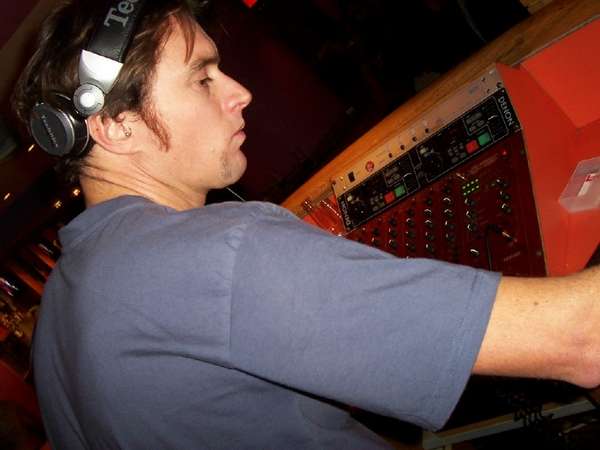 Shane Gobi and Alchemy Records are confirmed among the most popular, respected and innovative forces in psy trance. Comments Shane, "As a genre, psy trance is currently in a very good place. The main strength of the scene has always been its ability to continuously show growth; that without any support from the mainstream media. As one of the most underground dance genres, psy trance always gets a good turnout of music lovers."

Shane is an artist that has appeared with distinction at every major psy event on the international calendar, and his label Alchemy Records making a forceful impression on the scene. With three CDs due for release on Alchemy this month Shane undoubtedly has a good thing going. "It's been a busy time at the Alchemy office! We are very excited with Broken Toy's debut album, the highly acclaimed Rinkadink's second album, and my own made to order Interphase compilation." Subsonica looks forward to having Shane on the night. "I've been spending more time playing gigs within Europe and the UK. Subsonica will be a great send off for my tours of South America and Japan."

Sophie Sugar has burst onto the scene in recent months and is set to be one of Trance's future stars. Sophie's uplifting style has won her fans across the UK, Europe and Ibiza. Not just a pretty face, the girl can not only mix but produce too. Her track Call of Tomorrow has been met with excellent reviews from the mainstream dance press, as well as vocal and playing support from Armin Van Buuren and the trance-master himself Paul Van Dyk. Aai Respek! Beyond the music, Sophie has another talent in the form of presenting. She is now a regular face on Rapture and Ministry of Sound television, having interviewed the world's top DJs and reported on all the major clubs. Watch this face…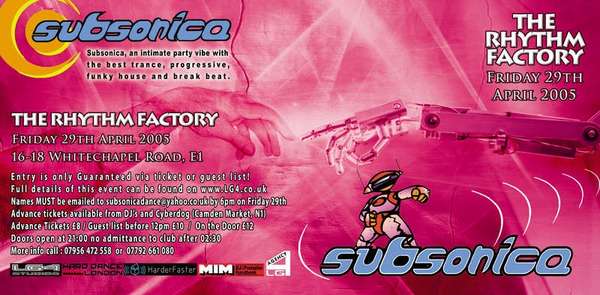 Escape From Samsara is perhaps the definitive of clubs when it comes to showcasing hard trance as a genre. For the better part of a decade Tim Samsara was that driving force that made "Samsara" into the legendary force it remains to this day. At its pinnacle, this club was regarded as the "best trance club in the world," launching DJ's like Oberon, Rosco, Sayber, Darren Shambhala and Tim himself onto the international trance stage. Tim makes a long-awaited and very welcome return to London clubbing with an exclusive set at Subsonica. Nurtured within the true underground, Subsonica will provide a more than worthy platform for the return of an individual who has in many ways shaped the hard trance scene into the way we perceive it today.

Joining this truly star-studded line up are the Subsonica residents Prozak, Craig Gunn and Craig H. With more than a dozen residencies between them, and 20 years collective experience within the dance scene that includes DJ'ing, production, promotions, PR and music journalism, there is no question that Subsonica will always provide something different, something special, something to want to make you go back again.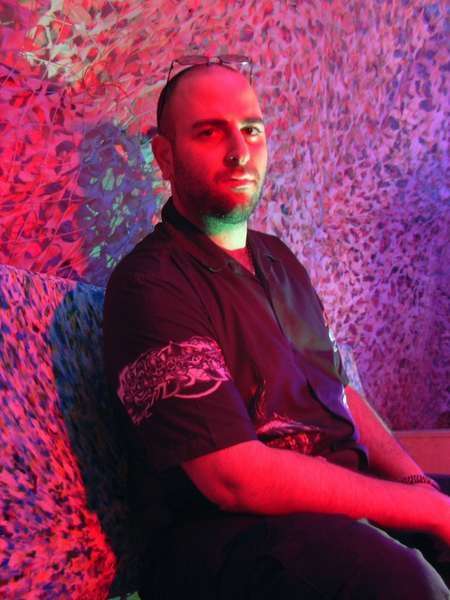 The future for those that are Subsonica is to maintain the spirit; to not follow trends all the time; to take a detour off the beaten track every so often; and to keep it fresh and interesting. In the their own words, "Avoid the 'conveyor-belt' clubbing everyone seems to subscribe to. Keep it intimate and nurture the vibe."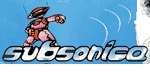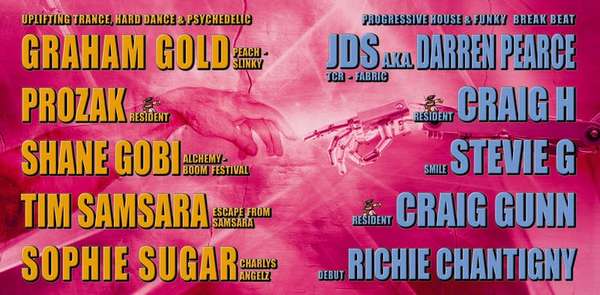 SUBSONICA

On:
Friday 29th April
At:
The Rhythm Factory [map]


From:
21:00 - 05:00
Cost:
Advance tickets £8 / Guestlist before 12pm £10 / On the Door £12
Website:
www.lg4.co.uk
Ticket Info:
Entrance is guaranteed only via advance tickets or guest list.
Names must be e-mailed to subsonicadance@yahoo.co.uk by 6pm on Fri 29th.
Info: 07956 472 558 or 07792 661 080
www.lg4.co.uk and www.rhythmfactory.co.uk

More:
Subsonica @ The Rhythm Factory
Friday 29 April 2005
21h00 - 05h00
16 - 18 Whitechapel Road, E1

After a successful 1st birthday party in February Subsonica kick off their second year as London's favourite underground night in uncompromising fashion with a DJ line-up of massive proportions. Known for offering a diversity of musical styles, Subsonica in April 2005 will showcase DJ / Producers that are all undoubted leaders in their field and command respect on a national and international stage.

Graham Gold is one of the longest serving members of the dance community that has seen him play an integral part in all spheres of dance as a performer, record label manager, journalist and on national radio. As a trance DJ Graham's uplifting style has earned him successes at all the major festivals and also long-running Peach, The Gallery and Slinky.

Darren Pearce, under one of many production guises, including JDS, is regarded as one of the most influential producers in the Breaks scene. Recent months have seen JDS behind the massive club anthems Blackout and Purple Funky Monkey with major play on Radio 1 and Norman Cook as a confirmed fan. JDS are due to release their first artist album in 2005.

Shane Gobi and Alchemy Records are confirmed as one of the most popular, respected and innovative forces in Psy Trance. Shane has appeared at every major Psy festival on the international calendar with an established fan base as far afield as Isreal, Japan and South America.

Sophie Sugar has burst onto the scene in recent months and is set to be one of trance's future stars. Sophie's uplifting style has made a strong impression on the mainstream dance press. Her track Call of Tomorrow has received excellent reviews with vocal support from the trance-master himself Paul Van Dyk.

Tim Samsara, no stranger to the trance fraternity makes his welcome and anticipated return at Subsonica. Tim achieved legendary status as the force behind Escape from Samsara for the better part of a decade, an event still regarded as the definitive in showcasing hard trance as a genre.

Joining this truly star-studded line up are Subsonica residents Prozak, Craig Gunn and Craig H; bringing you upfront sounds of trance, progressive, funky house and breaks that always makes this event pleasing to both the ears and the dance-floor.
Flyer:
-

Region:
London
Music:
Trance. Euro Trance. Hard Trance. Tech Trance. Psy Trance. Deep House. Funky House. Prog House. Tribal House. Breaks.
DJ's:
Room 1: Uplifting Trance

Graham Gold
Prozak
Shane Gobi
Tim Samsara
Sophie Sugar

Room 2: Progressive / Breaks and Funky

Darren Pearce aka JDS
Craig H
Craig Gunn
Steve G
Richie Chantigny
---
Share this ::

:

:

:


Follow HarderFaster ::

---
---
The views and opinions expressed in this review are strictly those of the author only for which HarderFaster will not be held responsible or liable.
---
Comments:
From: Cerberus on 27th Apr 2005 09:58.46
Well done Mr H, indeed a good read and very excited to see a wicked unique line-up - forget the mega clubs the smaller underground roots parties is where its at for me at the moment.....I saw Shane Gobi at the Boom festival play in front of about 15,000 - simply awesome and to see Tim Samsara, and a few of the old Samsara crew to support on Friday makes for a perfect way to kick off the Bank Holday weekend!!!

From: babyred on 27th Apr 2005 23:23.49
CraigH you are a star!



The Subsonica crew certainly know how to party and this friday is gonna rock big stylee!!



!!

From: Craig H on 28th Apr 2005 09:14.56
Thanks babyred...! Looking forward to this one.....

From: Prozak on 3rd May 2005 16:16.41
NOW THATS A WRITE U, EVEN IF I DO SAY SO MYSELF... HEE HEE HEE