Ten Questions with Captain Tinrib as he prepares to get vicious at Innovate, London!!

Reported by Nikki S / Submitted 18-11-04 19:43

With more genre defining tunes to his name than Rik Waller's had hot dinners and a schedule more hectic than Wayne Rooney's hometown massage parlour, The Captain managed to take 10 minutes out from his recent tour programme and production dates to answer 10 questions for the HarderFaster faithful.


First off, I have to ask, how did the name Captain Tinrib come about and did it have anything to do with the Viz Character?

Nuffin 2 do with the Viz character. He's the Captain Of The Good Ship Tinrib now!


You are synonymous with the now legendary and infamous Superfish Parties. You must have some pretty special memories from your days with the Superfish Crew. Can you fill us in on a few of the high-notes and tell us what it was that made those parties so special?

One of the highest notes, as I'm sure many of you will agree, was when the fireworks went off at the end of The Captain Tinrib Live Show on our 4th Birthday party at the fridge. The whole club was in one of those very rare euphoric moments. Amazing stuff!



Captain Fishin



There seems to have been a recent spate of some of the older London promotions such as Pickle and Pendragon getting back together and doing joint re-union parties. If the circumstances were right, do you ever think that the Superfish team will get back together again to unleash their inimitable style of partying on London's new generation of clubbers?

If you remember, we did our 6th Birthday back in August at the Antiworld Indoor Festival and FISH! in Bournemouth the week before. So, you'll find we're not partied out yet and still going but only now and again, keeping it special.


As the Captain you must have travelled to play at some far-out, exotic places. Where is the most interesting place that you have played and what made it stand out from all of the others?

There are many interesting places we've visited for different reasons... Too many to list. I'd say that the Deep Down Under Ozzy Parties always go off and the scenery is something else!!! My next ozzy gig is in Cairns this December. The home of Nemo on the reef.



Captain Surfer



Are there still any places that you would really like to play that you haven't done so yet?

Would dream to do a full tour of every country in South America!


During your time running and producing on the Tinrib label you were responsible for some of the most Innovative and defining tracks of a clubbing generation, most of which still regularly get played by top DJ's today and a lot of which are collectors' items in their own right. (Tinrib 11– Don't Stop recently sold on eBay for £50!!) Tracks such as "Get down 2000" which inspired Ian M's "Crazy Pills", the recently re-mixed "Street Tab, "Blue Oyster" and your re-mixes for other labels such as Sperminator's - "No women Allowed" and Commander Tom's - "Eye BM". Oh, and how could we forget Tinrib 11 - The legendary "Don't Stop" (my all time favourite tune) which has just received a vicious re-mix by Nick Sentience and is due for release on the Tinrib Gets Vicious Label.

It's fair to say that you definitely have your own distinctive sound when it comes to your production. How long did it take you to develop that sound, can you define that sound, and does it flatter you have inspired so many DJs & producers?

It developed from the beginning I guess. The day I bought some analogue gear such as the MS20, 303s & Jupiter 8 helped move me on. I guess it can be described as containing the fattest noise within the speakers bandwidth without blowing anything!!!! It does flatter me yes, I just do it for fun! Hard to believe a hobby can get this far.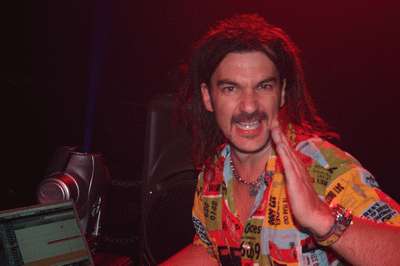 Captain Karate



You recently decided that the Tinrib label had run it's course and that you would now only produce for other labels. This must have been a very hard decision for you to make. What was your thinking behind the decision and where do you see yourself going from here?

We got fed up of doing the same thing, chasing the same people day in and day out keeping the ship afloat there in London. My missus and me had a son, Harrison and we decided London wasn't the place for it. Hence the end of the label..... for now!!!!!


How did the link up with Paul Glazby's Vicious Circle label come about and why did you choose them to work with?

Quite a weird one really - very jet set!!! Just got off a plane from Los Angeles, changing planes to fly to Tokyo for the next gig with none other than Paul Glazby. We got on really well. On the same boat, different ship! Hence the work with them now.



Captain Serious



You are playing for Innovate at the Fridge on the 20th of November as a part of the "Captain Tinrib gets Vicious Tour" and performing one of your now infamous Live Stage shows. I remember recently seeing you open up with a version of "Hey Mickey". What is it that you do so differently that makes your shows so memorable and where do you get your inspiration from?

Anywhere and everywhere!!!! There's always something we see or do on our sailing around the world. Its nice to incorporate this into what we do live. Halloween has been order of the day lately. On to Xmas. Then.... U2 - New Years Day. And a happy new year to you 2!


Do you have anything special in store for Innovate @ The Fridge on the 20th of November?

Big surprises always in store, behind the door! Live percussion from Chris Edwards will be aiding our groove. We'll maybe throw in a bit of classical music. Who knows. You'll have to get down the disco to find out!!! See ya there I hope. Da Skippwhore. X

Thanx to The Captain!

CAPTAIN TINRIB 'GETS VICIOUS' IN LONDON ON SATURDAY 20TH NOVEMBER @ INNOVATE, THE FRIDGE.
www.innovateuk.net

TINRIB GETS VICIOUS RELEASES
VCR036 - Captain Tinrib 'The Great Gatsby'
VCR037 - Captain Tinrib & Max Alien 'Alien Gate Scandal'
VCR038 - Captain Tinrib & Dynamic Intervention 'Found what we're lookin 4'
www.vicious-circle.net



www.captaintinrib.com

Pictures reproduced with kind permission from Upfront Magazine

You can catch The Captain at Innovate:

---



Innovate presents 'Captain Tinrib'

On:
Saturday 20th November
At:
The Fridge [map]


From:
22.00 to 06.00
Cost:
£12 advance tickets, MOTD
Website:
www.innovateuk.net/
Ticket Info:
WEB & CREDIT CARD BOOKINGS:
www.ticketweb.co.uk / 08700 600 100
www.e-listlondon.com

INFO:
Craig 07932 982 233 / Trevor 07930 845 738
craig@mostwanteduk.com tina@mostwanteduk.com

CONCESSION GUESTLIST:
www.innovateuk.net

www.vicious-circle.net
www.upfrontmag.com

Buy Online:
Click here to buy tickets
More:
Innovate is proud to be the first & only club event in the Capital to bring 'The Captain' on his 'Gets Vicious Tour 2004' a legend in his own lifetime & famed for his amazing live performances, stage shows & genre defining high-energy hard house & trance music with a lot of cheek! Pushing the boundaries in entertainment the Captain's live show features a LIVE Drummer, Superfish dancers & mind-bending visual displays! You can certainly guarantee that you will never have witnessed anything like it before!

With a number of releases due out on Glazby's Vicious Circle label, you can expect to hear a load of the Captain's new material & a whole host of those Tinrib classics that we all know and love. This is his only London tour date, so make sure that you're there to say that you witnessed it!

Inspire - Create - Innovate

*****COMPETITION!!*****

Text your name and email for your chance to win Tinrib Gets Vicious Vinyl / CDs and other cool prizes PLUS VIP Entry to Innovate! Text 07815069633 Now!

*****ONE - FREE PRE-PARTY!*****
Sat 20 Nov. 15.00 to -11.00. Southside Bar, 125 Cleveland Street, London, W1T 6QB.
DJs: Conrad, K.A.R.L., Craig Paxton (Innovate), Tin Tin (Dirty DJ's), Daegal Brain (Twisted), Andrew Johnston (Affinity, Twisted), and more!
Flyer:
-
---
Share this ::

:

:

:


Follow HarderFaster ::

---
Other Features By Nikki S:
Let me hear you say Waio
Nikki S interviews Vini Vici ahead of their London debut at the Astral Circus presents Psy-Fi Festival London Launch party
Nikki S looks at making Babies, ahead of London Landscapes 2 at Ministry of Sound
Nikki S interviews Sinerider - one of the psy scene's fastest rising stars
Sonic Species gets ready to unleash the beat at the Astral Circus 2nd birthday bash
---
The views and opinions expressed in this review are strictly those of the author only for which HarderFaster will not be held responsible or liable.
---
Comments:
From: James Lawson on 18th Nov 2004 21:05.44
Captain Tinrib! what a legend! I still remember buying tinrib 01 years and years ago. A defining moment in my record buying career and taste in music! Gutted I can't go as I am playing up in birmingham, but if you miss opportunity to see the captain live then you should check yourself into the nearest hospital for a check up as quickly as possible!

From: James Nardi on 19th Nov 2004 00:21.40
Tin Rib 1, i remember the day!
Respect Jon!

From: djviticus on 19th Nov 2004 00:48.40
man it was awsome to see he out here in cali on oct 30 he blew the place up. it was a long night with the time change and me being sober to make sure all my friends got back to mine for a little crack on.. but i have to say i danced the whole time over looking the the bay bridge and sf bay it was awsome. and i am so stoke to have just found recently tinrib 11 at a little hole in the wall record shop for 10 dollars, bowai.. keep up the good work kapen. we need more rave beats!!!

From: Richard Launch on 19th Nov 2004 11:03.00
Hoo Yeah, Bring it on.

Never got to see The Captain in action so really looking forward to hearing a proper Tinrib set.

Large.

From: Elz on 19th Nov 2004 12:54.32
Wicked interview Nicki.

Can't wait to see The Captain tomorrow night.

From: Stevi D on 19th Nov 2004 14:03.39
Unfortunately wont be able to make this as i have Affinity on the same time but i've seen the Captain before @ The Temple and this guy performs, top stuff. Good luck to the Innovate crew!

From: mental-tessy on 19th Nov 2004 15:24.04
tinrib 19 the leader........ my fav tune of all time...... prolly thanks to playing it over and over on an acid trip!



wicked bloke, said hello many a time at various raves...

From: ~deleted1390 on 19th Nov 2004 17:02.37
Long live the Captain.
Have special memories of Superfish @ The Fridge and I too have quite a bit of Tinrib tucked away in my collection.



From: Banga Matt on 19th Nov 2004 22:50.51
i remember them all fish days man !
bless u . our best m8 jonnie(RIP) and Karim . u guys
rocked it ! Good to see u back again man !

From: cd on 20th Nov 2004 11:32.35
Bring It OOOOONNNNN!

From: Toomz on 21st Nov 2004 21:22.46
Legend!

From: benz on 21st Nov 2004 21:47.43
wicked stuff, looking forward to Tinrib on saturday too



there's an answer missing by the way...

From: Stakker on 23rd Nov 2004 12:03.59
wicked. in 1994 i remember him picking me up when some mates and i were thumbing home from bournemouth once in the early hours. he took us to a rave where DR Base were to be playing live. ten years on, its good to see him still at it.

From: wayo on 25th Nov 2004 19:08.09
Add your comments here !

From: wayo on 25th Nov 2004 19:14.02
Add your comments here !still kicks ass ... what a label still get the best melts and kicks from it... rock on man haha legend