Apply The Breaks - Hatstandy
I first received one of, the curiously named, Hatstandy's tunes on promos a few years back. I was immediately struck by the originality of his tunes compared to the other tunes I was getting. A mix of breaks and chilled Trance with an early 90's Ba... [Read More]


More Reviews:
Call It Love
Libra
Superstar
[quote : unquote]

..My doctor told me to stop having intimate dinners for four. Unless there are three other people. ,
Orson Welles (1915 - 1985)
LINK TO US
If you would like to link to us from your website you can find suitable icons here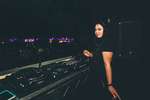 Written by Tara (8th January, 2020)

We first met Eileen Lewis aka Khromata in Copenhagen, where we'd all arranged to meet for the 20 Years of Iboga Hologram Party. After seeing her awesome set there, we just knew we had to get her over to the UK to play one day. It's a cliché that music brings people together, but when you've got six progressive trance lovers representing five continents converging on Copenhagen for one very special event, in this case it was most certainly true. While many of the world's psychedelic music fans descended on Goa for their annual pilgrimage in winter 2017, we battled the snow at Luton to fly north for the 20 Years of Iboga Records Hologram Party in Denmark – and one of the highlights of that weekend was definitely Khromata's epic closing set at the afterparty.

Nearly three years on, we've finally booked Eileen to come to the UK to play in the second room at Tribal Village, but there's a bit more to the story than that. Since then, Wendy Whitehead aka Malkpa and I (aka FlibbertiGibbet) have formed our collaborative project Amaluna, and the second room at Tribal Village doubles as the launch party for our compilation on Free-Spirit Records, Lunar Phase, which includes Khromata's debut track, Is This Your First Record?

With the countdown to Tribal Village on Saturday 18th January at The Steel Yard well underway, we managed to speak to Eileen ahead of her flight across the pond…
[FULL STORY]
Other Recent Features: [More Features]
Exploring SUN! Ahead of her debut album release on Iono-Music!
Proxius - Lust In Space
Globetrotters Mind and Matter touch bass - ahead of their upcoming album release - 'Fragile Nature' - The Remixes - out 03/02/20 on Iono-Music!
Pixie Nature: from Brazil to Bristol with DM-Theory
Delving deeper into the energising, empowering and invigorating spirit of Shakti!



CHAT FORUMS
Most recent topics - to see all the forums click here - to see today's active threads click here