Phatt Bass (Adrenaline Dept Remix) - Warp Brothers
Dos or Die return with Warp Brothers Classic Phatt Bass remixed by the always reliable Adrenaline Dept.

Perhaps known for their more stomping Hard Trance, the AD guys have delivered a remix that brings the original in line with the Trance ... [Read More]


More Reviews:
Flesh (Remixes)
Galaxia
Summer Lube
[quote : unquote]

..The latest edition of the Oxford English Dictionary has added several thousand new terms including 'bling-bling' ("the wearing of expensive clothing and flashy jewellery") and even more surprisingly 'to bogart'.,
According to the Dictionary, the verb means either to act tough or to "selfishly appropriate; take an unduly large share of something, especially a cannabis joint".
LINK TO US
If you would like to link to us from your website you can find suitable icons here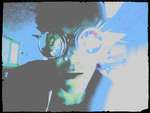 Written by Tara (8th May, 2019)

One of the most recent signings to legendary London psy trance label Free-Spirit Records, Steve Birch aka Merlin's Apprentice is actually one of the veterans of the rave scene who's been making music since he first caught the dance music bug in the '90s.

While his latest 'Flotation' EP as Steve Birch on J00F Recordings has recently rocketed to the top of the Beatport Psy Trance charts, with it sitting at No. 9 at the time of writing, as Merlin's Apprentice he's booked for a load of epic events and festivals over the coming summer months, including this weekend's Goa Creme Festival, the launch of new UK transformational festival Anthropos Festival, the Psymera Summer Boat Party, and of course Tribal Village on Saturday 18th May at The Steelyard. At the same time, he's only getting more creative in the studio, with collaborations with N-kore and Neill Moore in the pipeline.

With Merlin about to unveil his magic on so many events and productions over the coming months, it was definitely high time this respected artist made his HarderFaster debut…
[FULL STORY]
Other Recent Features: [More Features]
Mechanimal's Digital Nature album preview at London's Psymera Summer Boat Party
A chinwag with Psy-Sisters Competition Winner - Future Species - ahead of her debut release!
Tron talks festivals, flip flips and mezcal ahead of Tribal Village
Celebrating 10 Years of Furthur Progressions Records with Hamish and Bedders at PRISM
Psychedelic Sister CORAL talks about how she found her trance dance pants!




Reported by starkprofiles (1st May, 2019)

The whiff of sunscreen, the scent of surf, the hint of a mojito - close your eyes and you can almost smell it!! Yup - real terms, Ibiza's right around that corner and for that you'll be needing yourselves an anthem! Something equatorially-hot in places, evocatively flyaway in others and one that's never, ever less than elevating?!

Hang on... we've just the thing!

With summer on their mind, early April saw Paul van Dyk and label-mate/super-chum Alex M.O.R.P.H. whack up the thermostat and hotfoot it into the studio. Channeling their inner sun (wasn't hard!), the pair co-created this year's anthem for SHINE Ibiza's soon-to-be season-long run at San Antonio's legendary Eden.

"Vibe-wise, this year's hymn to the hot stuff (says DJ Mag in their May issue 8/10 review) was never going to skimp on temperate Balearic feelgoodery. Pads & chords have palpably cyanic accents, the rich mainline gives it its thermal lift, while its firmer bass conveys [FULL STORY]
FINAL CHANCE TO VOTE IN TOP 100 DJS 2019
JES - No One Else (Disco Fries Remix)
Roger Shah - Magic Island Vol. 9
Daxson Delivers His 'Culture Shock'
Mark Sherry Talks 'Confirm Humanity'!
DT8 Project (Darren Tate) drops the third part of his EP series Leave It All Behind
Sneijder - Afterdark 002: Los Angeles
Markus Schulz Brings 'In Bloom 2019' To Spotify
Mark Sherry - Confirm Humanity - The Album
Giuseppe Ottaviani - 8K
Mark Sherry & Christina Novelli - Lighting Fires
Paul van Dyk's VANDIT Records Marks Its Twentieth Year With New Imprint Launch VANDIT Next Generation
Avenia's 'Kingdom' Launches Super8 & Tab's Scorchin' Records

[More News] - [Submit Your News]

CHAT FORUMS
Most recent topics - to see all the forums click here - to see today's active threads click here