Libra - Sledger
Happy New Year, folks! Our first review of 2020 is for a new label called Light Side Music. Its a progressive house track called Libra and is by Sledger. This one's interesting because Latex Zebra, a HaFa legend, has provided a remix with Chris 2Da... [Read More]


More Reviews:
Superstar
Worlds Collide
Get Up! Go Insane!
[quote : unquote]

..A lot of people have, actually, found me sexually attractive as an ape ,
Helena Bonham Carter
LINK TO US
If you would like to link to us from your website you can find suitable icons here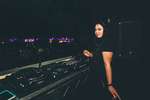 Written by Tara (8th January, 2020)

We first met Eileen Lewis aka Khromata in Copenhagen, where we'd all arranged to meet for the 20 Years of Iboga Hologram Party. After seeing her awesome set there, we just knew we had to get her over to the UK to play one day. It's a cliché that music brings people together, but when you've got six progressive trance lovers representing five continents converging on Copenhagen for one very special event, in this case it was most certainly true. While many of the world's psychedelic music fans descended on Goa for their annual pilgrimage in winter 2017, we battled the snow at Luton to fly north for the 20 Years of Iboga Records Hologram Party in Denmark – and one of the highlights of that weekend was definitely Khromata's epic closing set at the afterparty.

Nearly three years on, we've finally booked Eileen to come to the UK to play in the second room at Tribal Village, but there's a bit more to the story than that. Since then, Wendy Whitehead aka Malkpa and I (aka FlibbertiGibbet) have formed our collaborative project Amaluna, and the second room at Tribal Village doubles as the launch party for our compilation on Free-Spirit Records, Lunar Phase, which includes Khromata's debut track, Is This Your First Record?

With the countdown to Tribal Village on Saturday 18th January at The Steel Yard well underway, we managed to speak to Eileen ahead of her flight across the pond…
[FULL STORY]
Other Recent Features: [More Features]
Globetrotters Mind and Matter touch bass - ahead of their upcoming album release - 'Fragile Nature' - The Remixes - out 03/02/20 on Iono-Music!
Pixie Nature: from Brazil to Bristol with DM-Theory
Delving deeper into the energising, empowering and invigorating spirit of Shakti!
Mechanimal's Digital Nature album preview at London's Psymera Summer Boat Party
A chinwag with Psy-Sisters Competition Winner - Future Species - ahead of her debut release!




Reported by Alex_R (18th September, 2019)

Just one week left to vote for your favourite DJs at www.top100djs.com

Win the ultimate Top 100 DJs VIP experience by donating to UNICEF at djmag.com/unicef

With only 5 weeks until the big reveal of The World's No.1 DJ during Amsterdam Dance Event, voters are being reminded that this week is the final period you can submit a vote for your favourite DJs. Year-on-year the world's largest music poll increases in size and impact, and 2019's edition of the annual tradition is no different. With voting having already surpassed 1 million votes, this year's Top 100 DJs poll will be the biggest on record.

Voters have until Wednesday 18th September 11:59 BST to put forward their Top 5 DJs for this year's eagerly awaited reveal. With over 25 previous editions of the Top 100 DJs poll to date, and a cluster of previous World No.1 DJs that includes Carl Cox, Paul Oakenfold, Sasha, John Digweed, Tiësto, Paul van Dyk, Armin van Buuren, David Guetta, Hardwell, [FULL STORY]
Merry Christmas!
JES - No One Else (Disco Fries Remix)
Roger Shah - Magic Island Vol. 9
Daxson Delivers His 'Culture Shock'
Mark Sherry Talks 'Confirm Humanity'!
DT8 Project (Darren Tate) drops the third part of his EP series Leave It All Behind
Sneijder - Afterdark 002: Los Angeles
Markus Schulz Brings 'In Bloom 2019' To Spotify
Mark Sherry - Confirm Humanity - The Album
Giuseppe Ottaviani - 8K
Mark Sherry & Christina Novelli - Lighting Fires
Paul van Dyk & Alex M.O.R.P.H - SHINE Ibiza Anthem 2019
Paul van Dyk's VANDIT Records Marks Its Twentieth Year With New Imprint Launch VANDIT Next Generation

[More News] - [Submit Your News]

CHAT FORUMS
Most recent topics - to see all the forums click here - to see today's active threads click here