Renaissance - M People
Box set time! This one is rather special. Its a nine-disc, two-DVD, box-set of M People's four albums plus bonus discs plus remix disc by David Morales & Frankie Knuckles. Yep. Every album they released is here with brand new bonus discs added with... [Read More]


More Reviews:
A Raver's Diary
Apply The Breaks
Call It Love
[quote : unquote]

..In Mexico we have a word for sushi: Bait. ,
George Bush (1924 - )
LINK TO US
If you would like to link to us from your website you can find suitable icons here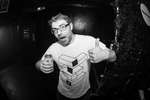 Written by Jessica Alici (18th May, 2020)

Latex Zebra has been a lively legend of the London Underground Dance Music scene for as long as we can remember! Most of us know him in some if not all his various guises, be that as a DJ, a Club Promoter, , linchpin of the HF Xmas Party, Label A&R, dare we say oldskool HF troublemaker, a friend, or as an accomplished producer in his own right. Recently Dan seems to have upped his production output and we're seeing fresh releases left, right and centre! We decided now was the perfect time to catch up with him and see what's what, ahead of his intoxicating mammoth release on Onhcet Republik on the 8th June 2020! [FULL STORY]
Other Recent Features: [More Features]
Phutek talks the Rave Scene, Carl Cox, Marriage Proposals and the reincarnation of 'Reincarnations'!
NEM3SI$ from Techno Label Onhcet Republik talks about ethos, the scene & gives a heads up on a very exciting remix of a renowned classic anthem!
Exploring SUN! Ahead of her debut album release on Iono-Music!
Proxius - Lust In Space
Globetrotters Mind and Matter touch bass - ahead of their upcoming album release - 'Fragile Nature' - The Remixes - out 03/02/20 on Iono-Music!




Reported by starkprofiles (15th June, 2019)

From his 'Skygarden' debut to this March's 'Bexley Square', Daxson's been making the loud & clear case for tenacious trance for several years now. The alias/brainchild and now primary studio outlet for Manchester-based producer Dan Dobson, his work on Coldharbour has delivered an impossible-to-miss broadside to tougher clubfloors.

Late May sees Daxson line up his second floor-flash of 2019 with the script-flipping, system-shaking, boat-rocking 'Culture Shock'.

Daxson's music has caught the ear of an impressive raft of A-listers, not least that of Markus Schulz. Schulz gave 'Culture Shock' its first airing at Ultra Miami in March, mashing it to wildfire effect with MK's '17'.

It'll come as a surprise to no one to learn that 'Culture Shock's circuitry is a lively one. Frontend, the drums throw down, its bass prowls and Dan lets the mod wheel fly. Drop-side, through melodic glimmers and cinematic pads, he allows just the [FULL STORY]
Stuck for things to do during lockdown?
Merry Christmas!
FINAL CHANCE TO VOTE IN TOP 100 DJS 2019
JES - No One Else (Disco Fries Remix)
Roger Shah - Magic Island Vol. 9
Mark Sherry Talks 'Confirm Humanity'!
DT8 Project (Darren Tate) drops the third part of his EP series Leave It All Behind
Sneijder - Afterdark 002: Los Angeles
Markus Schulz Brings 'In Bloom 2019' To Spotify
Mark Sherry - Confirm Humanity - The Album
Giuseppe Ottaviani - 8K
Mark Sherry & Christina Novelli - Lighting Fires
Paul van Dyk & Alex M.O.R.P.H - SHINE Ibiza Anthem 2019

[More News] - [Submit Your News]

CHAT FORUMS
Most recent topics - to see all the forums click here - to see today's active threads click here