Flesh (Remixes) - Jan Johnston
Solar Storm keep the classics coming with a new remix package for Flesh by Jan Johnston. 12 remixes in all, some new, some classic, some unheard. So hold on to your hats cos its time for a trip down memory lane.

Being given the 2019 treat... [Read More]


More Reviews:
Galaxia
Summer Lube
Blackout
[quote : unquote]

..The reasonable man adapts himself to the world; the unreasonable one persists in trying to adapt the world to himself. Therefore all progress depends on the unreasonable man.,
George Bernard Shaw (1856 - 1950), Man and Superman (1903) "Maxims for Revolutionists"
LINK TO US
If you would like to link to us from your website you can find suitable icons here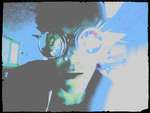 Written by Tara (8th May, 2019)

One of the most recent signings to legendary London psy trance label Free-Spirit Records, Steve Birch aka Merlin's Apprentice is actually one of the veterans of the rave scene who's been making music since he first caught the dance music bug in the '90s.

While his latest 'Flotation' EP as Steve Birch on J00F Recordings has recently rocketed to the top of the Beatport Psy Trance charts, with it sitting at No. 9 at the time of writing, as Merlin's Apprentice he's booked for a load of epic events and festivals over the coming summer months, including this weekend's Goa Creme Festival, the launch of new UK transformational festival Anthropos Festival, the Psymera Summer Boat Party, and of course Tribal Village on Saturday 18th May at The Steelyard. At the same time, he's only getting more creative in the studio, with collaborations with N-kore and Neill Moore in the pipeline.

With Merlin about to unveil his magic on so many events and productions over the coming months, it was definitely high time this respected artist made his HarderFaster debut…
[FULL STORY]
Other Recent Features: [More Features]
Mechanimal's Digital Nature album preview at London's Psymera Summer Boat Party
A chinwag with Psy-Sisters Competition Winner - Future Species - ahead of her debut release!
Tron talks festivals, flip flips and mezcal ahead of Tribal Village
Celebrating 10 Years of Furthur Progressions Records with Hamish and Bedders at PRISM
Psychedelic Sister CORAL talks about how she found her trance dance pants!




Reported by starkprofiles (17th May, 2019)

Two years back Mark Sherry had his humanity questioned. Nobody - least of all he - could have known it'd trip off his first artist album. Clicking a captcha to 'confirm' his 'humanity' was an innocuous, seemingly fleeting moment. Everything that followed that, well, markedly less so. Over the following minutes, hours, days & weeks he returned to the question with ever-increasing interest.

"In hindsight, says the Scottish producer, it was a bit of a lightning bolt moment. It got me thinking, 'wow, we've actually reached the point in civilisation where we have to identify ourselves as a person, not a machine, and – to of all things - a machine!' If someone told me when I was 10, I'd have to do that, it would've truly blown my mind. Really, as I see it now, in this life any eventuality's possible."
As an album began to crystallise around the 'Confirm Humanity' question, its significance appeared to take on numerous other forms, not least [FULL STORY]
JES - No One Else (Disco Fries Remix)
Roger Shah - Magic Island Vol. 9
Daxson Delivers His 'Culture Shock'
Mark Sherry Talks 'Confirm Humanity'!
DT8 Project (Darren Tate) drops the third part of his EP series Leave It All Behind
Sneijder - Afterdark 002: Los Angeles
Markus Schulz Brings 'In Bloom 2019' To Spotify
Giuseppe Ottaviani - 8K
Mark Sherry & Christina Novelli - Lighting Fires
Paul van Dyk & Alex M.O.R.P.H - SHINE Ibiza Anthem 2019
Paul van Dyk's VANDIT Records Marks Its Twentieth Year With New Imprint Launch VANDIT Next Generation
Avenia's 'Kingdom' Launches Super8 & Tab's Scorchin' Records
Markus Schulz & Smiley - The Dreamers

[More News] - [Submit Your News]

CHAT FORUMS
Most recent topics - to see all the forums click here - to see today's active threads click here